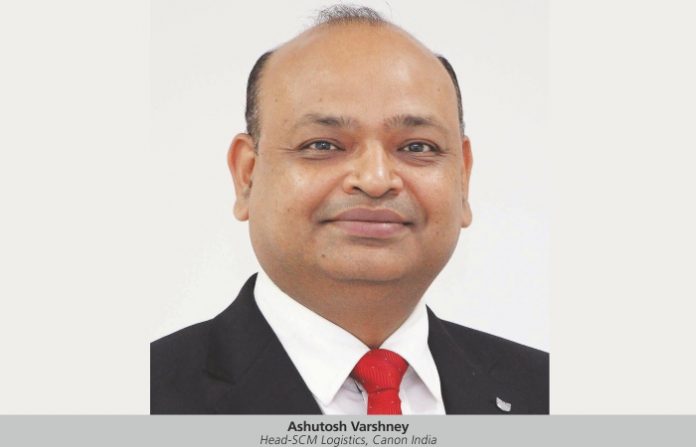 Canon India's supply chain management is its backbone. The company has adopted increased levels of safety and security measures for an unrivalled product handling process. It intends to continue using the most cutting-edge technology in its supply chain management, says Ashutosh Varshney, Head-SCM Logistics, Canon India.
Priyanshi Bana
How has the supply chain sector evolved during COVID-19?
The pandemic has made us retransform the supply chain model to navigate the challenges and sustain operations in the country. With a rising focus on technical innovations and changing consumer preferences, the need for integrated supply management has become more important than ever before. As a result, digitisation of business processes has become more important for companies looking to develop their customer base. During the COVID-19 crisis, we tweaked our supply chain and focussed on catering to high-priority sectors so that our services continued unhindered. So far, we have been able to tackle disruptions arising within the supply chain with determination and innovation.
In the last few months, we have kept our supply chain up and running by adapting to the changes and being responsive to the needs of our customers. We have continued to operate with agility and are ensuring product availability at the shop floor. With a robust business continuity plan (BCP) in place, we have our entire operations commencing again. This has helped us adapt to customer demands and maintain product supply. We have been adapting to various scenarios and making our products available in the shortest possible time. For instance, we are assessing the demand within the pharmaceutical research sector, hospitals, clinics and banking institutions to ensure we serve their needs. We also believe that transparency in a supply chain is critical for managing rising levels of risk in today's environment. Hence, from suppliers to retailers, supply chain partners can gain a lot by prioritising visibility and communication flow. Additionally, distribution strategies can be streamlined by accessing and acting on vital information.
Is the role of technology making the supply chain more efficient, visible, and seamless?
For the last few years, we are working with our supply chain partners to maintain a technologically-driven value chain system. All of us are digitally connected, from suppliers to logistics service providers, retailers, and delivery partners, giving us an integrated perspective across the enterprise, enabling us to see problems quickly and create tailor-made solutions. The need to make decisions using real-time information act as the 'nerve centre' of the flow of supply chain data in our system.
We have invested a lot in advanced IT systems to develop a well-connected end-to-end supply chain. Using new technologies, such as Cloud, Internet of Things (IoT), Big Data, social collaboration applications, digital connectivity, and predictive analytics, we are enabling smarter, more flexible, and agile production planning complemented by a modern supply chain network. The electronic exchange of data between Canon, its suppliers, distributors, and logistics operators through EDI tools for information flow enables all the links in the supply chain to stay aligned.
Our logistics partners are some of the leading names in the industry and the coordination we have with them is more on the technological aspect of operations. Their systems, like ours, have been updated to meet the recent requirements, such as IoT sensors, vehicle telematics, and other tools, enabling better transparency and visibility of supplies and
shipments through an integrated end-to-end ecosystem.
How is Canon dealing with challenges of reverse logistics and its increased cost due to COVID-19?
Reverse logistics is essential in almost every manufacturing business, regardless of scale, product, or scope. Although its requirements are complex, they are pivotal in managing relationships with customers, vendors, and contractors. This comes with its own sets of difficulties such as identifying goods or managing efficiency. But with the right technologies, these challenges can be overcome so that organisations can concentrate on serving their customers. At Canon, we have well planned reverse movements to solve several issues, including cost efficiency.
What are the expansion plans of Canon India for 2021?
Supply chain management is the backbone of Canon India. We have embraced high levels of safety and security measures for an unparalleled product handling process to assure a steady operation. With 'customer delight' as our guiding principle, we aim to continue to leverage the best technology for our supply chain management. Our focus is on introducing innovative technological breakthroughs and initiatives for a seamless logistics and supply chain process over the next few years. Automated information exchange with suppliers and vendors, deliveries as per customer-preferred schedule, world-class warehouses, same-day delivery etc., are some of the innovations that we plan to continue to use in this domain.