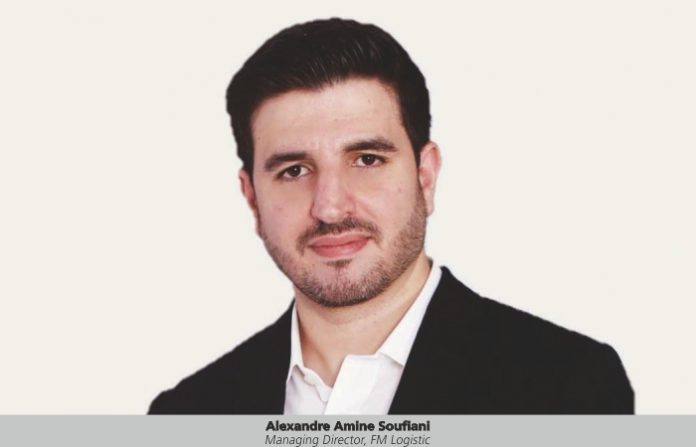 Logistics and warehousing space absorption is predicted to expand by 35 per cent in 2021, driven by rising demand in tier-II and III cities, and will be the fastest to recover from the COVID-19 aftermath, observes Alexandre Amine Soufiani, Managing Director, FM Logistic.
Priyanshi Bana
How has the e-Commerce industry enhanced the scope of warehousing?
In 2020, many consumers had to resort to online shopping for essentials during the pandemic. This change in consumer behaviour has put retailers under immense pressure to provide immediate response and high-quality solutions to their customers.
The shift in consumers' purchasing behaviours has changed the very nature of the warehousing and distribution industry with e-Commerce providers now almost forming their own sector and third-party logistics providers needing to offer return logistics capabilities as well as tracking abilities directly to the consumer on top of conventional solutions. Exploring tier-II and III cities, and other rural areas has always been on every e-Commerce companies' to-do list with an aim to yield huge profits. But last mile delivery and other logistics issues has stood in the way. Due to increase in internet penetration in these areas as well as accessibility to smartphones, these markets have a plethora of opportunities for e-Commerce players and retailers. What we need now is a delivery network that is well connected to the major distribution and consumption centres.
What is your take on the demand of Grade-A warehouses in tier-II and III cities in the future?
Over the years, the Indian warehousing and logistics industry has achieved significant growth, both size- and scope-wise. Businesses are on the lookout for logistics service providers, who are capable of integrating advanced technologies, process automation in their warehousing solutions and support them to move closer to their end consumers. Dynamics of the logistics industry have evolved as a result of shorter time to market and rising demand from the time-sensitive e-Commerce sector. Grade-A warehouses and increasing use of technology are the stepping stones in this process.
The booming e-Commerce market and a robust demand for the strengthening of retail supply chains across industries, has bolstered the demand for Grade-A warehousing facilities across the country. The ongoing pandemic has led to the increase in demand for quality warehousing space. In order to deal with such situations, companies have understood the importance of having a real-time pulse of the market and are investing in Grade-A warehousing facilities in smaller cities.
FM Logistic India is focussed on developing Grade-A Multi-Client Facilities (MCF) in the most important economic zones in India. We also provide top-of-the-line storage and handling equipment.
All FM Logistic warehouses are equipped with electronic surveillance systems. We have also deployed appropriate access control measures in terms of doors, locks and other security systems to prevent unauthorised access, and improve cargo security. We frequently organise night audits as well. Warehouse security audits are organised monthly to identify specific risks, if any. We are supported in the endeavour of developing Grade-A MCF in the established and upcoming logistics hubs by NG Concept, our real estate arm which develops warehouses for FM Logistic worldwide.
In 2019, FM Logistic India broke ground for our own MCF in India at Farrukhnagar, near Gurugram. This new A+ grade facility will be among the first in India to combine LEED and FM Global Certification. With a built up area of 700,000 sq. ft., the Farrukhnagar MCF enjoys strategic access to Kundali, Manesar and Palwal expressways for faster connectivity to all major consumption centres in North India. Our upcoming Multi Client Facility in Bhiwandi, Mumbai spans across an area of 4,00,000 sq. ft. This facility, too, is strategically located and provides faster connectivity to the major consumption centres in West India. Both of our facilities will provide cost-effective quality, storage, and handling services. In a nutshell, the next wave of warehousing belongs to tier-II and III cities, and FM Logistic India is contributing by strategically placing its MCFs.
How has the pandemic impacted the growth trajectory of the warehousing sector?
Like other businesses, the Indian warehousing segment is reeling under the effect of the COVID-19 crisis. Driven by a robust growth in the e-Commerce and manufacturing sectors as well as rising demand in emerging tier-II and III cities, logistics and warehousing space absorption is expected to grow by 35 per cent in 2021, and will be the fastest to recover from the COVID-19 aftermath. Growing demand for temperature- controlled warehouses to cater to the cold chain, pharmaceutical, and food & FMCG sectors, as well as growth in organised retail, are the likely drivers for this growth. Non-essential goods warehouses remained closed for some time and resulted in job losses. However, the horizon is bright as recovery of the logistics sector is one of the fastest post pandemic. Warehousing demand is increasing and particularly driven by the e-Commerce and pharma sectors
The Government of India's focus on making India a global manufacturing hub has caused warehousing clusters to expand rapidly beyond the top cities and into tier-II and III cities. As most of the tier-II and III cities in India are aligned with industrial hubs, the demand for Grade-A warehouses has increased substantially. Organisations have realised the importance of developing quality and world-class warehousing facilities in order to cater to the vastly underserved rural customer base, since these facilities not only offer operational excellence but also facilitate cost optimisation.
Additionally, the government's 'Make in India' policy will continue to fuel growth for the industry. The warehousing sector is expected to expand manifold, despite short-term issues, owing to various factors contributing to its future growth. Experts are of the opinion that warehousing would be among the first real estate segments to recover from the shock of the pandemic and might even attract huge capital, as investors switch to more resilient asset classes.
In 2020, despite the pandemic situation looming in the country, we added one million sq. ft., of warehousing space under our operations as we acquired new businesses. The main impetus for this growth has been on account of great focus on the e-Commerce, omnichannel, FMCG, food and pharma sectors.
In recognition of our efforts to support the supply chain of our customers during the nationwide lockdown and the subsequent relaxation of lockdown restrictions, we were awarded with the 'Overall Excellence in Logistics and Supply Chain Award' at the SCALE Awards organised by the Confederation of Indian Industry (CII). Moving forward, we plan to expand our operations by another 30 lakh sq. ft., by the end of 2022-23, as announced last year. We will be setting up our own warehouses in the major consumption areas of the country like Mumbai, Bengaluru, Hyderabad, Chennai, Delhi, etc.