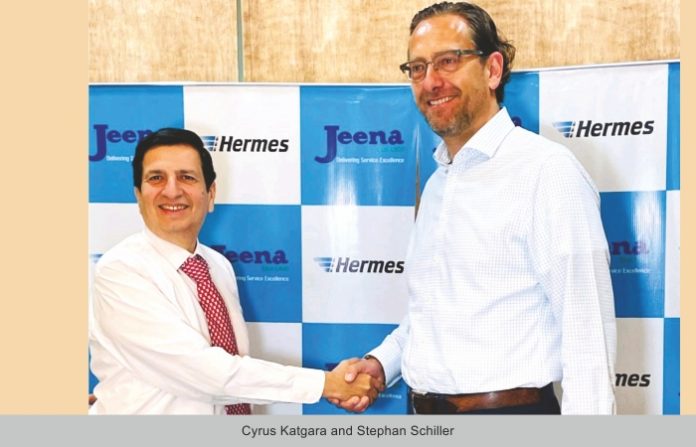 Cyrus Katgara, Partner,  Jeena & Co and Stephan Schiller, CEO, Hermes International and MD, Hermes Europe have entered fifth decade of their partnership and are looking forward to fuelling growth through mutual business opportunities.  In an interview, the logistics experts discuss about their association and latest offerings in the Indian market.
Ritika Arora Bhola
Kindly elaborate on opportunities and benefits your firms can avail from this partnership?
Katgara: Our partnership has provided an impetus to the Indo-German trade and business activities in the form of lower logistic costs combined with best infrastructure, expertise, and technology to the exporters and importers. Since Germany is the hub for retail, automobile, engineering and construction, our Indian customers have been able to leverage this alliance for their logistic needs. We have developed three to four consolidations in every Indian city for exporters and importers to benefit from it.
Schiller: The cooperation between Hermes and Jeena & Co is a good reflection on the general development on the trade between Germany and India. I feel India is a country with enormous potential. For us, Jeena & Co has been a superhero and the association has been a success for us.
What are the key highlights of this association?
Cyrus: Being a 122-year-old organization, Jeena & Co believes in investing in long-term relationships by partnering with local experts and leaders in Germany. Hermes being a leading LSP in Germany, helped Jeena to strengthen its foothold and grow the overall business between the two countries. The objective of the tie-up is to be a one-stop-solution provider to our customers in both these countries. The key offerings include the best of technology, innovation, and solutions.
Stephan: The association gives us hope to look forward and find a constructive solution. We are not looking for quick success but a long-term successful partnership for growth.
Sustainability has become a buzzword in the logistics industry. Please share with us the initiatives taken in this regard?
Katgara: I have always been a green man for the last 15 years I am fighting to go paperless with customs and airports. I feel the entire ecosystem should be digitalised. I thank Hermes for its latest initiative of buying all electric trucks. I am also asking Tata, Ashok Leyland, and Mahindra to focus on providing electric trucks rapidly into the market. I would like the airports to have electric ground handling equipment.
Schiller: Sustainability has been one of the key focus areas for us. Air freight is not known as a sustainable transport mode, but in case it all starts with making the consumption of CO2 visible to clients to say that this is what we do for our clients in Germany. We are developing a strategy to introduce electric vehicles, bicycle deliveries…so there is a lot to come.
Could you elaborate on your latest offerings for the Indian market?
Katgara: Earlier, we were heavily into retail, but now we have shifted our focus towards pharma and electronics. They are mainly transported via air as it requires speed, quality, and safety.
Schiller: At present, automotive, retail, fashion, home living are the segments for us in India, but I am sure there are other industries where Jeena & Co is active.