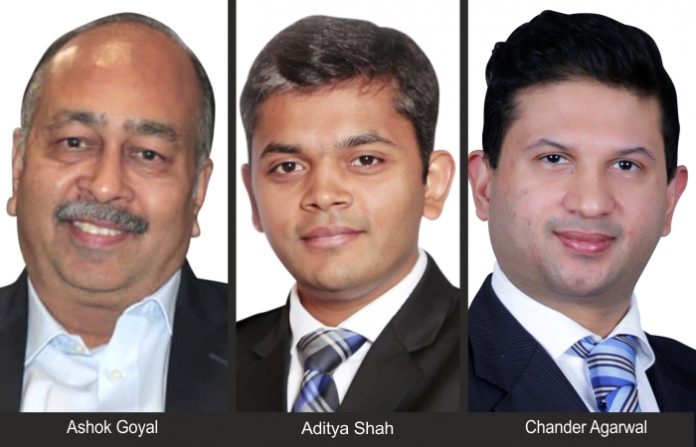 With an agenda to find out practical solutions for the present and strategies for future, CARGOTALK held its third digital conclave. Eminent speakers put forward their aviews on how to use this time to turn the crisis into opportunities and what could be the way forward for a better future. 
Kalpana Lohumi
While transportation stands to be the backbone of logistics, the industry serves as an umbrella to other key business areas like warehousing, packaging, inventory management, supply chain management and procurement etc. As soon as the lockdown was announced on March 25, 2020, the movement came to a near standstill with the exception being the transportation of essential goods. The second session of CargoTalk's digital conclave discusses how industry has managed to keep the cargo moving and turned the crisis intAo an opportunity by focusing on the current crisis and sighting the prospects in the new normal.  The session aimed at brainstorming ideas with three eminent speakers; Ashok Goyal, Managing Director, BLR Logistiks; Aditya Shah, Executive Director, V-Trans India; and Chander Agarwal, Managing Director, TCI Express.
Collaboration is the key to flourish
Sharing how industry came to a halt when the lockdown was announced but recovered, Goyal said, "COVID-19 has brought a new change in our lives. When the lockdown started in March, industry got into a very bad shape and everyone was worried about the future. However, we have gone through it well. If we look at last three months, the progress is phenomenal in terms of how the economy has picked up and businesses are back to 75 per cent level. Hence, I see no reason why are not we going to grow the way we were growing earlier as we can also see the younger generation taking over the business, especially road transport which is even considered to be a tough one."
"The crisis has taught us collaboration and has brought everyone closer. We never used to have this kind of unity which we have now and big players are taking the help of smaller players in the areas where they are not strong," he added.
Logisticians need acknowledgement too
"The period of end of March and mid of April was filled with uncertain times," said Shah. He continued, "Business came to a standstill, trucks were stranded, and cargoes were held up whether it is road, airport or seaport. However, logistics being such an essential industry for the backbone of the country, it had to bounce back very fast. The government has ensured the delivery of essentials, right from the beginning, and slowly and steadily also enabled the entire ecosystem around essentials. Things have started moving pretty fast for the industry, however, it was filled with challenges; from obtaining local permissions to ensuring the safety of people and also if people are in place to operate. The challenges which we as an industry have faced have been immense but still the resilience and hard work with which each one of us stood up deserves some acknowledgement."
Re-engineer business with technology
Agreeing with Goyal on getting numbers back to 70-75 per cent, as an industry, Shah said, "The future seems to be positive and bright. We should learn from the crisis; it has taught so many things from managing people, be it drivers or labour or our staff, to be digitally connected with the entire universe of stakeholders. The crisis showed us that physical presence is not required everywhere and we can work from anywhere using various platforms."
"It has helped us in re-engineering the business to those directions which probably were not possible in normal working hours. So, technology has definitely shown us the path of how to operate in such scenarios. We are a people heavy industry and being connected during these times to those who were striving and going on the ground, full of risk, was crucial," he added.
"The industry has been through tough times and learnt good things. If we would be able to survive through these times, then we will surely thrive in the better times ahead," feels Shah.
Go digital to save cost
According to Agarwal, "The most striking thing that has emerged from this entire lockdown is that it has given every company an opportunity to improve their performance, way of working and re-understanding the entire operations."
"Interestingly, with the use of technology we have had the lowest cost ever in the history of the company in spite of the fuel prices going up. This crisis has made us much stronger; all the things which were left undone could be done now for the betterment of the company and this has made our foundation stronger," he maintained.
Stressing on the difficulties being faced by the unorganised sector and how difficult it is going to be for them to survive, Agarwal said, "The unorganised segment is going to go through a tough time in the next few years because if they are not asset light or manpower heavy, it's going to be very challenging."
He continued, "Looking at the way the organised segment is positioned, the entire crisis has helped us to manage our cost and become more lean." Adding to this, Goyal said, "With the help of technology, manpower cost has come down; it has made us realise that a number of field staff were not even required."
Expectation from government
"We are expecting a lot. Honestly, nothing has been done by government as far as logistics is concerned," said Goyal. He listed four concerns where the industry needs help from government:
Firstly, we need COVID-19 cover for drivers because they are the ones who are on road from day one and making the supplies available. The COVID cover is required to make them feel safe.
Secondly, we are working on credit with our customers, hence we feel that either the interest on the working capital should be waived off completely or they should give us some reduction.
There has been imbalance in terms of GST norms the government has put up especially for logistics business. We are under RCM and FCM both; there is no level field for all the players. Simplification is needed.
Last but not the least is diesel which is our key component and is 55 per cent of our freight cost; the way its price is going up needs to be streamlined or if it can be similar in all the states.
Adding to the diesel price, Agarwal informed, "Most of the logistics companies in India are asset heavy. These companies cannot survive due to the increasing diesel price. They can have growth of 60-70 per cent but their bottom line will be 40 per cent. And, imagine 95 per cent of the unorganised economy is having heavy losses; how they are going to continue providing services? The government has to get a hold on this."
Suggesting the solution, he continued, "One important way of doing that could be if there is a change in diesel price, the manufacturing companies which are using the transportation services should be made liable to pay for that change. If the government imposes this on manufacturing companies, a large chunk of the unorganised segment will not face a massive cash crunch and they will be able to survive longer."
Build up our own capability
Talking about industry's readiness on working on its own, Shah said, "Working on our own is sort of a reality for logistics and the transport industry. The government body is doing its job but the real essence is, we have to build up our own capability and stand up tall. Eventually, if there is no help in future the question remains how will the business model sustain? We have to figure out a business model that would sustain without help and the
larger part is already standing on its own. As an industry, we can collaborate amongst ourselves; have some best practices or hand-holding with each other."
Continuing on the collaboration, he said, "Collaborations are opening up slowly but we still have a long way to go."
Logistics; a strong correlation with GDP
Explaining the size of the market, Agarwal stated, "First, we must understand that Indian logistics is about 14 per cent of the GDP which is US$ 340 billion and as per the NITI Aayog this is supposed to double in the next five years. Even if it does not double, it will come up to approx. US$ 550 billion which is a substantial chunk of emerging business and 60 per cent of that will always remain road. So, if you look at 60 per cent of US$ 500 billion, it equals US$ 300 billion, as per the data by NITI Aayog, which will be road transportation in India. Here comes the important factor that 95 per cent of US$ 300 billion is going to be unorganised. The challenge is that the GST which is not being collected by the unorganised segment will always be a threat to the economy. The government has to find ways and figure out how they can counter that."
Industry verticals
"The standard story is that no industry is at 100 per cent levels; FMCG and pharma were the first ones who sprung up because of requirement irrespective of lockdown as they fall into the essential category. These verticals recovered but not to 100 per cent; they also had their struggles in terms of manufacturing or last-mile delivery.
Chemical industry has also sprung back decently in May and June because chemicals are also required either in pharma or in FMCG. However, the auto industry is definitely a challenge for a little while and is not coming back so fast like other sectors. The entire chain in the auto is going to remain a challenge for a while whether it is a truck or car or two-wheeler. There will be a buying challenge at the consumer level. Probably, the sales of tractor and spare parts may not get impacted because of the agriculture and farm sector," informed Shah.
Scope of aggregator model
Commenting on the aggregation model where truck owners are connected by the goods supplier, Shah emphasised, "A lot of attempts have been made whether through private players or associations. To bring in efficiency, aggregation models should be strengthened, and they must be accessible to everyone, be it a truck aggregator or direct consumer. However, since the volume is so huge, probably one aggregating platform may not be able to sustain. It is only possible if three to four players merge, whether it is private or government, in order to make the truck seamlessly available to everyone. So, the data would be available but it is more about how easily we are able to access it with the use of technology and get the vehicle wherever you required it."
The unorganised segment
Service industry has always been manpower heavy. On this, Agarwal noted, "Being a part of logistics and transportation industry, we always have to be on ground to provide services. There is no way we can work from home. Hence, the next big challenge for the companies who are not going into automation will be managing their manpower during such a pandemic."