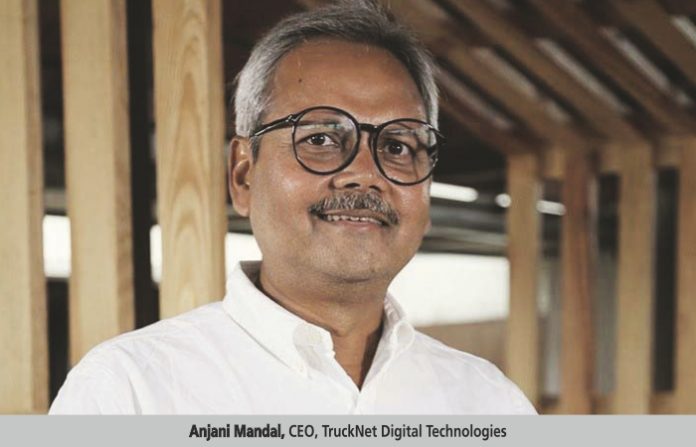 TruckNet provides Cloud-based secure SaaS (Software as a Service) solution for manufacturing and distribution companies by integrating the Trucking eco-system digitally. Anjani Mandal, CEO, TruckNet Digital Technologies speaks about the importance of Cloud-based technology in supply chain.
Priyanshi Bana
Q Do give us a brief about TruckNet Digital Technologies.
TruckNet Digital is a logistics and supply chain technology company which helps manufacturing and distribution companies by integrating the Trucking eco-system digitally. Once fully deployed within an organisation, it has the potential of providing a 30% improved performance in overall logistics efficiency & cost. It is a single integrated solution that enables transacting, controlling, analysing as well as improving & optimising logistics performance. This would be as much as 20% over the first few quarters of implementation.
Our Digital Logistics Platform on the Cloud allows organisations to connect with all the stakeholders in their value chain and have a single source of truth. Currently supply chains are disparate silos operating with minimal practice collaboration, and often run in a trust deficit environment. Lower trust always leads to higher costs, as you end up paying more for improved transparency, predictability, and control in your operations.
Q What are the services offered by TruckNet? How do you think these services are proving to be beneficial in the movement of the consignments?
TruckNet is a Cloud-based secure SaaS (Software as a Service) solution for manufacturing and distribution companies. It helps users interact with their suppliers digitally and facilitates two-way business interaction from indent to delivery to payment in a digital solution. It is accessible 'anytime, anywhere' for every user – including from their mobile. The solution deployment time is extremely short and starts delivering cost benefits from the first three months of implementation.
Irrespective of lockdowns and mobility restrictions of logistics managers of the company, business transactions from factories / warehouses to delivery points can continue seamlessly. Our platform helps companies to manage operations by addressing exceptions. From active manual operations involving paper-based, repetitive, error prone processes, organisations can move to paperless, automated, and resilient processes.
Q What is your present network?
Our primary focus is on enabling organisations to manage their primary outbound logistics. Our focus is on being the most practical digitisation platform for Indian businesses – one can build the most automated platform possible as the technology today allows, but the practicality of such solutions will be minimal due to the vast unorganised sector we operate in. If most transporters in India are not able or willing to install GPS on their trucks, we as a platform provider need to build practical solutions to work around that.
The solution is integrating for communication & conducting business transactions between a large pool of vendor partners with the shippers at all times. The efficiency in communication facilitates any shipper to interact with a large pool of suppliers as & when the need arises – including in an ad hoc fashion.
Q How has the pandemic, specifically the second surge, affected the business of your company?
We are encouraging and advising organisations to take the steps for digital transformation. We are driving digitisation in the industry, and the pandemic has shown how critical it is for organisations to embrace that change. The second wave has essentially proven beyond doubt that it is critical for organisations to build resilience into their operations. In a connected world, the chances of disruptions global and local are large, and organisations are now forced to accept it as a fact. As an organisation driving digitisation, this has admittedly made our conversations easier and audiences receptive to our message.
Q Do you think technology has an eminent role in coming times? How and why?
Digitisation and automation and new engineering technology is dramatically rewriting the variables of competitive advantage, and as a result, every company now has to be a technology-enabled company. This is where TruckNet's solution is going to add that cutting-edge for organisations. Cost productivity will be a quick win for the shipper with the Transportation eco-system integration solution.
It is said that the potential of improvement in overall supply chain efficiency owing to the active cooperation between vendor & customer will take some more time to mature and has the potential to improve the overall supply chain efficiency between 15% & 25%.
While organisations could afford to adopt technology at their own pace and timelines in the past, today it has come to a stage of quick change or death. The average lifespan of companies is coming down due to technology-enabled disruptions, and organisations now have to stay abreast of the latest technologies and adopt them proactively.