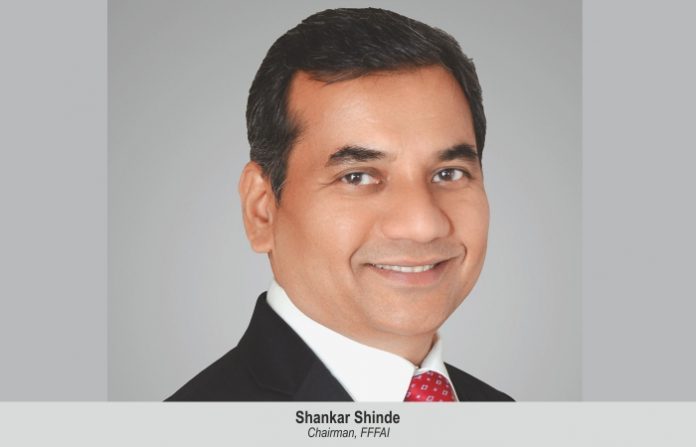 Federation of Freight Forwarders' Associations in India (FFFAI) celebrated its Foundation Day in Mumbai and shared plans to celebrate the Diamond Jubilee early 2023. Shankar Shinde, Chairman appreciating Gati Shakti, LEADS Report, LPPT, Faceless Assessment, Turant Customs, stresses on upskilling manpower with the help of technology.
CT Bureau
On completing 60 years of its inception, Federation of Freight Forwarders' Associations in India (FFFAI) recently celebrated its Foundation Day in Mumbai. The federation is all set to organise the Diamond Jubilee celebration programme in 2023.  While addressing the audience, Shankar Shinde, Chairman, conveyed his gratitude to 28 member associations and 6,500 members from across India for their support to the federation's journey.
He thanked trade associations, chambers of commerce, logistics industry stakeholders, Customs authority, and Union ministries for their support to FFFAI in the
past 60 years. He said, "The FFFAI is recognised by the Union government and the society as a vital entity of the end-to-end logistics/supply chain industry. Our collective wisdom, hard work and FFFAI's strength supported by 28 Indian member associations have been the key forces behind the recognition through various initiatives, policy announcements, and by the NLP announced by the Union government."
He said, "Our focus is to upskill the domain knowledge with effective utilization of emerging technologies. Our training arm, IIFF, is leaving no stone unturned in this regard."  Shinde said FFFAI is playing a constructive role in maintaining a constant rapport with the Customs, Port Trusts, Airport Authorities, CONCOR, Central Warehousing Corporation, Central Excise, DGFT, among others to make its own contribution in the policy formulation and administrative measures and simplification of various procedures.
FFFAI has strengthened its international networking and intervention in different international issues through International Federation of Customs Brokers Associations and International Federation of Freight Forwarders (FIATA). FFFAI's outreach holding important positions provided its members an opportunity to expand their horizon with support from these international associations. He appreciated the support from CBIC Team for their continued proactive initiatives to keep the logistics wheel movement through contactless, paperless online initiatives, which helped the transformation from manual to digital, was commendable and in true spirit of facilitation measures.