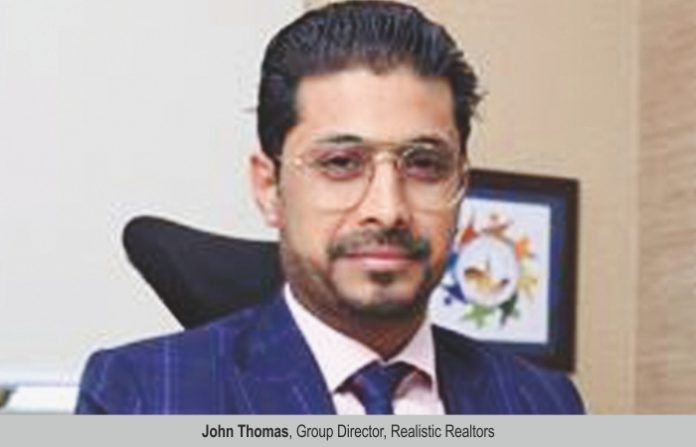 With the onslaught of technology and a favourable tax regime, the warehousing and logistics sector are one of the fastest growing sectors, owing to a sharp increase in domestic demand making India the 'preferred destination' for global manufacturers. John Thomas, Group Director, Realistic Realtors shares the details.
Warehousing is a crucial part of India's logistics sector, as well as a highly sought-after subset of the commercial real estate asset class. Previously, warehousing in India was characterised by outdated infrastructure, limited cargo mechanisation, low technology adoption, and a lack of value-added services. Over the last few years, the warehouse has evolved from a large storage room to a facility that adds value in packaging, inventory management, and product extraction. In other words, from the conventional godown to a modern A-Grade warehouse facility or a logistics park with huge space and ultramodern warehousing facility with excellent infrastructure.
According to industry sources, the warehousing and logistics sector has proven to be one of the fastest and most strategic asset classes to recover from this pandemic, owing to a sharp increase in domestic demand and a possible major manufacturing shift that will make India the 'preferred destination' for global manufacturers. Amidst various factors effecting this positive turnaround for this sector, few vital factors like improved infrastructure, regulatory and structural reforms, implementation of GST and few others are the major driving force.  3PL (Third Party Logistics), e-commerce, manufacturing, FMCG, retail, and consumer durables are just a few driving sources of sector-based end-users of warehouses. With some exceptions like automobiles and engineering, most of the industries such as e-commerce and fast-moving consumer goods (FMCG), cold storages etc. have seen a shift in consumer behavioural patterns leading to intensified acceptance, resulting in increased demand for warehouses from these end-use industries. And it's not only the metro cities getting the eyeballs, but the Tier-2 and Tier-3 cities too have started witnessing the explosion of the new shift of the warehousing needs.
The recently implemented Production-Linked Incentives (PLIs) in various sectors such as electronics, pharmaceuticals, food products, white goods, telecom & networking products, auto components, and others are aimed at luring global manufacturers to India as a preferred destination and in turn creating positive pathways to warehousing growth. When it comes to warehousing, global manufacturers bring with them expectations of international standards of construction & infrastructure, compliance, human safety, hygiene, and automation. This aligns with the growing interest in Grade-A warehouses, which are focused on technological advancement, modernisation, optimisation, and automation. As a result, leading national/global institutions are acquiring or developing warehouses/industrial parks near industrial and warehouse clusters across the length and breadth of India, indicating rapid scale-up activity.
For the better part of the last decade, warehousing as an investable asset class was barely a speck on the target list of private equity investors. The warehousing sector's fortunes turned around in 2017, when various policy initiatives, infrastructure status to the sector, 100% FDI approval, combined with the growing e-commerce segment. Today the warehousing sector has actually paved its way to one of the most favourable sub-segment in real estate alongside offices and other commercial segments. The recent add on initiatives like 'Make in India' and future awaited National Logistics Policy will undoubtedly make a direct and positive impact on the warehousing sector.
The warehousing market in India was valued at INR 1,501.2 billion in 2019 and is expected to reach INR 2,821.1 billion by 2024, expanding at a CAGR of ~13.57% during the 2020-2024 period. On the institutional investment side, the sector has seen investment volume growing from USD 125 million in 2016 to USD 2.7 billion in 2017. In 2018 & 2019 it was recorded USD 2.2 billion and 1.8 billion respectively. In 2020 the investment activity was subdued on account of COVID-19 disruption, but the long-term outlook remains attractive on rising demand from e-commerce players, 3PL and others.