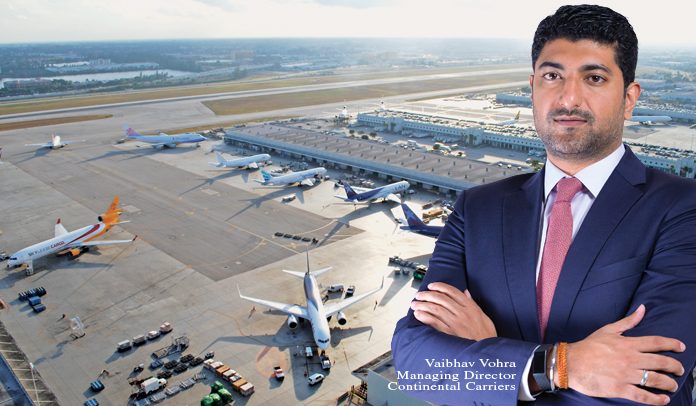 Continental Carriers is soon announcing an Air Freight Station (AFS) in Delhi to transform the business as per the changing scenario of the industry. Vaibhav Vohra, Managing Director, Continental Carriers, stresses on automation, skilled professionals and policy implementation in order to bring in efficiency at work.
Where does the Indian logistics industry stand vis-à-vis the international market?
The logistics industry is evolving everywhere and facing its own challenges in the domestic as well as international markets. Challenges are in the form of infrastructure, warehouses, adaption of technology; software-based process, skilled professionals and ever-increasing customer expectations in terms of cost-effective efficient services from logistics providers. Today, in the Indian and global logistics market, a logistics service provider becomes a favourite by providing value-added services rather than his expertise in transportation and warehousing.
The Indian logistics industry has seen decent development in the last few years due to the right policies and customers' demand of quality products. With the Make In India policy in place, India is emerging as the global manufacturing hub. MNCs of various industries are establishing world-class manufacturing facilities in India. These facilities will be catering not only to the domestic market, but also to the international market.
With an ever-increasing demand of online purchasing, e-commerce is showing nothing other than the way forward for the logistics industry. However, with growth, we have our own challenges and I strongly believe that in due course, with the right government policies in place and the determination of industry players, we will overcome these challenges soon. In the global scenario, the use of robotics and drones in the logistics industry is being seen, and I believe this will be a reality soon in India, too. Automation will certainly reshape the logistics industry in our country, though I understand automation will also come with its own challenges.
Everyone talks about challenges in the Indian logistics industry, how accountable are the government and industry to bring about efficiency at work?
Indian logistics industry is growing at a rapid pace, the challenges, in such a situation, are bound to be there. Some of the challenges that we face are lack of improvement in infrastructure, change in various related policies, influential management practices, lack of adoption of technology, and need for better warehouse facilities and innovation. These all entail a continuous improvement process and for this, the government and the industry must always work together. The government is doing a lot by bringing in various policies and it becomes equally important for industry leaders to show their enthusiasm to remain in the same dialogue with government agencies to get the best out of these policies and implement them.
What are the changes you would like to see in making the industry more efficient?
With increase in e-commerce, cost-effective and customer-centric solutions to provide last-mile delivery is the vision of any logistics service provider. To achieve that, we need to invest heavily in infrastructure, warehouses, digitisation, software-driven processes, and skilled professionals. Undoubtedly, the industry is slowly and steadily bringing about these changes to provide efficient customer centric and cost-effective delivery solutions.
How would you like to contribute towards these changes?
A better investment in R&D and training & development centres to create skilled professionals for the industry is the need of the hour and this is what I seriously want to do for the industry. Continental has always been a pioneer in adapting technology and implementing policies.
How do you ensure that your company stays on top of its game?
Continental Carriers has always worked on customer-centric and cost-effective policies. Our innovative spirit to transform the business as per the changing scenario of the industry keeps us in the fast lane and makes us the customers' favourite. The soon-to-be-introduced Air Freight Station (AFS) by Continental is one of the examples of our endeavour towards the same. AFS will help to reduce the handling cost at airports and subsequently, bring logistics cost down. Once implemented properly, AFS will certainly improve the air cargo scenario in India.
How the global economic scenario in the year 2019 have impacted air cargo industry in India and what can be done to better the situation?
Global economic slowdown in the year 2019 has hit Indian air cargo industry with close to 5.3 per cent decline in freight traffic. Order cancellations and discounts in freight rate demand and no increase in new buyers is an everyday story. As per many research cargo firms have scaled down their growth projections for the full financial year. As per the ministry reports, aircraft movements and freight traffic have decreased by 1.2 per cent and 4.7 per cent, respectively. Due to these external factors and low demand in the home market, the Indian economy has been slowing down.
But we are quite hopeful as a lot is being already done to overcome this situation. The Indian air cargo industry has the potential to become a global hub. The government's ongoing effort to develop infrastructure, ease of doing business through single window system, the introduction of cargo hubs & special economic zones, Make in India, digitisation, skilled India along with upcoming Air freight Stations, all are endeavors to provide momentum for the growth of air cargo in the coming years. Also, as an air cargo operator it's important for us to review and update our product offerings to meet the market needs.