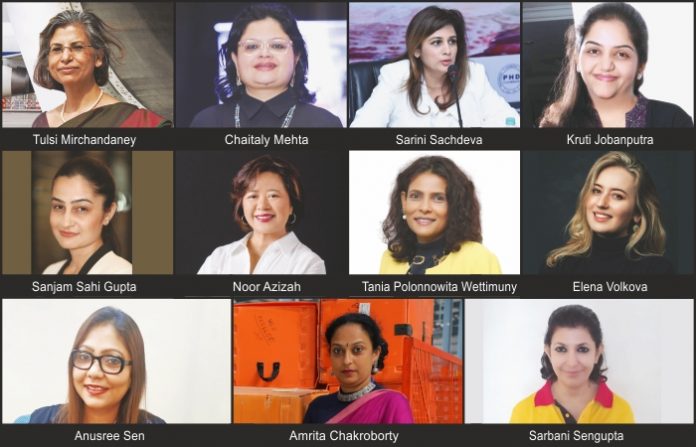 Despite representing around half of the global population, the percentage of women working in a male-dominated logistics industry remains shallow. CARGOTALK speaks to women who have carved out unique places for themselves in the logistics, warehousing, distribution and air cargo industry dominated by men. 
Kalpana Lohumi
It is appalling that the deliberation on fewer number of women working in a male-dominated logistics industry continues. Logistics, warehousing and supply chain industry is traditionally a male-dominated industry. When one thinks of logistics industry the first picture that comes to mind is of a truck driver or an industry which involves moving and lifting. However, there is more to the industry rather than just moving and lifting. In this excerpt, women from India, Singapore and Sri Lanka share their stories.
Tulsi Mirchandaney, Managing Director, Blue Dart Aviation
Women have proved their capability in every field
With many barriers of former all-male bastions being demolished slowly but surely, especially over the past two decades, I no longer believe that any industry is gender-specific – intentional or otherwise. Women have proved their capability in every field – from sports to space, and from country to corporate leadership. If air cargo and logistics is still a 'male-dominated' industry, then the failure is ours in not being able to provide an environment to attract the rich talent and gender diversity that would undoubtedly help to grow our companies and communities across the country.
To be fair, it has been refreshing to see an increasing number of women in our industry – entrepreneurs, professionals, and couriers – delivering with equal zest and pride. Some of the most efficient couriers in Blue Dart, battling the elements on the not so ideal streets, are the lady couriers who match and even outdo, package to package, deliveries of their male colleagues. We have five lady pilots in Blue Dart Aviation when a decade ago there was none, and we have ladies in almost every department who stand tall – engineering, flight operations, flight dispatch, technical services, quality, materials & stores. I'm very proud of what they do each day, and especially their commitment during the height of the pandemic last year. When the world stopped, we moved, and the ladies were there to prove their mettle.
It is a far cry from when I began my career in the airlines 50 years ago; back in the days when air cargo was not seen as a woman's job, my colleagues were all men. Hot and dusty terminals were overflowing with cargo and bereft of women. On a typical sales day, visiting customers and agents usually ended with a drive to the airport to oversee the palletisation of shipments promised for transportation.
In 1995, when my journey with Blue Dart began, the shift to creating a structured, scheduled domestic cargo airline entailed a steep learning curve. The launch of India's first domestic cargo airline on June 17, 1996 across the five major airports of Chennai, Bangalore, Mumbai, Delhi and Kolkata, was a historic high, not just a milestone in the country's aviation history, but a memory cherished forever by all of us who had the privilege to be part of the project team. 25 years on, Blue Dart Aviation is still charting new frontiers across Indian skies and, more recently, venturing beyond boundaries. I feel so proud to be a catalyst on that journey with an organisation that has changed the course of my life forever.
Chaitaly Mehta, Director, EKF Global Logistics
Being a woman, earning respect was hard 
My journey in logistics industry started right out of college when I was only 20 years old and this is my 24th year. There have been a lot of challenges over the years, from being taken seriously in the earlier days and years as we didn't have women handling hard core operations to being heard, my opinions being asked or even acceptance of my suggestions. Earning respect from the people around me was twice as hard in some cases because I was a woman and in some because it was my father's business; it meant being labelled aggressive for doing my job.
Even some of the clients had an issue working with a woman at the top. I have been given wrong guidance and in worst cases being literally made to beg to get help because they had the power and the ability, and I was a novice or a woman or maybe both. Even now men have a problem in reporting to a lady boss.
Logistics industry is no less than a roller coaster ride
Commenting on how easy it is for women to carve out a successful logistics career in India, Mehta says, "Nothing is ever easy in any industry but success is possible if you have the right priorities. Talking doesn't work here, action does. We have such amazing women working here and their stories and career graphs are fantastic. If you are not a quitter, can multitask, be an effective problem solver, are a good listener and neutral person and have the grits and gumption to want to succeed no matter what then it's only one way for you and that is upwards."
No day is the same day in logistics industry and it is a full on roller coaster ride. If you have an innate understanding of the subject, can foresee the problems, can feel for the shipment then you are in the right industry. It is not everyone's cup of tea and not everyone can handle the daily volatility and stress levels. This industry is definitely not for the faint hearted or for those who want a 9-5 job. If you can lead from the forefront with the right vision, principles and methods, this industry is for you to rule.
Mehta lists few unavoidable factors to attract more female talent
Sanitation and hygiene facilities
Equal pay as the male counterpart
Equal level of respect as accorded to their male counterpart
Acknowledging their work and contribution, timely promotions and fair work practices
Not to be treated in a condescending manner and no unnecessary comparisons with their male counterparts
Equal job opportunities and equal playing field
Being given opportunities which would be given to their male counterparts and not being held back and not given opportunities just because one is a woman
To be judged fairly and squarely purely on basis of work and accomplishments
Sarini Sachdeva, CEO, Aardour Worldwide Logistics and India Cargo Awards Winner 2016
Indian logistics industry is not accessible to women, even today
It was not at all easy to start a career in logistics Industry especially coming from a non-logistics background. While there are men who are happy to see women progressing, there are also another set of men who cannot see women growing, especially when one gives a tough competition. So, indeed when men see a woman doing well in a very short span, it is not the best thing indeed. Hence, for them the only way to satisfy their self-esteem is to talk negative. However, the change has definitely been seen since then and I see more and more men trying to give equal respect to their women colleagues.
The Indian logistics sector provides livelihood to over 22 million people. However, this industry is not accessible to women, even in this day and age. Traditionally, the sector has been associated with physical work and been seen as an all-male sector. Women have been ignored with a misconception that they are not suited to blue-collar work, as a result of which there is an immense difference in the ratio of men working in the logistics sector to the ratio of women. Companies in this sector prefer to recruit male applicants due to the ingrained belief that blue-collar work is equated with masculinity. Women are less than one-third of the population providing manual labour for logistics. Consequently, companies are reluctant to seriously consider women candidates for the job.
On the other end of the spectrum, women find it difficult to work in the logistics sector due to safety issues and incompatibility of work and family life. Also, they lack the skills required for the work because of the unavailability of training and awareness. Even Cargo, founded in 2016, is India's first women only e-commerce logistics company which promotes the appointment of the female population to the logistics industry by encouraging and supporting their career development.
Logistics industry is transforming
The government is committed to making the logistics industry bigger and is making efforts to increase jobs in the sector; this step would build space for women in the sector and open up the gates for gender equality. As e-commerce companies have rapidly expanded the scale of logistics companies, the need for more labour is created which eventually gives women a platform to build their career and make themselves financially independent and strong.
To conclude, I would say that the logistics industry is going through a phase of transformation by taking steps to eradicate tenderisation with the help of the government and companies like Even Cargo. Reducing gender discrimination suggests the possibility of professional development of women in this sector.
Kruti Jobanputra, Director, JWC Logistics Park and India Cargo Awards Winner 2018
The only obstacle is the male ego
My inspiration and my biggest motivator is my father who has been a mentor, a guide, a friend and a teacher to me. I was and I am very passionate about doing what my father was doing; therefore, I always wanted to be a part of my father's business. He has been a part of logistics industry for more than four decades now and he always tells me 'keep pushing, keep hoping, keep trying and success will always come to you'. 'It's a man's world' was the first line I had heard after coming to this industry. I joined the company as a trainee working with all men around me. Here I got to learn about a completely different culture and over the time, I took interest and worked in all departments like Operation, Admin, HR, Finance etc. Today after being a part of the industry for 15 years, I am still learning new things and enjoying new experiences every day.
The only obstacle is the male ego. The acceptance of a woman above you because of her skills and intelligence and experience is something that is difficult for a man to digest. In the logistics industry 60 per cent are working according to the old schools of thought and the mindset of men in the industry is the factor determining the discrimination for women; although the balance 40 per cent of the industry are welcoming and respecting women as a part of their logistics team.
I am sure that in times to come, men will change their ideologies and mindset about women in the industry. Once the mindset starts changing there can be a great change in the industry. Today, companies are realising and experiencing the difference that women are able to bring about in the industry and in their company. This kind of appreciation will encourage more women to join the industry.
Sanjam Sahi Gupta, Director, Sitara Shipping
I always wanted to work in logistics industry
Flashback to a little girl in pigtails, hearing stories that Daddy narrated on the dinner table of ships, cargos, pirates and more. Visiting the port was normal, climbing the rope ladder and onto those glorious ships – all this led to my fascination for the maritime industry. While at college, I also spent some days at the office doing basic accounting work but that taught me a lot about our vendors, costs and the pricing process.
Fast forward to 2001, I had completed my MBA and was raring to go. My sister and I both began working in the family business and trainee would be too kind a word; we were the general dogsbody, did odd jobs – sending emails, filing etc.
My mother too works for the business and heads finance, both my parents were my mentors. Over the years we have realised that we had to innovate and hence we focused on the niche market of over-dimensional cargo and today we are actively involved in end-to-end logistics of project cargo.
If we had been sons we would have been accepted easily
The challenge was the mindset that had we been sons we would have been accepted. So, we had to work harder and better at being accepted. My father left us to sink or swim and while I resented it back then I understand now that it made us tough.
The one event that impacted me the most was where the speaker addressed the gathering only as gentlemen, as though we women didn't exist. That was the moment which pushed me to Google women in shipping and there I found the WISTA network. We launched in India in 2012 and today there is a platform for women entering the shipping and logistics industry. Something I felt I didn't get enough, and it was my way to give back.
Young women can bring in new knowlege for the future
The logistics industry is an exciting one, albeit seen as male-dominated like a lot of other industries. Firstly, to be successful there is no substitute for hard work. Further one needs to keep an open mind, be proactive and say yes to every opportunity to participate in meetings/teams or to speak at events and be visible.
This is also an exciting time of many opportunities when companies are looking into alternative ways of working, influenced by digitalisation and the age of innovation we are currently in. There is a great deal of flexibility also being offered with remote working options. As an industry, it's becoming more complex and more reliant on automation and AI. Hence, young women can bring in the new knowledge that is needed for the future as physical strength is not the only criteria. That is not to say that women or girls aren't strong enough! It's time for the industry to rebrand itself and project itself as the place to be in for an exciting career option. Young women need to be presented with and understand the benefits of a career in logistics early on. More awareness needs to be raised by both educational institutions and senior management.
Tania Polonnowita Wettimuny, Group Managing Director, IAS Holdings, an entrepreneur, and First Female Chairperson of Sri Lanka Logistics & Freight Forwarders Association
I entered the logistics industry by default
I have joined the logistics industry by default; I started as a school leaver and a trainee to get some work experience. Sharing the positive side, Tania Polonnowita Wettimuny, Group Managing Director, IAS Holdings, an entrepreneur, and First Female Chairperson of Sri Lanka Logistics & Freight Forwarders Association says, "I am very happy to mention that in my 30 years in the industry I have faced very few challenges. Individuals outside the industry and in the industry had the mindset of logistics as a male-dominated industry, when opportunities arose for greater things. I was considered probably as an option as opposed to a male colleague of mine being considered as suitable."
30 years have not been a cakewalk
The past 30 years have not been a cakewalk and I stress that the difficulty faced by women working in the logistics sector is recognised as different from women working in traditional areas. We women continue to be under-represented in non-traditional industries and occupations, especially in logistics sector. Inequality and career obstructions continue to be an issue within the sector as it is believed that women have limited growth opportunities through omissions at both a professional and social level. It is observed that female employees in the logistics industry are in administrative positions such as human resources, finance and data processing and not in high-profile operations positions, therefore, women are easily overlooked as a significant part of the industry.
Right leadership skills is my key to success
In this part of the world, logistics was an unconventional field for a woman. There were some women in middle management and lower levels but no women in the senior management. Achieving a magnitude of growth within a small period in an already saturated industry was only possible with the right leadership skills where I have demonstrated throughout that if you live up to the business fundamentals that we have laid down with equal opportunity, growth in business is an easy task to achieve. My doors are always open for any juniors wanting advice and guidance. I am more than happy to encourage women and create a path for them.
Noor Azizah, RVP Asia, ECS Group
I have contributed to the industry's growth in my own small way
I practically grew up in the air cargo industry, and that was more than 30 years ago. I got my first taste of the industry when Singapore was promoting itself as a hub regionally and internationally. The Singapore Government provided the infrastructure and platform for this industry to grow and grow. As such, I became part of this growth.  I have contributed to the industry's growth in my own small way and am recognised by my peers for my efforts in the cargo industry.
Swim or sink
When I was working for the international freighter airline, I was thrown in the deep-end. It was either I swam, or I sank, and there were no two-ways about it. I learnt everything there was to learn to manage a station and I can safely say that I was able to manage a station with little help.
The only thing that I could not do, was balancing the aircraft's weight/balance. You needed the weight and balance license for that. I wanted this license to complete my experience badly but unfortunately, you can't have it all. In those early days, there were no women holding that kind of skill or job. Having that license could have given me an 'all-rounder' experience. I must say that there were only a handful of women in our industry at that time, but it did not deter me from doing things I loved to do. I loved challenges and I was always a risk-taker. I would find ways and means to get my job done. My boss at that time, and still is, once told me, that if he were to throw me in a soccer field with the boys, I would have played better soccer than them! I have never forgotten his words as such antidotes provide me with the motivation to become a stronger person to do what I can to succeed as a woman in the industry.
Women's persistence is a plus-point
Sharing her views on how easy it is for women to carve out a successful logistics career, she says, "Their persistence is a plus-point. They are not afraid to learn and venture into new things. For a woman to be successful in this industry, she must have confidence, tenacity and be able to handle and balance stress. In this industry of logistics, every day we face a new problem that requires a solution. If you can manage and have all these qualities in you, you will be successful." I strongly believe that being a woman can actually be an advantage in this industry. Speaking well and great presentation skills makes all the difference. A person with such presentation skills, with detailed knowledge of the products, would be able to get the message across. In addition, it is vital to have self-confidence on full display.
Talk about logistics as a career in schools and higher institutions
The industry has a natural pool of talent which is extracted from the universities and the polytechnics. Numerous courses are there for those interested in this industry. Perhaps more could be done to promote logistics and the supply chain industry as a career by having workshops and talks in the schools and higher institutions. The charisma that would attract more women would be that the logistics industry is not just a desk-bound job. This industry is dynamic and ever-changing. You can say it is hyper, full of energy and every day is an interesting day. Many women would be attracted to such jobs as much as how it is attractive to our male counterparts.  Also, I believe a more extensive campaign from a logistics association is needed to train and attract more female talent.
Elena Volkova, Chief Product Officer, CargoAi
Logistics is a vital area of our life
For me it first started way back in 2015, when I was working in a software BI company in retail industry. Though my focus wasn't that time purely on logistics, it was clear that it's a complex and vital area of our life which not many of us see but we all depend on it. Joining CargoAi gave me an opportunity to dive deeper into the logistics world. Today everyone in cargo is making plans to go digital, it's in the air, and I am very proud to be a part of this revolution.
Being a woman in software has always been a challenge. In logistics, I am fortunate to be with CargoAi team where the value of a person is not measured by gender or where you come from or how old you are. It's all about skills.
Diversity is a strength
There is no easy way to success, neither for men nor for women, but if you love what you do, you will lean towards growing your skills and work hard. In logistics as in other industries, diversity is always a strength and I think airfreight has understood this. It's a sector that's quite advanced in this regard, not only from a gender perspective, many women now occupy senior positions in terms of skills and variety of backgrounds.
Women do not need to be extraordinary
I don't think there are gender-specific traits that would make a man or woman successful. In my opinion, we need to get away from those stereotypes that feed the belief that a woman should be extraordinary to be on the same level as a man. I am more Cartesian than that. What makes the difference to succeed, man or woman, are the hard skills and soft skills. Learn to see the differences as a main advantage. Different points of view make all the difference. It is also much more competitive and vital to
trust yourself and stand your ground. Strive to work as one team and anything becomes possible.
Different entry skillsets would encourage women
Companies need to drive and build a stronger community within the industry and encourage their teams' contribution.The more initiatives like this will be started – the more talented people will see the possible areas of applying their skillsets. By extending varieties of different entry skillsets – there will be more possibilities to attract great talents. But I think this is a phenomenon that is already taking place in airfreight, and CargoAi is a perfect example of this.
Amrita Chakroborty, Associate Director – Line Haul, Shadowfax Technologies
Logistics vital for maintaining operational preparedness
My logistics career started when I joined the Indian Air Force where I have worked across various logistics domains from SCM, warehousing, procurement to transportation, etc. Since the initial years of my Air Force career, I had developed a great liking for this field because of the crucial role that logistics plays during peace, war, or any natural disaster for maintaining the highest degree of operational preparedness. I was very fortunate to have an intense learning and productive 10 years of Air Force logistics career before retiring as a Squadron Leader in 2015.
Women do stand a good chance
Many reports and studies say that women are more natural and better multitaskers than men which is a key necessity of an efficient logistician. Taking this ability into consideration, a woman stands a good chance to carve out a career in logistics. They are emotionally more balanced and less impulsive which helps them think critically while managing a large team including blue-collar workers. As we know women are more empathetic which helps them strongly relate to the needs of the inside and outside stakeholders to solve people's problems efficiently as they always like to go to the root causes of issues. I feel with the e-commerce industry in India growing at a very fast pace, we must strive to provide equal opportunities to women to excel in the field of logistics.
Logistics is no longer a labour-intensive sector
While many MNCs and startups are already moving in the direction to provide opportunities to women to help them showcase their talent in logistics, we still see a minuscule percentage of women in this sector. Hence, there definitely lies a responsibility to firstly break the stereotypical views on women's presence in the industry. With widespread technological advancement in logistics, it is no longer a labour-intensive work requirement. Today, women are using high-tech systems for packaging/Sortation/ MHE operators/delivery executives, and so on. To attract more female talent, we may have to look at the awareness campaigns in higher educational institutions including government polytechnic colleges. Logistic MNCs and startups can spend a portion of their CSR budgets to launch logistics skilling programmes for women or by creating internship opportunities for female graduates to upskill them and to provide them with industry exposure.
Anusree Sen, Deputy General Manager, The PDP Group
It took me a great deal of time to prove myself to my clients
The airline job had always fascinated me since my school days, but destiny had an alternative plan for me. In the year 1997, I joined an international freight forwarding company as a Customer Service Executive.  As time passed, I learned more and more on the job and gradually fell in love with the industry and realised that the logistics industry is an important key to the economic growth and development of the country.
I have been in the industry for a little over two decades now and today I get recognised and respected for being one of few ladies in the so-called 'male-dominated' industry. But it has not always been like that. During the initial days, it took me a great deal of time to prove myself to my clients. I used to feel like it was due to gender differentiation but as I worked more, I realised that it had nothing to do with gender bias. In fact, it was more because of my lack of experience in the new field of work. Gradually, I made a place for myself by continuing to deliver on my promises, being accessible, and having a constant drive to promptly give customised services to customers.
Women have the competence              
In my opinion, it is not difficult to carve out a successful logistics career in India as several socio-economic factors have had a positive impact on the 'de-genderisation' of roles to ensure the inclusion of women in logistics.
Globally, in 2010, women formed only eight per cent of the logistics workforce which has steadily increased to 20 per cent in 2018. In India, specifically, this number currently stands at approximately 15 per cent and is expected to reach the current global average of 20 per cent by 2022.
Sarbani Sengupta, VP – Customer Service, DHL Express India
Low gender ratio can become an opportunity
My career in logistics started in 2004, after more than 10 years in the financial services industry. I have never faced any challenge in this industry and I believe the reasons are my mindset, prior experience with MNCs, and the environment at DHL Express which has always made me feel valued. In this organisation, I feel respected for the unique viewpoint that I bring to the table as a woman – from innovation to inspiration, execution to nurturing, sentiment to out of the box thinking, and more. The crux, as to why I haven't experienced any challenges in this industry, lies in the culture of diversity that we drive and live at DPDHL. So forget challenges, it has been quite the reverse.
I see the low gender ratio in the logistics industry as an opportunity, rather than a challenge. With the expansion of logistics, increased demand for jobs, and the availability of specialised educational courses supporting this growth, it's easier for women to get the right roles and make a mark.
Gender, geographical and generational diversity could be the key to success
The nature of logistics involves working across multiple geographies and with multiple stakeholders, thus diversity is the critical success factor for our industry. Organisations are realising the importance of the 3G approach – gender, geographical and generational diversity.
Having said that, some roles, like in Operations, have very low gender diversity ratios, though that is changing now with increased automation and mechanisation. I believe hiring managers across industries are increasingly realising that including women employees makes for a more creative and compassionate culture and leads to greater teamwork.