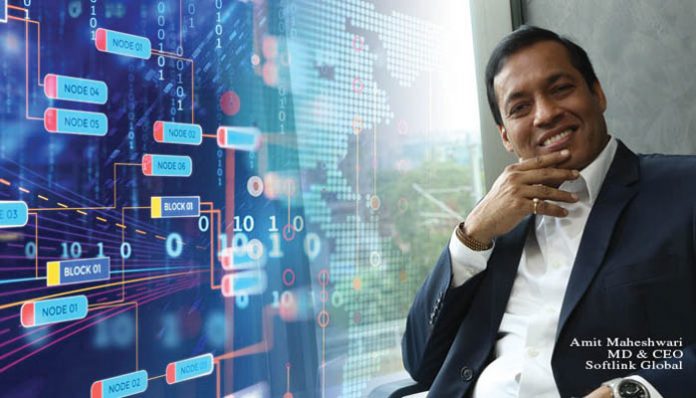 Currently operating in more than 40 countries, Softlink is focusing on the emerging markets of Africa, Europe, Canada and Korea which can leverage their products to operate their logistics business. Amit Maheshwari, MD & CEO, Softlink Global, stresses on digital interfaces like blockchain and artificial intelligence for documentation clearance.
How is digitalisation changing the logistics process?
Historically, logistics industry lagged behind in technology innovation because logistics operation involves more of physical processes, including handling products, packages and transportation. But, companies like Amazon and Uber have pushed the boundary with technological innovation in supply chain and re-shaping the industry, based on data and automation that provide visibility, transparency, simplify business processes and enhance customer communication.
Logistics industry in contemporary times is recording a paradigm shift in market trends and everything is becoming customer centric. ERP, robotics, Internet of Things (IoT) and Artificial Intelligence (AI) is changing the logistics industry. Digitalisation has enabled the logistics companies to address the ever-evolving requirements of the customer and meet the challenges on the supply and demand side by providing more transparency. Automation in supply chain is helping the companies to simplify its supply chain by eliminating duplication, improve efficiency and reduce expenditure to get work done faster, meet customer demand more efficiently and reduce wastage.
At Softlink, we have developed Logi-Sys, which efficiently manages the end-to-end operation of the logistics business right from sales and operations to financial accounting. It also enables digitalised customer interactions by sending alerts and notifications in a single dashboard. The system streamlines and automates the logistics operations to complete solutions under a single platform which enables logistics operators to reduce revenue leakages with better planning and billing schedules. This system has enabled integrated financial accounting, sales and CRM and alert notification to run logistics operations successfully and drive revenue growth to keep every operator ahead in the business.
What are those technologies that are making processes more efficient and how?
Logistics technologies like robotic warehouse automation are a reality; drones to improve last-mile delivery and tracking tools like RFID tags to improve visibility throughout the supply chain is changing the way we do business. These technologies are contributing in gathering big data and analytics and when combined with other data sources, allow companies to optimise the supply chain and make better prediction and forecast to improve efficiency and boost the bottom line.
Today, IoT is being used for everything from tracking buying behavior through RFID tagged products to signaling re-orders which include speed, accuracy, cost reduction, and better inventory tracking. The inbuilt sensors in the vehicles are connected to dispatchers which allow accurate in-transit visibility, monitoring and tracking of every movement within the system. Robotics technology serves several important functions in the supply chain, from assembling widgets to reading barcodes to moving products from one area of a warehouse to another.
Further with the inception of newer technology in future we can adopt Blockchain, which will bring accountability and transparency in document tracking and asset management. Data analytics will inform about demands and fluctuations in the market to take intelligent decisions. Artificial Intelligence would combine multiple devices together with available dataset to make smarter business decisions.
How is Softlink contributing to make the logistics operation efficient and cost optimised?
We at Softlink are engaged in providing technology solutions to global logistics industry over the past two decades. We conceptualise, design, create and market system to cater to the needs of the logistics industry. We have thrived hard to bring the entire custom broking process under one system, by developing Logi-Sys the latest innovation to provide end-to-end software which can manage documentation in a simplified manner with a shorter turnaround time.
By eliminating bottlenecks, delays and duplication of efforts, the application has enabled the logistics operators to enhance the employee productivity by up to 40 per cent, operational and financial control in place has helped to leverage real-time information for accurate and timely decisions which in turn helps in reducing cost by 30 to 50 per cent thus increasing customer satisfaction.
How do you ensure that your company remains on the top?
We have been foresighted enough to sense the market trends to develop products for the logistics industry since decades. Currently, Softlink is successfully operating in more than 40+ countries globally. To remain on top of its game along with innovation in our product development we are planning to serve many other countries to bring more efficiency in the logistics operations globally. We are sincerely focusing on the emerging markets of Africa, Europe, Canada and Korea which can leverage our products to operate their logistics business.
Take us through the journey of Logi-Sys development from its inception to becoming one of the most favoured ERP software?
Logi-Sys was developed by keeping in mind the complexity of the logistics industry. The system is as critical as an operating system for the freight forwarder and logistics industry that can manage sales, operations, financial accounting, customs broking and customer interaction notification under a single platform. Logi-Sys is a wholesome ERP solution that helps to reduce revenue leakages; increase productivity and better customer services gives us an advantage over any other software in the market. Our technology enables optimal usage of resources, superior business decision abilities and greater planning for increased productivity and enhanced profitability. Companies of any scale from a single office in one country to multiple offices across different countries can use it. Our skilled employees are ready with 24X 7 backup recovery systems.
Custom clearance is a complex process, how do you simplify it?
Digitalisation in customs clearance procedures plays an important role in bringing efficiency, simplification, lowering costs, and better use of resources and existing infrastructure. It also facilitates new opportunities for business and predicts the potential to change the way cargo and traffic flows can be organised and managed in the future.
The future growth of logistics industry is entirely dependent on how we integrate technology and adopt the changes to bring the critical transformation in the process. We need technology to be adopted on similar grounds for logistics industry where we can manage the entire process on a single device from anywhere at any time. Currently, custom clearance requires two days for end-to-end processing, but given the fast pace we need to shorten the clearance time by up to 10 hours to bring more efficiency and upscale the trade for the country. Further, we must ensure that physical documentation becomes redundant and everything is securely handled.