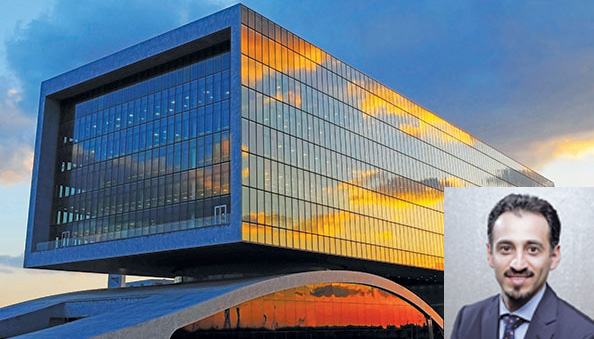 Hussain bin Rajab, Director, Manufacturing, Transport, & Logistics Sectors, Economic Development Board, Kingdom of Bahrain, in a tête-à-tête with CARGOTALK, shares the scope of opportunities, investments and growth factors that Bahrain offers holistically.
Jessy Iype from Bahrain
Can you brief us on the history of EDB while enumerating its role in Bahrain?
The Economic Development Board of Bahrain was established in the year 2000 with a mandated focus on public sectors, economic reforms, attracting foreign direct investments and enhancing the business environment in the country. This also includes working with the government on improving policy and regulations. We focus on five priority sectors, these are: financial services, tourism, ICT, manufacturing and logistics. Bahrain is the most diversified economy in the Gulf and with oil and gas contributing to only 20 per cent of GDP. Manufacturing and logistics contribute 18 to 18.5 per cent to Bahrain's GDP. In the manufacturing sector, which is 14 per cent of Bahrain's GDP, the major component is aluminium segment which constitute 12 per cent. On logistics sector, we are spearheading in enabling value added services, freight forwarding, assembly and packaging.
Kindly enlighten on some upcoming projects
Bahrain is currently investing around 33 billion US dollars in new infrastructure projects. About 10-11 billion dollars of that goes to industries. There is a refinery expansion of about 5.5 billion dollar to double its capacity, there is a gas processing company which is expanding and also an investment in a new 300 million dollar pipeline connected with the Kingdom of Saudi Arabia, the Gulf region's biggest economy. A second causeway is also being built connecting Bahrain to Saudi Arabia as well as expansion of the Bahrain International Airport. Approximately 15 million dollars are also being invested in social housing.
What is Bahrain's USP?
There is a lot of interest from international companies in Bahrain as a regional manufacturing and distribution base. Major international manufacturing businesses from all over the world use Bahrain as a hub, including India's JBF and Chemco, BASF, one of the world's biggest chemical companies, and Modelez (formerly known as Kraft Foods), one of the world's biggest food manufacturers. The advantages of setting up a manufacturing business in Bahrain include:
Geocentricity
Bahrain is strategically located at the heart of the Gulf, a market currently worth around 1.5 billion dollars and expected to reach 2 billion dollars by 2020. Bahrain is connected by a road causeway to Saudi Arabia, the Gulf's biggest economy, and has a number of free trade agreements with some of the world's biggest markets, including the United States.
Cost
Bahrain is 20-25 per cent cheaper than other GCC countries for cost of construction, manpower, utilities, trucking, or issuing commercial licenses, logistics where the cost of OPEX or CAPEX is less, including employee cost.
Regulation
Bahrain has a well-established framework of its commercial laws and labour laws. Today, Bahrain is the only country in the region that offers 100 per cent foreign ownership in almost all activities without free zone restrictions. This means that products manufactured in Bahrain can be exported within the GCC with no requirement to pay duties.
Manpower
Bahrain has one of the highest skilled work forces in the region. In terms of employment, we have structured policies. Each business has localisation requirements, like all countries in the region, but companies often exceed these due to the high quality of labour available. Bahrainis are bilingual and are working across all industries.
Tamkeen
Tamkeen is an organisation that helps employees and employers. It provides salary subsidies, training and grants. They look at certain criteria like hiring, salaries, nature of operation and export coverage. Being in operations for past 10 years, Tamkeen supports businesses based in Bahrain to find and train local talent, and helps Bahrainis to move toward self-employment and entrepreneurship, soft support to consulting, etc.
Infrastructure
Finally is availability of world class infrastructure, well serviced industrial parks, as well as the Bahrain International Airport and the new King Salman Port, launched in 2009 and managed by APM Terminals. Our port is the most efficient in terms of turn of and turnaround time. We have the Bahrain Logistics Zone for logistics activities, and for companies who want to establish redistribution centres. The Bahrain International Investment Park caters to companies interested in investing in the Kingdom and exporting globally. It is strategically located next to the port, a few minutes from the airport, and is on the highway to Saudi Arabia. Companies like JBF India, Mondelez, BASF and many other have benefited from the infrastructure facilities available in the country. Bahrain is also the Middle East hub for DHL, the global logistics company.
Taxation
Bahrain does not have any corporate or personal taxes and as far all we know there is no intention except for VAT, which, alongside other countries in the region, may be introduced from 2018
Hussain bin Rajab, Director, Manufacturing, Transport, & Logistics Sectors, Economic Development Board, Kingdom of Bahrain: Bahrain is the only country in the region that offers 100 per cent foreign ownership in almost all activities without free zone restrictions