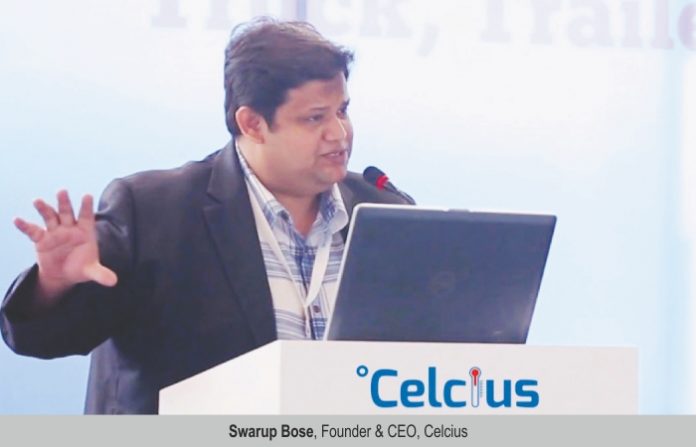 Swiftly embracing technology under its wings, once the Indian cold chain segment becomes more robust and interconnected, crossing international borders and focusing on global cold chain trade can be the way ahead. Swarup Bose, Founder & CEO, Celcius shows the way forward.
Priyanshi Bana
The pandemic has brought forth a multitude of changes to all aspects of the world. Life, as we once knew, has changed, and amongst the chaos, the cold chain industry has transitioned from being sidelined to becoming a major lifeline of the economy. The industry has witnessed a surge in demand for cold chain products, be it perishables like dairy, meat, fruits, vegetables or pharmaceutical essentials, like drugs and vaccines. The sector is now expected to grow at 20 per cent CAGR by 2025. However, this renewed value calls for the industry to let go of the old and outdated cold chain practices and adopt technological advancements to meet the needs of the nation. To showcase how technology has aided the cold chain industry, let's take a look at the three primary functions of the segment: storage, transportation and operations, and how embracing technology-driven approaches have increased the efficiency of these processes.
Smart Storage Units
Storage units store cold chain products until they are ready to be shipped. These units are used by manufacturers and transporters alike and it is crucial that the products within these units stay fresh and viable. To facilitate this, cold storage units, whether they are refrigerated containers, blast freezers and chillers, cold rooms or pharmaceutical grade cold storage units, have to maintain a stable temperature. Without technology, getting the units to maintain fixed temperatures can be a significant challenge.
To monitor temperature excursions, IoT-based temperature sensors have proven to be extremely successful. These sensors work by connecting to an IoT device of choice and once they are placed within the storage units, they monitor changes in temperature and send alerts and reports that can be
viewed, diagnosed, and fixed accordingly. This simple connection between two devices has significantly minimised the proportions of products that deteriorate in quality at storage facilities.
End-to-End Traceability in Transit
Stored products eventually have to be shipped across the country and ensuring that the consignments are transported carefully without any physical or microbiological damage is of high priority. This makes the transportation process one of the more complicated functions of the cold chain industry. With technology, however, tracking and monitoring reefer trucks can easily be achieved. A standard GPS navigation system can help manufacturers and shipping companies track the journey of the vehicles on the road.
Earlier, monitoring and maintaining the temperatures of materials in transit was complex and in many cases, impossible to achieve. With thermal imaging and mapping technology, accurate temperature profile readings of the products while on road/ air/ sea are provided to the transporters. These sensors also scan the reefer trucks and spot insulation gaps, find moisture beneath the insulation surfaces, and maintain the vitality of the products, resulting in a plain-sailing journey.
III. Seamless Operations
While successful storage and transportation are key to ensuring that the products retain their quality and reach different parts of the country, operations act as the backbone of the cold supply chain process. Operations usually include keeping tabs on the consignment received, quality-checks, shipping details, expected delivery dates, and various other details.
Such information was traditionally difficult to store and maintain. Transportation Management Systems (TMS) and Warehouse Management Systems (WMS), however, effortlessly handle data storage and monitoring. These systems are AI-powered and they can also be programmed to monitor the temperatures, humidity levels, battery levels, open/shut doors, assess risk of damage from shock, and store journey details while providing alerts and live updates. The stored information can also be integrated with other systems, making collaboration between cold chain entities almost seamless.
What Lies Ahead
With the opportunities that technology provides to the cold chain industry, the country can develop and expand its horizons in this sector, as it has a lot of untapped potential. This can also provide a much-needed boost to the economy. As of now, with the aid of technology, the sector can continue to distribute India's abundant cold chain products within the country. In the future, once the country's cold chain needs are met, and the Indian cold chain segment becomes more robust and interconnected, crossing international borders and focusing on global cold chain trade can be the way ahead.