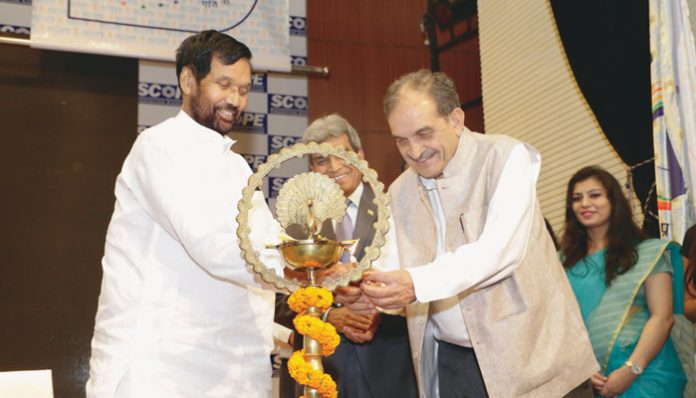 Ram Vilas Paswan, Minister of Consumer Affairs, Food & Public Distribution, Government of India, along with Chaudhary Birender Singh, Minister of Steel, Government of India, recently launched e-RaKAM (Rashtriya Kisan Agri Mandi). CRWC will act as a marketing and logistics partner for the project.
CT Bureau
A joint initiative of MSTC and CRWC (Central Railside Warehouse Company) has been signed to empower Indian farmers and agriculture business. e-RaKAM is an exclusive e-platform for agri produce at Scope Convention Centre, Core 8, SCOPE Complex, Lodhi Road, New Delhi. It is developed by MSTC and supported by marketing &and logistics partner CRWC.
Paswan said, "I appreciate e-RaKAM portal executed by MSTC and CRWC to handle its marketing and logistics. I personally feel that we should start with auctioning of pulses as we have them in abundance. Twenty lakh tonnes of pulses were lying idle at warehouse and it still has no buyers. Initial hurdles will be there as most of our farmers are illiterate and are in bad condition. However, every new thing comes with its own difficulties that will be managed with time. This way various crops whose price increases due to rainfall or bad weather conditions will be managed and will get the market."
Singh said, "Our aim is to strengthen the agriculture-oriented Indian economy and farmers, who play a vital role in national development. I congratulate all for the launch of e-RaKAM." e-RaKAM is a first-of-its-kind initiative that leverages technology to connect farmers to smallest villages to the biggest markets of the world through internet and e-RaKAM centers.
E-RaKAM is a digital initiative bringing together the farmers, FPOs, PSUs, civil supplies and buyers on a single platform to ease the selling and buying process of agricultural products. Under this initiative e-RaKAM centers are being developed in a phased manner throughout the country to facilitate farmers/FPOs for online sale of their produce. On the other hand, bidders from national and international markets will be able to buy quality agro products without any involvement of the intermediaries. Right after the completion of the bidding process, the buyer will have the option to get the products delivered through CRWC or any other logistics service provider. While farmers would be paid through e-Payment directly into their bank accounts, thus keeping the system free from the vested interest of arbiters (intermediaries) which is the prime objective of e-RaKAM.
K. U. Thankachen, MD, CRWC said, "We are delighted with the launch of e-RaKAM, first in the country to have a widespread e-market platform for transparent sale transactions and price discovery. It unshackles the potential of Indian farmers who have been trapped in a vicious cycle of intermediaries and low margin."
Highlights
e-RaKAM will reduce intermediary cost and avail integrated logistics services under one roof.
Beneficial for farmers, FPOs (Farm Producing Organizations), nodal agencies and buyers.
In the first phase pulses, oilseeds and other agro products will be made available for e-platform through e-RaKAM.