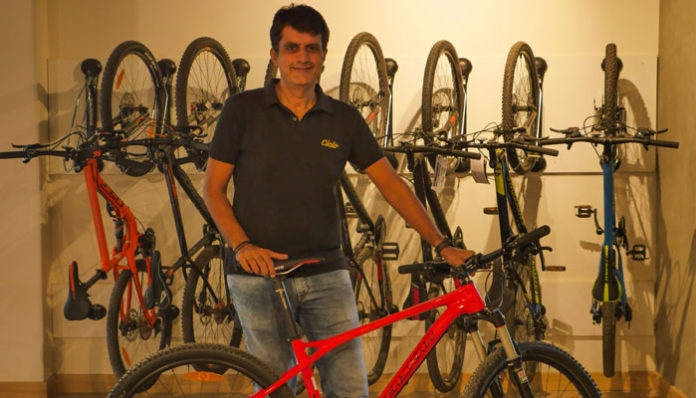 How do you binge but burn calories, walk into a café but wheel out of it? Eat, cycle, buy, and rent at Ciclo Café, a special interest outlet. With two cafés in Chennai and Hyderabad each, and more to follow in other cities, this new trendsetter is here to stay.
Combining hospitality and cycling, Ciclo Café first opened in Chennai in March, 2015, to serve as a hub for cycling enthusiasts in the city. This café offers facilities for both cycling (sales and service of premium bicycles, merchandise and accessories, expert advice on cycling, special rides, etc.) and hospitality (that includes premium F&B services with international cuisines).
A second outlet followed soon in Hyderabad. This one offers comfortable long-table settings for families, open seating for large groups, and also a few solo cycle seats for singles. The attached bicycle store features top cycle brands such as Ridley, Bianchi, Cannondale, Mongoose, Schwinn, GT, and Montra. It also hosts cycle repairing services, promising international quality at affordable prices.
Ashish R Thadani, CEO, TI Absolute Concepts, says, "The etymology of Ciclo is both Spanish and Italian– cultures that are associated with cycling in a big way. We are here to promote cycling as a culture as it is more about passion than about business for us. The café provides maintenance and repair services to bikers who can have a snack while getting their rides fixed, facility to rent cycles at nominal rates to try your hand at cycling, and facility to purchase one of your favourite brand of bicycles. I do hope this bicycle cafe culture catches on." Ciclo Café is a 50-50 joint venture between Tube Investments of India (whose unit, TI Cycles, is a bicycle manufacturer in India) and Chennai-based Absolute Speciality Foods Chennai.
After Chennai and Hyderabad, Ciclo Café will open outlets in Gurugram, Bengaluru, and Coimbatore. Thadani reveals, "We are looking to open around 15 cafés across India in the next three years and will be targeting Tier-1 and Tier-2 cities." They have no plans for franchising as of now.
Speaking about having special interest cafés in India, Thadani adds, "There is definitely a rise in such cafés in India. Indian consumers are very well informed and expect the best in terms of services and products."
The cafés also cater to corporate groups and have space for events. "We have come up with Ciclo Team Racing- India's only amateur elite cycling racing team. We support our riders in getting trained overseas and taking part in various cycling events nationally and internationally," he adds.