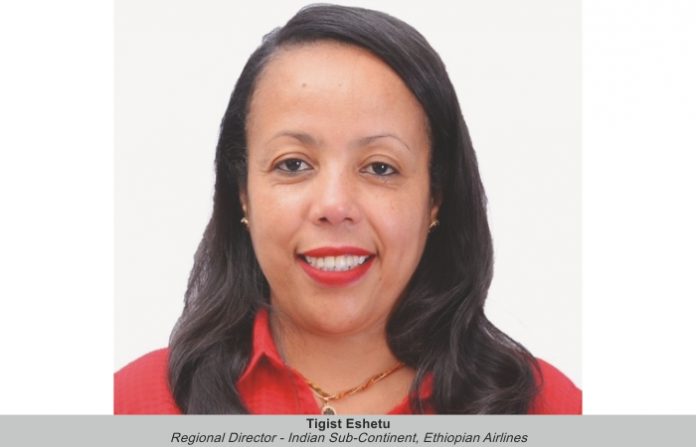 Tigist Eshetu, Regional Director, Indian Sub-Continent, Ethiopian Airlines in an exclusive interview with CARGOTALK talks about potential in India's manufacturing and IT segments. The carrier spread its wings to Delhi, Mumbai, and Bengaluru, and  will start its flight to Chennai from 2 July 2022.
Ritika Arora Bhola
Now that cargo and pax ops are coming back to pre-pandemic levels, how is Ethiopian Airlines gearing up to meet the increased demand?
During the pandemic, Ethiopian passenger aircraft utilization declined to 10 per cent and most of our aircraft were grounded. As a result, we focused on the cargo business as the demand for PPE and medical supplies increased globally. Though many countries have lifted curbs and opened their borders, the passenger business still in a
recovery stage: it is yet to reach pe-COVID-19 levels.
Please throw light on the new freighters launched or routes initiated for cargo ops?
We have around 66 dedicated freighter destinations till date.
Where do the trade activities with India stand at the moment? How do you think of India as an investment destination?
India is a great investment destination, thanks to its large economy, huge consumer market, and abundant skills and talent. Strengths in manufacturing and IT in Indian economy are evident and it is an exciting place to be. Most countries are entering bilateral trade agreements with India and it is the right time to invest in India. India's Foreign Direct Investment is concentrating on three main streams:
Businesses want to see a reduction in tariffs, for example, in food and drink and healthcare.
They want to see an alignment of standards and simplified customs procedures.
Businesses seek alignment of data protection rules and IP practices, particularly in R&D-intensive sectors.
Please elaborate on the Indian destinations covered, and what kind of cargo is moved to and from the country?
Ethiopian has expanded its network to all major Indian cities, including Delhi, Mumbai and Bengaluru. On 2 July 2022, Ethiopian will start its inaugural flight to Chennai. Exports from India include pharmaceutical products, fabrics, finished goods, petroleum goods, fruits/vegetables, heavy machinery for project cargo, spares and handicrafts,
among others.
Please share with us the digital and physical infrastructure for efficient storage, handling, and transportation of a variety of cargo?
Ethiopian Cargo & Logistics Services has a state-of-the-art facility equipped with cold storage facility and is capable of transporting pharmaceuticals across the globe. The Cargo terminal has 54,000 square metres cold storage space with various temperatures ranging from +15°C to 25°C, +2°C to 8°C and —25°C. It has a real-time temperature monitoring system. In addition, the airline complements its cargo terminal facilities with temperature controlled modern freighter and belly fleets, dedicated team for pharmaceutical products handling and Smart Cool Dollies that have a capability to maintain temperature between —29°C to +27°C to ensure unbroken cold chain for the movement of COVID-19 vaccines and other pharmaceuticals.
How would you rate infra in Ethiopia for cargo movement? Does it support its plans to move cargo, especially pharma, COVID-19 vaccines and booster shots. Do you feel there's need for improvement?
The cargo and logistics infrastructure in Ethiopia is developing as compared to developed economies in Europe or Asia. In terms of airport and cargo terminal, Ethiopia has a world class airport and cargo warehouse.  The Government of Ethiopia is dedicated and working to improve and fulfil the infrastructure for growth of cargo and logistics in terms of human capital, technology, among others.
Sustainability has become the buzzword in the air cargo sector. Kindly share with us the initiatives taken in the last few years?
The Ethiopian Airlines Group is implementing environmental management system based on ISO 14001:2015 and is certified since 2016 thereby maintaining the same through yearly audits. Various environmental protection activities are performed in a well-structured management unit. The requirements for waste management, hazardous waste disposal, pollution control and other proclamations and directives are woven into the Group's day to day activities.
Besides, the Group is closely working with relevant stakeholders on initiatives such as solar energy, emission reduction and climate change, tree plantation and carbon sequestration, sustainable aviation fuel, waste reduction and recycling. We are also working on as follows:
Changing high energy consuming lighting fixtures with efficient LED lightings
Utilizing fuel efficient aircrafts (average 20 per cent efficiency)
Operating the youngest fleet in the industry, Ethiopian Airlines is implementing in line with environmental sustainability.
Could you elaborate on the techniques and strategies you are planning to infuse into the company's ops for augmenting business and network enhancement?
In the strategic roadmap of Ethiopian-Vision 2035, Ethiopian Cargo and Logistics Services envisions to be a full-fledged profit center with annual revenue of US$3.38 billion, 37 dedicated aircraft, 90 global freighter destinations and annual tonnage of 2.16 million tonnes. We are working towards this strategic vison.
Does the Ethiopian have any projects in the pipeline?
With the growing impact of the digital community affecting the way business is conducted, now is the time for the airlines to rethink about an e-commerce solution as a game changer platform. Consequently, the acarrier is constructing its own dedicated e-commerce warehouse/ hub on 15,000 square metres area with a capacity of 150,000 tonnes per annum worth US$ 50 million in Africa.
Ethiopian Airlines has signed a partnership agreement with AeTrade Group to develop African e-commerce fulfilment Center in Addis Ababa and to facilitate intra-African trade.