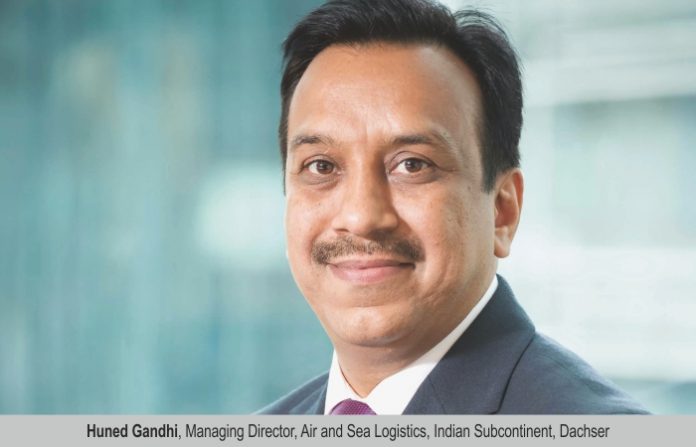 With worldwide transport management system (TMS) Othello and warehouse management system (WMS) Mikado in place, Huned Gandhi, Managing Director, Air and Sea Logistics, Indian Subcontinent, Dachser talks about how with homogenous global IT systems, Dachser was able to switch to the digital mode of operation almost seamlessly.
Priyanshi Bana
Q Ever since the pandemic struck last year, how have you evolved globally?
There is no denying that the pandemic took everyone by surprise and we had to rapidly adapt to the 'new normal', the challenges were enormous as we had to first safeguard the health of our teams, their families and in parallel, keep the supply chains for our customers running smoothly. At Dachser India, we formed a crisis management team without losing any time and in due course, implemented stringent health protocols for our staff. These important health protocols and guidelines are steered by the Executive Board of Dachser, which are then further aligned to the local rules of each country worldwide. These unprecedented challenging times also forced everyone to manage their supply chains digitally and with our already well-established homogenous global IT systems, we were able to switch to the digital mode of operation of our business, almost seamlessly.
Our teams were able to operate the businesses from the safety of their homes and we also intensified our communication channels with our customers. Logistics is and will always be a people business and being close to our customers has always been our highest priority.
Q What new changes were incorporated?
The introduction of our worldwide transport management system Othello for air and sea logistics sets new standards in terms of offering integration and visibility and this, combined with 'standard processes' being followed by all countries globally, helps us deliver a very high-quality service (measured by clear KPIs) to our customers consistently. This has helped increase our efficiency significantly and has also been acknowledged by our customers. When it comes to service, we are constantly extending our services/ connections between key economic areas of the world which is important in today's volatile times.
Q What more can be done in the warehosing sector?
For Dachser, warehousing services are an integral component of the supply chain for procurement and distribution of goods. We are offering warehousing in the context of contract logistics which includes transportation and value-added services like quality checks, packing or repacking as per customer requirements. Information flow is reflected in our own warehouse management system Mikado, not only in India but also across continents.
Currently, we are serving around 15,000 sqm. of warehouse space in India. Our dedicated Contract Logistics experts help to detect appropriate facilities in the most favorable locations and assure that they are equipped according to high first-class standards. More IT integration between customers and the warehouse providers, such as the transmission of data via Electronic Data Interchange (EDI) is something that can be done, this will lead to a faster and more accurate process. Dachser is well-equipped on this.