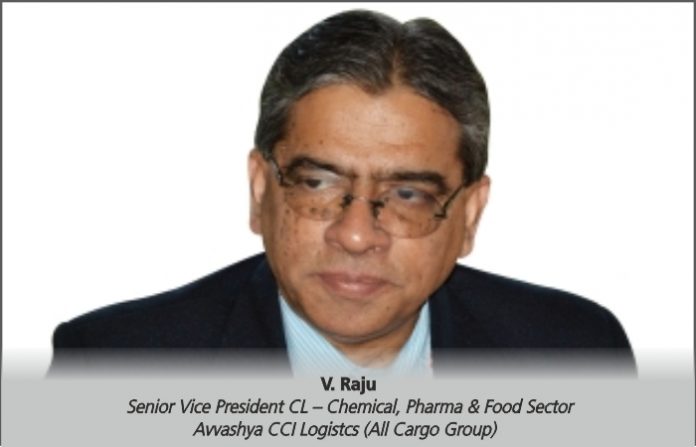 For the logistics industry to flourish special emphasis has to be on building world-class road networks, integrated rail corridors, modern cargo facilities at airports and creation of logistics parks which need to be given a status equivalent to Special Economic Zones, says V. Raju, Senior Vice President CL – Chemical, Pharma & Food Sector, Avvashya CCI Logistcs (All Cargo Group).
The sector is full of potential, but we are still lacking optimal utilisation of resources. However, we can see a rapid hike in demand and awareness of the sector of late. We can see a lot of startups entering the sector offering services like never before.
The sector is evolving at a fast pace and infrastructure, and technologies are paving new paths towards growth. It is estimated that the Indian logistics industry will continue to show robust growth of 10-15 per cent annually, leading the pace of growth of the economy at large.
Logistics megatrends
A large part of opportunities in logistics will be powered by technology and associated innovation. With technological enhancements, this number will go down significantly in the future. Automation, in terms of material handling, information exchange, and telecommunications will play a large role to serve
this purpose.
More and more companies are shifting towards outsourcing operations to third-party logistics (3PLs). This development is creating room for vertical focused 3PLs. Moreover, 4PL will graduate from being a mere coordinator to actual integrator. New players will emerge in order to integrated multiple 3PL players seamlessly to offer one-stop solutions for the end customer. With more frequent replenishments, traditional supply chains will move from case level to piece level replenishment.  It will also pave the way to bring more speed and efficiency to the system.
Supply chain digitisation
Done right, global supply chain digitisation enables three critical business functions, viz.:
Collaboration – ensure every member of your supply chain, beginning with the raw materials supplier, is on the same page
Automation – scale up, reduce errors, and calculate landed cost immediately
Analytics – take a structured look at your data to create an audit trail and generate game-changing reports
Some sector-specific digitisation or technology needs exist to ensure that supply chain logistics is a success. Cloud and mobile technology, sensors, and next-generation business intelligence will bring about a new wave of automation in business processes — that is, real time responsiveness though streamlined, automated work flows with few handovers and end-to-end, real-time transparency on progress, costs, and business value.
Future of Indian logistics industry: 2020-2025
The government's ambitious plan to bring down logistics cost from the present 14 per cent of gross domestic product (GDP) to less than 10 per cent by 2022 poses a big challenge. Of course with fingers crossed, basis the growth being witnessed in this supply chain logistics  and warehousing sector, one can safely forecast that the sector will witness an unprecedented growth in the coming years in all cities like the tier-1, tier-2 and tier-3, riding on the backs of GST revolution, National Logistics Policy being rolled out, e-way implementation by the govt.,  granting of industry status, big time investments into warehousing sector by MNCs, leveraging of disruptive tendencies that need to be faced boldly with advanced readiness  by all trading establishments, and with tighter safety and security measures being adopted across globally in the logistics sector, we can safely predict that this sector will grow exponentially in the years to come.