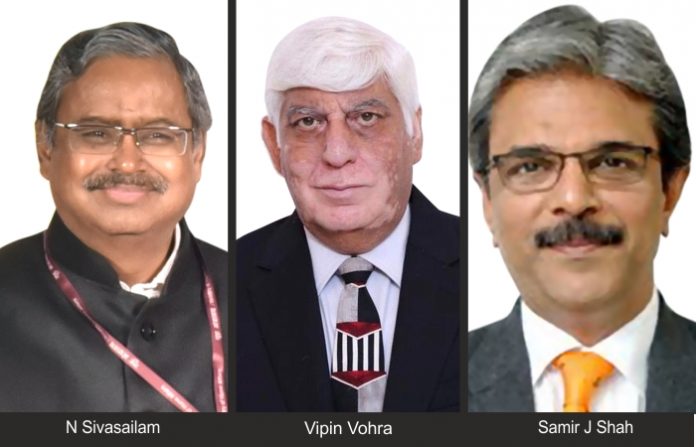 In the first-ever CARGOTALK digital conclave, with the theme 'Weathering the storm and gearing up for better days', eminent speakers put forward their views on how to use this time to turn the crisis into opportunities and what could be the way forward for a better future.
Kalpana Lohumi
With an agenda to find out practical solutions for the present and strategies for future, held its first-ever digital conclave with the theme 'Weathering the storm and gearing up for better days'. The session was led by N Sivasailam, Former Special Secretary (Logistics), Department of Commerce, Ministry of Commerce & Industry, Government of India; Vipin Vohra, Chairman, Continental Carriers; and Samir J Shah, Partner, JBS Group of Companies. The session was well attended and all the three speakers elaborated on new ideas which need to be focused on for a better future of the logistics industry.
Combatting the crisis
COVID-19 outbreak has derailed the supply chain cycle across countries. Sharing the problems faced by Indian freight forwarders, Vohra said, "Daily movements of trucks got collapsed drastically due to shortage of drivers as most of them left for their hometowns and further getting passes for movement within a city was also not easy. There was a time delay for clearance at airport terminals, seaports, CFSs, ICDs as initially not many flights were operating with an acute shortage of staff for loading and unloading at these terminals. The cooperation given by the Customs in clearing medical supplies arriving from different countries in this crucial time was noticeable." He continued, "This pandemic has given some lessons to learn for a better future. There has always been a global discussion about China plus one policy. In today's scenario, it should be a priority to reduce dependence on Chinese products. No doubt, looking at its size and democratic nature, India has the potential to be a global choice as a preferred and reliable destination for investments. And, for that we have to provide new reforms to improve our industry, transparent dealings, ease of doing business rules, financial support by improving banking rules, better infrastructure warehousing facilities, labour laws, rules to 'Make in India' initiatives to self-sustain in terms of various small path manufacturing for which we are still dependent on other countries."
Talking about the optimism on the new manufacturing front, Sivasailam said, "I see exciting days ahead. However, looking at it from the entrepreneur side who is coming from abroad seeking a complete value chain, a value chain in manufacturing also includes logistics. In India, unfortunately the benefits in manufacturing have been eaten away in logistics and I believe this is the first mindset issue which logistics professionals need to address."
He added, "Indian manufacturing or foreign investment for Indian manufacturing can take off but when we make in India, we have to move it as well and the movement is quite costly because every logistics chain, even
at the lowest level, constitutes a monopolistic entity."
On the other hand, Shah focused on the new normal in post-COVID scenario. He said, "The industry should not change its basic goodness and nature. The way of doing business will change but the 'what' and 'why' are not going to change." He continued, "The optimism in the air is right but we need to understand that Indian logistics industry cannot be talked about as one; the industry has 11 verticals and the solutions for the future and the changes in the future for all these 11 verticals are going to be different."
Going digital
Considering the present scenario, Vohra said, "With lockdown, there is no doubt left that digitalisation is the only way forward for logistics industry. Post-COVID, we may have many challenges, but it is time we took digitalisation seriously to streamline our operations and provide transparent and better services to our customers."
Shah shared a different opinion on this. He said, "We are talking a lot about digitalisation but our problems are different. The type of people we have employed over the last many years are people right from the spectrum. For them, English and digitalisation is a problem. Apart from facing challenges in continuing the employment of these people, the major issue will be that the newer kids will not have the experience which these people have. The obliquity to solve a problem because logistics solutions to a large extent in India have been jugaad based and that experience is something which the newer kids are not going to have. We have to find something in the middle where we can take full advantage of their experience, retain them as well as hand hold them into being in a position to work under the new schemes."
Commenting on the loss of employment by going digital, Sivasailam stressed on the inefficiency and the rent seeking behaviour in our system. "With digitisation in place, the same people who were going to airports will go to clients and create more opportunities," he added.
Liquidity crunch
Sivasailam shared his views on how to deal with the liquidity crunch. He said, "It has got to do with the integrity of a country's trade. In India, we have been very notorious for not paying people on time. If we have 90 days credit, we will like to make it to 900 days."
Shah stated that contracts with clients need to be drawn more carefully. He continued, "Most importantly everyone needs to respect each other; this will bring self-discipline because it is we who told the market that we work on credit."
On this, Vohra said, "If a shipper is not paying us on time, it is because of our own faults. If we are united, nobody can take us for granted. Secondly, these multinationals get money at one or two per cent rate of interest from their country whereas if I have to pay money from a bank, the rate of interest will be nine to 10 per cent. So, they are the ones who offered 90 days credit period to get business from the Indian agents otherwise service-wise we are not less than them."
Way forward
Sharing the changes possible for the industry's better future, Sivasailam suggested, "The logistics sector should operate on the principle of cooperative competition and this can be facilitated through open platforms." Vohra said, "This is the right time to maximise opportunity by being innovative, utilising skilled labour, bringing professionalism, networking aggressively and adopting PR strategies along with identifying the latest technology. We must always keep in mind that we have pharma and agriculture sector ready to take the lead. The country's pharmaceutical sector has great potential and government must encourage it by investing in R&D and by providing better facilities and incentives to the private sector to enhance its production for exports. Also, there should be more collaboration and cooperation among each other in order to reduce expenses wherever we can."
Sharing his viewpoint, Shah noted, "This is the time where we as an industry should come forward and suggest to the government what all needs to be done for the logistics sector. We need to understand that government is not a logistician, we are going to people who don't understand our business and asking for solutions."
Sivasailam stated, "In the air cargo industry, Air Freight Stations (AFS) would be the way forward in the post-COVID era." On this, Shah pointed, "Why are we still using the word Air Freight Stations or Container Freight Stations and not Cargo Freight Stations? It is the time to think big otherwise we will go back to the same old mess we were in pre-COVID times."