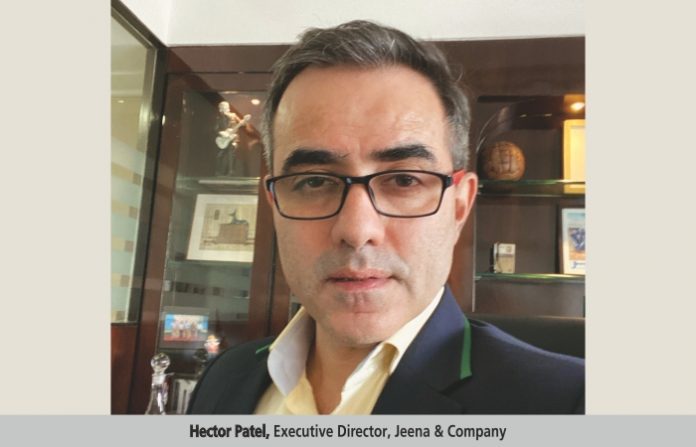 To keep the supply chain wheel moving efficiently and with more agility, technology will prove to be its best oil. Hector Patel, Executive Director, Jeena & Company talks about how the adoption of technology can help build an efficient vaccine and medical supply chain in India.
India is currently grappling with a fatal second wave of the COVID pandemic, with rising death tolls and an accelerated spread of infection. And while an overwhelmed healthcare system is working round the clock to help manage, treat and vaccinate as many people as they can, the Indian logistics and supply chain network is working tirelessly to ensure efficient supply of oxygen cylinders, concentrators, vaccines and medicines that are crucial in the fight against the virus. At such times, when both national and international supply chains are being activated to provide for the vital medical supplies, an efficient and agile supply chain that can leverage the best of emerging tech, is the need of the hour.
From challenges like unorganised last-mile service providers, ill-equipped warehouse facilities, and lack of trained labour to the slow pace of digital adoption, lack of awareness and absence of integrated supply chains, the Indian logistics and supply chain sector has many hurdles to overcome. Listed here are five crucial areas where tech adoption can help overcome these challenges and rise up to meet the demands of these trying times:
Optimising supply chain: Like all activities, planning and forecasting demand, plays a vital role in optimising supply chains. By leveraging data analytics, blockchain, and AI, one can forecast demands and plan for consolidation of shipments based on special transit infrastructure requirements, location and urgency. Additionally, this data can also be used for route optimisation, to ensure the fastest and most cost-effective route can be undertaken for the shipment.
Enhance storage facilities: Warehouse management, especially cold storage, has been of vital significance in the case of food and medical supply chains. An integrated warehouse automation system, that utilises the best of AI, robotics and IoT-enabled devices, can help monitor the accurate temperature controlled storage environment, drive energy optimisation and enable workers to keep stock, log arrival and departure of shipments, predict and report any probable damage and help keep the warehouse efficiently functioning, 24×7, with little human interference.
Streamline operations: Effective use of technology and digitisation of operations can help to not only cut down on time and labour but also help drive proactive consumer engagement, build trust and drive productivity. By leveraging blockchain, data analytics and IoT, one can digitise the documentation process, like e-bill, custom clearance etc., which otherwise can be a time-consuming process, on ground. Apart from documentation, invoices and payments, customer updates, tracking etc., can all be facilitated through an app/ a web based dashboard, where the client can have complete access to their past and current shipments, can place orders for their next shipment and keep abreast of the real time news and updates that may impact their transport/ logistic needs, especially during the times of a pandemic and partial lockdown.
Effective transport: With the advent of AI/ robotics and tech advancements in automotive engineering, self-driving vehicles or driverless vehicles are now a reality which can be used effectively for enhancing the efficacy of last-mile deliveries, given the lack of human resource during the pandemic. Not only are these safer but also efficient and can reduce the turnaround time drastically. Apart from this, IoT-enabled vehicles can help in real time tracking and monitoring of not only the vehicle but also the content – details like temperature control, effective handling and accurate stock keeping can all be handled through IoT related tech applications, ensuring that the vital medical supplies are delivered in a proper condition, without damage, and in time.
Integrated supply chains: Given the massive surge in the need for medical supplies, there is a lot of help that is pouring in from across the country as well as from different countries around the world. With such an extended supply chain, the shipments are set to change hands at multiple locations before actually reaching their destination. Leveraging big data and blockchain, it is now possible to monitor, streamline, and build an efficient and integrated supply chain that is well regulated, throughout its journey. Leveraging blockchain can help create a transparency and ensure that all the mandatory standards for transportation of medical supplies are adequately followed, at each step of the journey.
The blockchain-enabled virtual ledger helps keep tabs on the movement of the shipment at every node across the network, registering its condition and handling, making it easy to spot, report and rectify any mishandling or delay. Even as we work together as a country to tide over this crisis, there are several vulnerabilities that have come to light and that need to be assessed, once the crisis is over. From flaws and drawbacks in the current system – across logistics, healthcare, governance and the ICT sector, to the unexplored possibility of rapid digitisation to fix some of these problems, the focus now, for the logistics and supply chain sector, should be to build a more agile and robust infrastructure, that is organised, green, and ready to support the business ecosystem of a nation that is set to sore high as a world economic superpower.