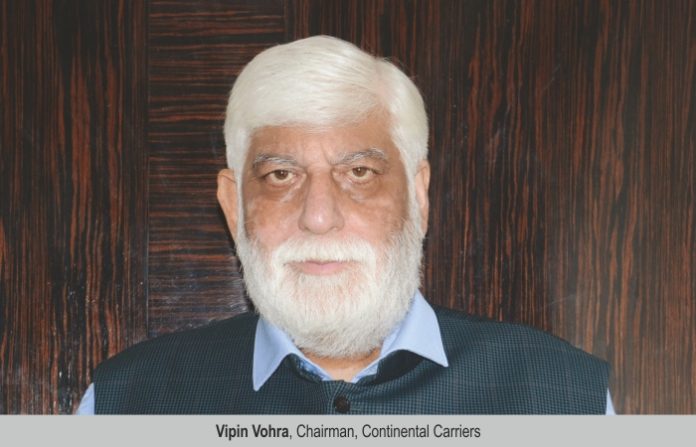 With developing cold storage solutions 'Conticool' and other warehousing infrastructures to expand the capacity to handle multimodal shipments, Vipin Vohra, Chairman, Continental Carriers delves into the details of streamlining warehouses by implementing warehouse management systems.
Priyanshi Bana
Q Do tell us about the services offered by your company?
There was an unexpected surge in the demand for oxygen, oxygen concentrators, medical devices and equipment during this pandemic. Continental Carriers worked as a crucial support system to fulfill these demands in the fight against COVID-19. From transporting PPE kits, oxymeters, oxygen concentrators to bringing in charters carrying oxygen tanks and raw material for oxygen, Continental has always been there to provide consistent services. Continental, also, worked with a sense of purpose and provided FOC services for more than a month while working with Moolchand Hospital to ferry oxygen in the most critical period of the pandemic. Also, we supported Ireland's efforts of helping Hope Foundation by bringing in 130 pallets of PPE kits FOC to India.
Q What were the challenges faced while undertaking this task?
The major challenge was to deliver shipments on time with a shortage of drivers. Another challenge was to ensure that packages reach their customers safely, without any contact so as to restrict the spread of the virus while taking care of the safety of staff. Innovative solutions towards better warehouse management have become the need of the hour, due to the sudden rise in e-commerce demand.
Q What is your take on technology as an enabler?
Technology has played a vital role during this time. It has been apparent all through the pandemic that supply chain companies who implemented digital transformation were more equipped to combat the pandemic. With technology and digital tools in place one could always better manage shipments with end-to-end visibility. Technology certainly makes supply chain management more integrated, convenient and controllable.
Q What are the plans and initiatives for the year 2021?
Continental has already invested in cold storage solutions 'Conticool' and further plans to invest more in cold storage and other warehousing infrastructure to expand the capacity to handle multimodal transshipments. We are in the process of streamlining warehouses by implementing warehouse management systems.
Q Any expectations from the government?
Government agencies related to shipment management were proactive throughout as all medical related shipments were cleared on priority basis at airports. This led to an extra pressure on terminal operations as they struggled to cope with the increased supply demand without increasing the workforce. Air freight stations (AFS) can provide relief to airport operators in such crisis and otherwise also. There is an urgent need for the government to solve all hurdles related to AFS being operational. AFS is the only way forward in such a crucial time, this not only will make cargo operations easy but also help to reduce costs involved in air cargo operations.