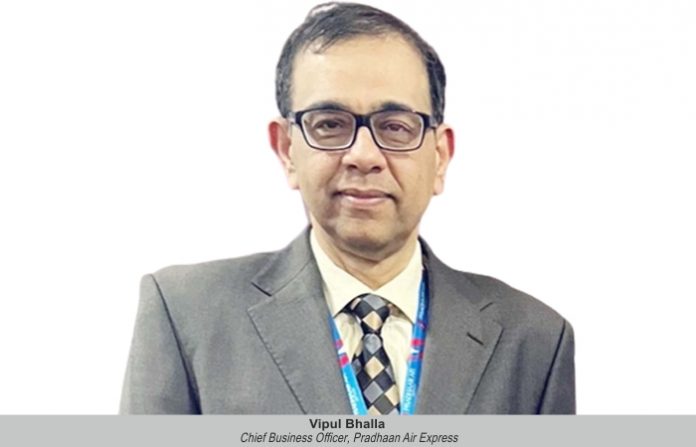 Pradhaan Air Express was launched when the governmnt announced its vision for air cargo to reach 10 mn tons by 2030. Despite declining market, India's youngest airliner continued to gain momentum and achieved vital milestones. It has got approvals to carry pharma, mobile phones, lithium batteries, AVI, says Vipul Bhalla, Chief Business Officer.
Ritika Arora Bhola
Tell us about the genesis of Pradhaan Air Express' ops in India and abroad. Throw light on its freight operations. What are the destinations covered and types of cargo moved?
Pradhaan Air Express currently operates multiple flights a week to Hanoi along with other flights to Yangon and Kolkata. We have operated some exciting ad hoc charters, including the first relief flight by a private Indian cargo carrier to Adana Turkey after the earthquake.
We have a lean, flexible team that is ever responsive to the on-demand charter requests. In fact, to our credit is a domestic operation that helped move a critical spare for a oil refinery. The customer was in touch with all the cargo operators in India, but eventually it was Pradhaan Air Express's 'Pehalwan' that picked up and delivered the shipment according to the customer's schedule. On numerous occasions, we have also helped the customers by operating flights for them that were confirmed, but not operated at the last minute by other carriers.
Tell us more about Pehalwan's infrastructure and specifications to carry a variety of cargo, including bulk cargo or oversized shipments?
Our Airbus A320 Freighter is aptly christened as "Pehalwan" to reflect our Indian roots. We are proud of the fact that this is the first conversion of the A320 into a freighter aircraft, which has made its world debut on an Indian AOP.  Currently, it is the world's only A320 freighter. We are grateful for the support that the regulators and authorities have provided in making this dream come true. The A320 offers an available payload of nearly 21 tons and has a better range than other aircrafts in its category, including the A321. The A-320 is a tried and time tested aircraft with fly by wire technology that is currently ruling the Indian skies.
We have got the approvals to carry all kinds of cargo, be it pharmaceuticals, mobile phones, lithium batteries, and AVI among others. Point to point services at the appropriate time helps shipments to arrive with the fastest possible transit. The main deck can accept cargo up to a height of 80 on all 11 PAJ (125"x88") pallets. The aircraft is also flexible enough to carry 10 PMC's (125"x96") in an alternate configuration on the main deck and some other variations that allow us to provide the right solutions to our customers.
Tell us about the ground handling operations?
Pradhaan Air Express has high flexibility for choosing the right ground handling partners at each of the locations we operate to. We are in the process of reviewing our ground handling arrangements at all airports to bring better value to our customers as well as deliver the right service standards. Recently, there have been requests to operate to airports in the Northeast as well as South India, however, not all airports have the equipment available to handle main deck ULD's. This remains a big concern as some regional Airports are unable to take advantage of a narrow body freighter's full capacity. This is an area that our team is working on very closely with various ground handling service providers.
How would you rate India's logistics infra moving cargo from one destination to another? Do you think it is good enough, or do you feel there is a need for improvement?
There is nothing called perfection in terms of logistics. Every time you think you are perfect some customer will come to you with a challenge that will requires innovation and off we go again. Talking about Infrastructure in India, it has improved tremendously. But there is still a long way to go. In fact, to the extent that some part of the road freight network is now providing a heavy challenge to the domestic airfreight. As I have mentioned before, one of the areas that will require focus from the airport operators and State governments is the availability of the right equipment to take advantage of the growing fleet of narrow body freighters. The government has been ahead of the curve in coming up with a scheme such as Krishi Udaan and we are looking forward to playing our part in improving both domestic and international connectivity for Indian produce.
Do you think the country needs more narrowbody or widebody aircraft to meet demand?
At present, the widebody freighter demand is being fulfilled by foreign carriers operating from their hubs into and via India. The previous Open Skies Policy tremendously helped India's trade. Now the time has come to embrace the aspirations of home-grown carriers and entrepreneurs who are stepping ahead and aspiring to support the creation of a supply chain with India as the centre of both demand and supply. Cargo has traditionally been one way movement often causing imbalances that require the operation of empty legs. Despite the GST regime being fully embedded in our trade environment, producers are still unable to take advantage of a seamless supply chain. On several occasions, the exporters, farmers, or the shippers end up paying for the two-way cost for capacity.
In the present environment, narrow body freighters are the right move as it gives a good economy of scale keeps the tonnages manageable, while complementing the passenger narrow body network as well. Consumer sentiment in the future will drive the requirement and move on demand air freight up the value chain and to the remotest part of the country. As an example, the capability of a freighter to fly across Bangladesh tremendously helps in reduction of the transit time with the Northeast.  Similarly, the north/ south connectivity is helping many manufacturing units, especially the automobile industry to enable JIT deliveries thereby saving on inventory costs.
What are the busiest air cargo routes?
We have concentrated on a few routes in the beginning as we were getting to know the aircraft and its capabilities. With nearly six months of operations behind us, we are now getting ready to explore new markets and routes. We want to expand our bases and enhance collaboration. It was a very proud moment for our team when we crossed 100 international commercial operations in February. We have continued to gather speed since.
What are your expansion plans and projects in the pipeline?
We would welcome a few more players in the coming months. We are also looking forward to adding our second A320 in Q2 of this year. On a lighter note, it means that the Pradhaan Air Express will remain as the one and only airline to operate the A320 Freighter for some more months, it does get lonely when you are the only operator of a particular aircraft type.