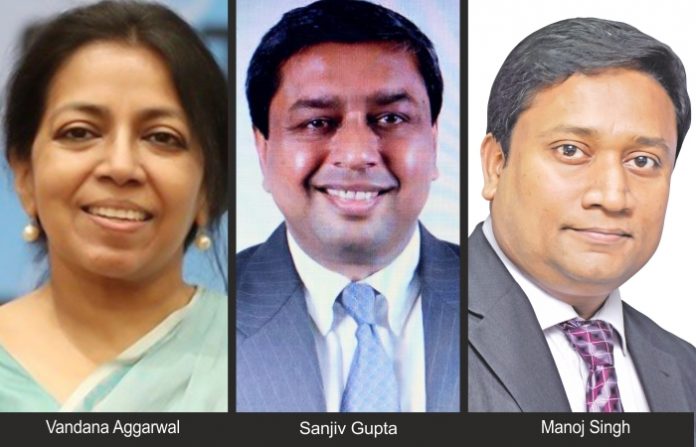 The session of CARGOTALK digital conclave looked at how this pandemic has brought the industry together and made every possible effort to keep moving the air cargo supplies. In addition, eminent speakers emphasised that India is not only self-reliant, but can actually feed the world.
Kalpana Lohumi
The COVID-19 pandemic has impacted the industry globally; however, it's the air cargo industry which is working round-the-clock to keep the cargo flying since the beginning of the nationwide lockdown. The first session of the second digital conclave of aimed at brainstorming ideas with three eminent speakers – Vandana Aggarwal, Senior Economic Adviser, Ministry of Civil Aviation, Government of India; Sanjiv Gupta, CEO, SpiceXpress; and Manoj Singh, Senior Vice President & Head – Cargo, Mumbai International Airport.
Keeping air cargo flying
From an airline perspective, calling these last two months hectic or challenging would be an understatement, feels Gupta. He explained, "Our whole business which was based on carrying cargo in the belly of passenger aircraft got completely changed in a day and airlines stopped ferrying travellers from one place to the next. The pandemic has changed the whole scenario. At that time, domestic demand was low; hence, we started working on the international routes because we have seen demand for perishables to the Middle East, medicines and equipment from South East and China. We had a fleet of five dedicated freighters which crisscrossed the global skies carrying vital supplies including perishables, medicines, etc. in this global war against COVID-19 pandemic. We are seeing demand coming back to domestic market also. Presently we are remodeling three of our QR400 for going into small towns like Aurangabad or Surat which can't afford an 18 or 20 tonne freighter but have a lot of cargo. So, we are trying to connect the small towns to the metros through small aircrafts. We had earlier launched dedicated freighter flights for shrimp to prevent wastage and we continued helping the shrimp industry through the lockdown."
"On an average, Mumbai Airport witnesses eight to nine cargo flights per day with export flights operating mainly to the U.S., Germany, South Africa, France and the United Kingdom. With this, I can see
that the freighter movement will possibly increase because there is paucity and challenge on the international passenger flights," informed Singh.
Sharing the government perspective, Aggarwal explained, "India is not a uniform or a harmonised kind of structure; it has all kinds of interests, be it poor, rich, micro sector vs. the big industry, etc. Government has to do the balancing act and it does."
She continued, "Secondly, there has been a lot of planning required for the growth of air cargo. The amount of work that had been put into place before the crisis has helped us to face the challenge."
"We have been breaking ground into new markets," said Aggarwal, adding, "With the movement of medical and pharmaceuticals, we suddenly found Indian industry coming into the frame and asking to manufacture rather than importing. For example, Maruti Plant is manufacturing the testing kits for us. So, we have virtually a new industry which has risen to the occasion. Also, the government swiftly moved to give them licenses which they didn't have. Hence, from the availability of supplies we moved into production. We also energised 'Krishi Udaan' realising that there are going to be agricultural surpluses in the harvesting period. We have done 3,500 tonnes of agri export in a month under lockdown conditions."
Collaboration is the key
Stressing on the swiftness with which the entire machinery; whether it is government, airports, airlines, freight forwarders or truckers are moving to grasp the needs of the times, Aggarwal, shared the cataclysmic impact of the pandemic in the second digital conclave of CargoTalk. She said, "This crisis has brought out the most humane side of aviation as well. It's something that needs to be recognised. Till now, everything in cargo business used to be contract bound. But here we found that everybody looked to strengthen the weakest among them and to somehow bridge the gap in our supply chain in whatever way possible."
Despite transport constraints and stringent regulations due to COVID-19, Mumbai Airport handles 12,000 tonnes of export and 9,000 tonnes of import particularly during this lockdown period. Calling it a collaborative effort, Singh said, "We, as a stakeholder, have really worked hard to keep the things moving. It is not possible to achieve these numbers without the combination of all the stakeholders working toward the same goal."
Airfreight prices
Since the fuel prices are at the lowest, the trade is expecting a drop in price. Commenting on the same, Gupta clarified, "Pricing cannot be looked at only from one perspective. We have to understand that 80 per cent of our cargo pricing was based on a large network of passenger aircrafts flying. At Spice, we used to fly 650 flights a day and today we are flying 60 flights of cargo in a day. We are flying only 10 per cent of that which means the benefit of the passenger which was being passed on to cargo is no longer there and airlines are stretched."
Echoing similar views, Aggarwal pointed, "Freight rates are a question of how much capacity is out there and today we have a lopsided demand which is centered more around the eastern side of India rather than towards the western countries. So, whenever there is such regional imbalance or a shrunk airfreight capacity then obviously freight rates will increase. However, we have already started to see some stabilisation. But it won't come immediately to pre-COVID levels."
The way forward
"It is no longer a question of brinkmanship or the supply chain to work in silos. So, when we are not doing brinkmanship, we are making sustainable partnership, we are giving a signal that India is not providing air cargo which is a one of. It's all about sustainability, predictability of our supplies of our air transportation at norms which make sense to consignees as well, whether in the domestic or international arena. The crisis has helped Indian cargo industry to mature and I hope this maturity will be seen in the days and years to come rather than just looking at some commercial opportunity. We would like to show that India is not only self-reliant
but can actually feed the world," stressed Aggarwal.
"We, as an industry, have learned a lot from the COVID crisis. It is a new experience for all of us and as an air cargo industry player we look forward for the continuity even after the pandemic is over. This sector is playing a major role at this stage and in future there is a possibility of further growth," concluded Singh.