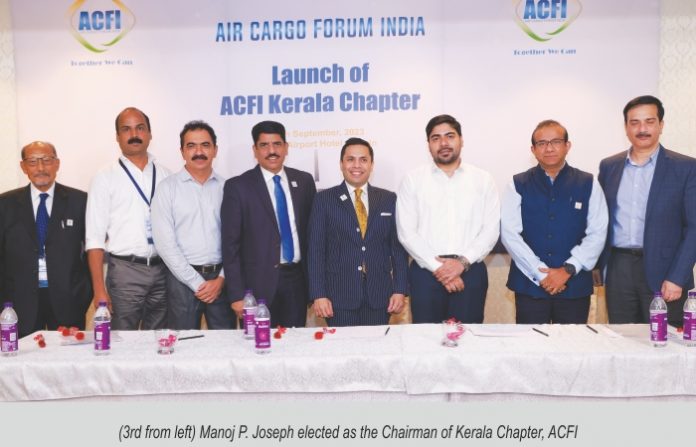 I will strive to maintain close ties with every Task Force Pillar under the ACFI umbrella. This will ensure the effective execution of our initiatives in the region, says Manoj P Joseph, Chairman, Kerala Chapter. The aim of the new chapter is to align itself with the ACFI Head Office, says Yashpal Sharma, President, ACFI.
Air Cargo Forum India (ACFI) launched its Kerala Chapter under the chairmanship of Manoj P Joseph, Cargo In-charge, Cochin International Airport. With an experience of over two decades under his belt, he is a veteran in the airport and aviation sector.
Kerala Chapter Board members will be selected by the ACFI Governing Board and Secretariat in due course of time to boost the air cargo trade in the region, advocate regulatory changes with authorities, upskilling by conducting trainings, events, and workshops, and invite collaboration with fellow trade bodies to steer the sector in Kerala and at the national level.
The chapter's objective is to align itself with ACFI Head Office and drive common goals of promoting the industry to bring it on par with the best global air cargo ecosystems. The four airports covered under the Kerala chapter are: Cochin International Airport, Thiruvananthapuram International Airport, Calicut International Airport, and Kannur International Airport.
Among those who participated in the event included 100 delegates of air cargo and aviation industry, ACFI Governing Board Members and senior leaders from trade associations, including Steamer Association, Indian Chamber of Commerce, FICCI, ACAAI, AMTOI, FFFAI and CCBA. S Suhas IAS, MD, Cochin International Airport was the event's chief guest and Yashpal Sharma, President, ACFI and Managing Director, Skyways Group presided over. Sanjiv Edward, VP, ACFI and CEO, Cargo & Logistics, GMR Group, Satish Lakkaraju, Chairman, Event Management Task Pillar, ACFI, and Global Head, Air Freight & Pharma, WIZ Freight, and Kamesh Peri, Governing Board Member, ACFI, and CEO, Celebi Delhi Cargo Terminal Management, were also present.
Joseph said, "As the Chairman, I must strive to maintain close ties with every Task Force Pillar under the ACFI umbrella. This will ensure the effective execution of our initiatives in the region, with the support of the ACFI President and federation members. My vision is to set up links between the new chapter and the vital players in air cargo and supply chain sector in Kerala."
He added, "The air freight field is undergoing a transformative phase, driven by advancements in technology, evolving regulations, shifting processes, and business environments. This change marks the role of air cargo, and I am dedicated to navigating and embracing these changes for the benefit of our industry."