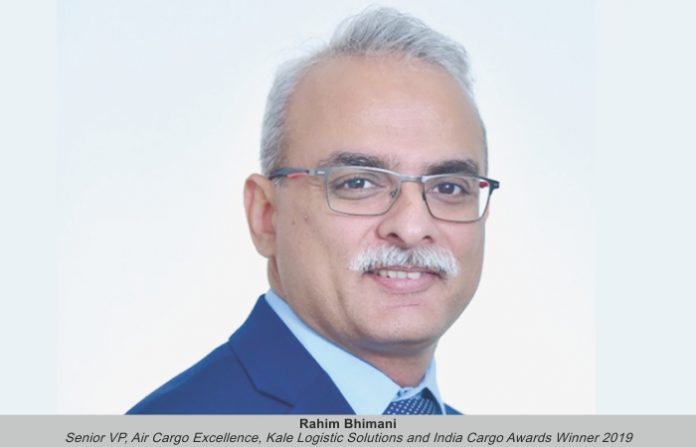 The firms still have a long way to go. But one thing is certain, advanced technology is here to stay, whether we like it or not. In the future, there would be cent per cent technology upgrade for all logistic frontliners, says Rahim Bhimani, Senior Vice President, Air Cargo Excellence, Kale Logistic Solutions.
Digitalisation has been at the forefront since COVID-19. How have the past two years changed the perception towards digitalisation?
Whether delivering essential PPE around the world or supporting small and medium-sized enterprises (SMEs) as they adapt their business operations, the logistics sector has helped ensure the global flow of goods and provided an essential service for our society during the crisis.
However, to ensure business continuity, stakeholders resorted to digitization and till now, the trend is continuing. Right from solutions such as Air Cargo community Systems (ACS) to enterprise offerings, the logistics industry is now going digital on all aspects.
Yet, there is a long way to go since several processes remain manual and complex. We have seen specific modules such as truck slot management, e-Airwaybill (electronic airwaybill and e-Payment modules gaining more traction.
The key reasons for technology upgrade are as follows:
Work from Home – digital infra on cloud to sustain this mode of working.
Documents went online and 'e' as information was important for cargo to move essential and lifesaving medicines and equipment. Chambers of Commerce shared issuing Certificate of Origin online with technology intervention
The virus stays on paper for 72 hours, as per WHO. Therefore, operations had to be paperless
There is tremendous cost reduction pressure on the entire logistics industry. Technology ensured business continuity with more efficiency and cost reduction
It is no more perceived as a cost to business, rather a necessity now. What is your take on it?
Today, the perception is about saving lives than changing lives. While the entire world came to grinding halt, logistics frontliners kept the supply chain active to ensure medical supplies are available for the world.
In the process, saving their own lives became a priority. To achieve the same, reducing the paper touchpoints and enabling backend staff to work remotely was of utmost importance.
With all this, the stakeholders have accepted the fact that technology adoption is the way out. This comes to your question of necessity over cost. When it comes to protecting the lives of our logistics frontliners, all the entities involved in the logistics value chain chose to digitize, and now they are reaping the benefits of digitization. In most instances, IT has enabled businesses to stay afloat and survive and thrive.
What is the future of digitalisation in the New Normal?
The New Normal is already here and the future is 360 degree digitization and paperless trade. Going forward, we can expect cent per cent technology adoption across all processes in the logistics industry. We can expect a rise in community focused digitization. Cargo Community Systems, Digital Freight Corridors and other technologies
such as Logistics e-Marketplace will gain more prominence.
What are the potential challenges faced with other players in the market?
We see skilled staff shortage as a major area of concern, added to that we see there is caution among the stakeholders in choosing the right IT service provider, especially, small and medium industrialists with limited solutions for industry needs.