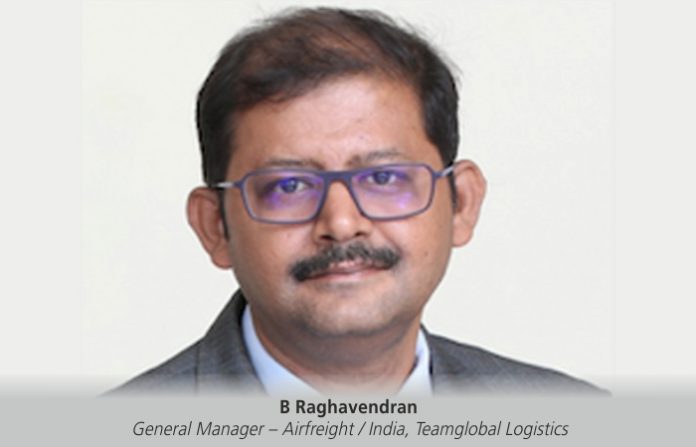 Air cargo industry in India and globally is witnessing major changes due to the current pandemic situation. B Raghavendran, General Manager – Airfreight / India, Teamglobal Logistics shares how air cargo has become a priority over the other modes of transport amidst the pandemic.
Air cargo is an integral part of the supply chain and is an irremovable link in the whole process. Airfreight forwarders play a crucial role in the value chain. They ensure 'ready for carriage' of cargo and offer various solutions and also comply with customs and various rules & regulations of different countries. Currently, global airfreight is having a downfall in terms of the volumes.  A key to recovery is the global implementation of re-start measures agreed as per ICAO to keep passengers and crew safe.  This will open up the belly capacities which have disappeared in the last few months. It has been a great relief offered by airline operators through converting passenger flights into cargo freighters for time being to overcome the situation, and to have a business continuity process.
As the freight rates are increasing tremendously and due to lack of belly capacities, regular airfreight customers can look at multimodal as an option to add the services of sea freight along with airfreight which can provide a cost-benefit during these critical times as long as they have sufficient transit time buffer. Due to the current lockdown situation worldwide, globally recognised stickers for air cargo transport, labelling it as 'Air Cargo – Urgent' will add value to avoid delays while air cargo is trucked down anywhere either at origin or destination. India should also consider all airports as transhipment hubs, which will attract overseas cargo from neighbouring Asian countries to move their cargo through these transhipment hubs and will make carriers to look into India as a stronger market for airfreight growth.
In 2020, due to the falling passenger demand, cargo is one bright spot for the industry and this will continue to grow. The industry is waiting to get back to the pre-COVID level of rates as the non-availability of belly capacities have increased the rates up by three to four times which is a high burden for air cargo.
The need of the hour is to:
a) Stay alert and protect yourself and your team
b) Provide simple and cost-effective solutions to customers
c) Understand customer requirements and support in their supply chain
d) Digitise the airfreight solutions and ensure continuous improvement
e) Review your business continuity process every month
f) Training & skill enhancement
Due to high airfreight rates, investments for every organisation have increased. There is a need to choose the right business and to provide the right service levels. Depending on how the pandemic evolves and solution availability through vaccines, medicines, the recovery will also be faster in terms of air travellers wanting to travel again which will open up doors for all carriers to fly again.