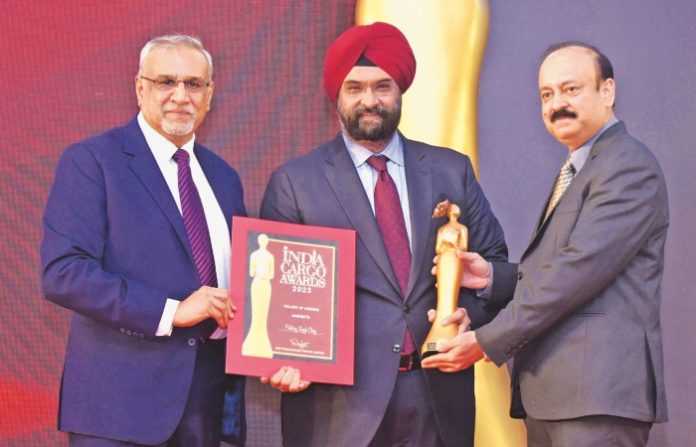 Pukhraj Chug, Founder & Chairman, Group Concorde & Cargo Flash Infotech entered The Gallery of Legends at the recently concluded India Cargo Awards 2023 in New Delhi. Such platforms are essential for recognizing the talent and contributions made by the industry leaders.
Ritika Arora Bhola
How does it feel to enter the Gallery of Legends at the recent India Cargo Awards?
I am honoured and humbled by the recognition that I have received at the India Cargo Awards. I am overjoyed that my contribution to aviation, air cargo, logistics and aviation technology sectors have been recognized. As a first-generation entrepreneur, I am reminded of the initial vision that led us on this path and our ongoing commitment to deliver excellence in the said sectors. My journey in this sector, spanning almost four decades, has been a tremendous learning experience. I  owe this recognition to the dedicated teams both at Group Concorde and Cargo Flash as well as to my peers and my family, who have been a source of inspiration and support throughout.
How important are these awards to motivate, inspire and encourage industry leaders to work better?
I believe that such awards are essential for recognizing the talent and contributions made by our industry leaders.
These events give an opportunity to recognize and appreciate the industry leaders' commitment, dedication, and perseverance, which are critical in keeping the cargo industry going.
What is your vision for the air cargo industry? Where do you see the growth chart moving forward?
At Group Concorde, our vision for the Indian air cargo industry is continued growth and innovation. We see a future where advanced technologies streamline operations, enhance efficiencies, and reduce turnaround times (TAT).
As e-commerce and global trade expand, there will be a rising demand for swift and reliable cargo services. I envision collaborative efforts between industry stakeholders to develop sustainable practices that minimize environmental impact. By fostering a skilled workforce and adapting to changing the market dynamics, the air cargo industry can
position itself as an international leader a contribute significantly to the country's economic growth.
What are the crucial pain points?
Currently, the air cargo industry is grappling with challenges such as infrastructure limitations, fluctuating fuel costs, and complex regulatory frameworks. Efficient last-mile delivery and integrating digital solutions for seamless booking and tracking remain significant concerns. Addressing these pain points through strategic investments, collaboration, and innovative technologies is essential for sustained growth in the industry. To bring skilled resources to the industry, we also aim to create a talent pool that will not only sustain but also boost growth of the industry.
Can you enlarge about your ongoing projects and expansion plans?
Group Concorde offers customized and tailor-made solutions to airlines in different markets, focusing on marketing, cost-reduction, and a seamless customer experience. We aim to deliver support innovative technology solutions for our partners. Presently, Group Concorde is present in 14 countries, covering the Middle East, Southeast Asia, and Asia Pacific. By 2030, we aim to be present in 20 countries more covering the APAC.  Cargo Flash is preparing to give a chance to 'switch it up' to a faster and smarter air cargo booking platform for cargo business. The to be launched 'Octoloop', powered by Cargoflash, is a neutral platform for the airlines and freight forwarders.