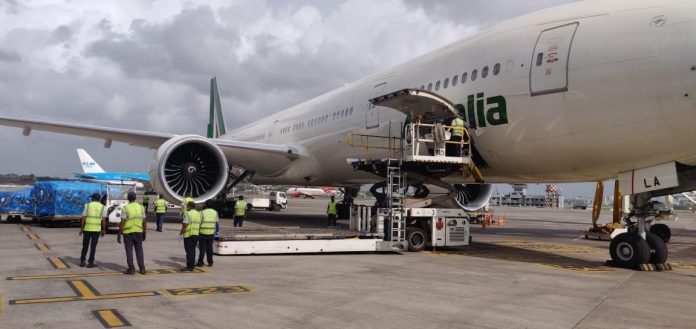 Alitalia Airlines has successfully launched its maiden flight from Mumbai uplifting 45 tonnes of cargo, including pharmaceuticals to Italy/Europe/USA with its wide-bodied fleet of B777-200/B777-300 aircrafts. The Italian
carrier would be operating a weekly passenger to cargo (P2C) flight on Mumbai (BOM)-Rome (FCO)-New York (JFK) route. The B777-200 aircraft, without seats ensures optimum utilisation of space with cabin loading, offering a capacity of 50 tonnes.
Alitalia had also been flying with AB330 daily pax flights EX DEL-FCO, during pre-COVID times with a wide network, spreading its wings across Europe, USA, South America, Africa, Asia Pacific and Middle East besides the
domestic Italian destinations. Alitalia will continue with its DEL-FCO special flights in the month of July as well.
Although the airline has curtailed its international services to a few sectors, it continues to operate scheduled flights to a few intercontinental and short-medium haul destinations, both domestic and international. This includes flights to Buenos Aires, New York, Boston and European ports besides Mumbai. Alitalia will be accepting cargo to South American destinations on their network. Air Logistics Group continues to expand and widen its spectrum with Alitalia Cargo in the Indian market since 2004 as a reliable logistics partner.
Sakshi Gupta, Country Manager, Air Logistics Group – India, says, "These are unprecedented times that require unprecedented efforts. Nobody has ever been prepared for a disruption of this scale ever. But we must all remember that an arrow can be shot only by pulling it backwards, so when life is dragging us with difficulties, remember it is going to launch you to something great, so just focus & keep aiming." "The industry must harmoniously come together & disrupt the disruption together," she adds.