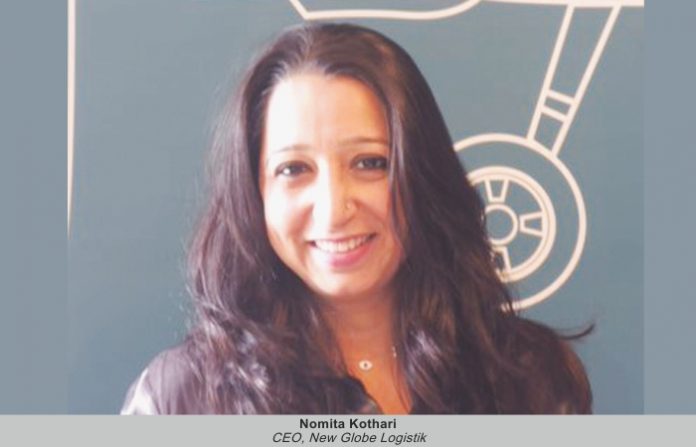 Nomita Kothari, CEO, New Globe Logistik who has been serving the industry since last three decades tells women are holding positions of leadership across all economic sectors and they know how to balance work and family. In a tete a tete with CARGTALK, she seeks to provide a work environment that values gender diversity and flexibility.
Ritika Arora Bhola
What motivated you to be a part of the Indian logistics industry? How has the journey been?
I have been working in the cargo industry for over 30 years. I began my career in the cargo business of KLM Royal Dutch Airlines and have since then worked for GSA Sharaf Cargo and the freight forwarding sector. A dream to work in the air cargo industry quickly evolved into a passion for the cargo sector. The dynamic nature, broad reach, and extreme difficulty of the cargo industry's operations set it apart from other occupations.
What industrial transformations have you witnessed since the time you stepped in?
Huge advancements in infrastructure, digitization, technological investment, e-logistics, etc. These changes have improved customer satisfaction, enabled more economical operations, increased efficiencies, and fostered corporate expansion.
What are the major challenges have you faced till now?
The cargo industry is a male-dominated sector, but we have a few women who have made their name in the cargo sector. We battled, toiled, and gained our footing as we worked with our male coworkers and encountered the same obstacles. You will get
beyond challenges if you are committed to succeeding.
The last few years have witnessed increased women's participation in the air cargo business. How are you as an individual working towards bringing a change?
Today, the women are becoming more prevalent in leadership positions across all sectors of the economy. Today's they are more career-focused, diligent, and capable of making difficult choices, while gracefully juggling work and family obligations. It is imperative that they support and encourage one another. It is essential to encourage women's ambition and provide a work environment that values gender diversity and a respectful workplace culture.
It is not about a man or a woman, it should be about the common goal – 'growth.' Tell us about your contributions in the industry for growth and success?
Growing is about doing whatever comes our way and not waiting for things to come to us. Success will come if you follow your passion and grow strong, independent, and confident. The most essential thing is to help others. Over the years, I have met and worked with several incredible women who have coached, inspired, and pushed me to be a better person.
What are the megatrends for the Indian logistics industry? And what are the areas, which need attention?
Building capacity to achieve active scanning of supply chain activities and analyzing the influence of global events on supply chains are two lessons learned from the pandemic. Building AI-strengthened businesses will be essential for success.