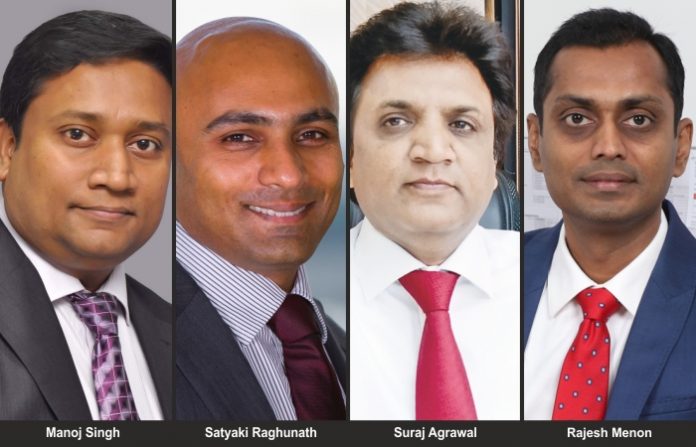 In order to preserve perishables and keep them in excellent condition when they reach the final consumer, everyone, right from the airport operator to airline and freight forwarder in the logistics chain plays a crucial role. CARGOTALK discusses the present market share of perishable movement by air, challenges and more with industry experts.
Kalpana Lohumi
Keeping fish or fruit from another region or country in an excellent condition when they arrive to the consumer's table is not an easy task. It requires a complex, quality system throughout the entire logistics process, from origin to the final point of distribution. These products have short lifespans because of their chemical and/or physiological characteristics and are more susceptible to severe and irreparable damage during transport, especially if temperature is not kept consistent. Moreover, India is a land where roughly 70 per cent of the population resides in rural areas and agriculture sector cannot be overlooked. Since these products are perishable in nature, speed becomes crucial in their movement and air cargo offers the speed to the market.
Sharing his views on increasing domestic air cargo volume, movement of agri-horticulture, fruits, vegetables and other perishable goods, Manoj Singh, Senior Vice President & Head – Cargo, Mumbai International Airport, says, "Agri, horti and perishable products by nature have short lifespans and thereby require a quicker mode of transportation to the final destination. Market and supply chain dynamics along with pricing factors and alternative transport arrangements offer stiff competition to domestic air freight."
"At Chhatrapati Shivaji Maharaj International Airport (CSMIA), the average percentage of agro products and perishables of overall domestic air freight is four per cent as compared to 10-12 per cent in terms of international air freight. An industry-wide collaborative approach and policy support to regulate domestic airfreight and provide competitive pricing will play a strong role in increasing domestic air cargo volumes," Singh adds.
Stressing on the need of sustainable supply chain in the present scenario, GMR Hyderabad Air Cargo (GHAC) Spokesperson, says, "Agriculture continues to be one of the cornerstones of the Indian economy. In the current time, it is all the more pertinent that we have a sustainable supply chain across the country and offshore to efficiently mobilise agri-horticulture, fruits, vegetables and other perishable goods from the farmer to the end of the value chain in a seamless manner. As part of the supply chain, air cargo's role is pivotal and perishable cargo is the second largest commodity exported from Hyderabad. At GMR Hyderabad Air Cargo we are focusing to leverage the opportunities in terms of handling the export of perishable agri-products from the state of Telangana and other catchment regions in the south. Plans are on the anvil for a dedicated perishable cargo terminal."
"As per the Government of Karnataka, the state has 10 different agro-climatic zones and 46 geo-indicators. In addition, the state has immense potential to contribute towards perishable cargo movements, both domestically and internationally. Karnataka accounts for approximately 75 per cent of flowers grown in India, of which roses and marigold are significantly moved by air to other parts of the country. From BLR Airport, coriander has been one significant commodity that has been moved in the domestic market. In FY 2019-20, during the season 5,260,645 kgs were processed and in FY 2020-21, 3,508,000 kgs have been processed till date. Other commodities such as pineapple, pomegranate, mango, watermelon, chilly, etc., have also been moved by air from BLR Airport during COVID-19. Perishable cargo has historically contributed about five per cent of BLR Airport's domestic outbound air cargo volumes and we expect this to grow at a CAGR of approximately 7.5 per cent over the next 15 years," explains Satyaki Raghunath, Chief Strategy & Development Officer, Bengaluru International Airport.  "30 per cent of our export cargo constitutes perishables," he adds.
Explaining the potential perishable commodities have in order to contribute in the domestic air cargo volume, Suraj Agrawal, Director, Monopoly Carriers and Cargo, says, "There is huge potential from different locations, for example, we have green peas & apples from Chandigarh, there is seafood movement from Chennai, Bhubaneswar, Vishakhapatnam and Kolkata, flowers and vegetables from Bengaluru and Pune, to name a few. Currently, the market share is not much but there is huge potential to increase which can also help farmers to get good prices for their goods and the consumer gets fresh products."
"Cargo is one of the most important business units for Cathay Pacific," says Rajesh Menon, Regional Head Cargo –  South Asia, Middle East and Africa, Cathay Pacific Airways, in adding, "Over the last few months, we saw a healthy share of our business being attributed to perishable products, predominantly seafood, meat and vegetables, while most of the demand was ex. Kolkata, Chennai, Mumbai and into Asian countries. Given the recent government initiatives, we are optimistic that this segment will continue to grow in the future."
Wastage has always been an issue in handling perishables. Explaining further how can airlines help or come out with a solution to help reduce waste, Menon expounds, "Perishable goods such as flowers, fruits, vegetables, meats, deteriorate over time, especially under extreme temperatures. It is important for airlines across to understand and cater to the individual temperature and storage needs of such products, to avoid produce from going to waste. Fresh LIFT not only includes specific temperature-controlled rooms and containers, but our teams are also highly trained and experienced in cold chain management. Furthermore, we have ensured that all our policies are in line with several international regulations including IATA'S Perishable Cargo Regulations (PCR)."
"It is important to take a more sustainable approach for future generations, across our cargo and passenger business," believes Menon. "We have also worked closely with various stakeholders to introduce the Sustainable Development Cargo Carriage Policy that allows various partners to gain an understanding of where we stand to protect the environment in the area of cargo carriage," he adds.
What is stopping the perishable movement?
According to Agrawal, lack of space in passenger aircraft is one of the main challenges being faced by freight forwarders of the country. Union Minster Nitin Gadkari has suggested special cargo flights for perishables with comparative prices and reduced cut off time and clearance time because cargo comes from rural areas to the mandi which needs to be delivered in minimum possible turnaround time.
Under the Krishi Udaan programme, 43,000 metric tonnes of perishable cargo was moved by air. Stressing on airfreight charges, Agrawal notes, "This tonnage can increase a lot if net airfreight is competitive, as perishable has to reach in time and farmers prefer airfreight but high prices of freight is affecting growth."
"Also, agri and perishable goods are exempted from GST on road transport; 18 per cent GST inflates the cost and in many cases, it is not viable. GST needs to be exempted on perishable goods," stresses Agrawal.
"As an airport operator, we have several initiatives for the seamless and efficient processing for all types of cargo; the current infrastructure at CSMIA provides an added advantage for processing agro and perishable commodities. From the airport perspective, we have overcome the challenges in processing perishable products and adhere to committed dwell times. Within the air cargo community, the packing, cold chain management and refrigerated road transport has considerably improved over the years to guarantee quality product to the final consumer," says Singh.
"The packing structure of perishable goods is quite large and presently most of the Indian carriers operate narrow body flights. There is need to increase the belly capacity to attract the perishables and other potential commodities. Thus, this is one area that the industry can consider for future," advises Singh.
Correspondingly, the focus of Hyderabad Air Cargo is to build a robust supply chain from the farmer to the end of the value chain. In context to the challenges in the movement of perishables, GHAC Spokesperson, says, "We need to decrease gaps in the fragmented supply chain of food products while ensuring quality and minimising waste.  There is a need for stronger integration of the various players in the entire supply chain cycle to ensure seamless movement of perishables."
"Time always plays a critical part in perishable logistics. To ensure that products reach their destination while still offering the same freshness, quality, and appeal for consumers, common challenges faced are lack of standardised packing solutions, availability of temperature-controlled infrastructure for storage and temperature-controlled trucks to ensure freshness during transportation," highlights Raghunath.
Explaining where Kempegowda International Airport, Bengaluru (KIAB) is making a difference, he continues, "All farm-fresh commodities such as mango, capsicum, baby corn, papaya, sweet corn, pomegranate, chilly, gourds, cabbage, cauliflower and exotic vegetables such as zucchini and celery reach their destinations within 24 hours of harvest.
Perishable cargo has been one of the major drivers of growth this year. Even as COVID-19 impacted the movement of people and goods, during the period between April and September 2020, approximately 17,200 metric tonnes (MT) of international and domestic perishable cargo were uplifted from BLR Airport. Cargo has been carried on 24 airlines to 46 destinations during this period. As per APEDA, the airport accounted for the highest exports of perishables among Indian airports for FY 2020-21, until June 2020. It also processed approximately 180 MT of pomegranate from April to August 2020, to emerge as the leading airport for pomegranate export from India."
"The dedicated on-Airport perishable handling centres – AISATS Coolport (with an annual capacity of about 40,000 MT) and the Cold Zone at Menzies Aviation Bobba Bangalore – (with an annual capacity of about 20,000 MT) give BLR Airport the capability to handle approximately 60,000 MT annually. These facilities have 22 cold rooms with temperature-controlled zones ranging from -15 to +25 degrees Celsius. The Master Plan Update of the Airport has incorporated additional space for the development and building of an integrated air cargo and logistics hub in the future," states Raghunath.
Sharing the airline perspective, Menon says, "One of the major challenges that we face is the inadequate infrastructure and the lack of formalised training to handle perishables. Given the nature of these products, it is imperative that they are stored appropriately. The government along with Airport Authority India Cargo Logistics and Allied Services Company (AAICLAS) has been addressing these challenges by developing infrastructure and opening new storage facilities across India, thereby catering to the demand for perishable products in the domestic and international market."
Airfreight prices
The airfreight cost is comparatively higher than the other modes. Sharing what is needed to be done to reduce the airfreight cost of moving perishables, Agrawal points out, "Terminal charges are very high at most of the airports which need to be reduced; there has to be a special cost for perishable goods."
On this, Raghunath says, "Freight cost is generally an output of demand and supply and controlled by airlines, rather than by an airport. However, BLR Airport was the first airport in India to have implemented a Variable Tariff Plan (VTP) to provide benefits to carriers to fly on new routes or bring in additional frequencies on existing ones. Additionally, BLR Airport also created the concept of a 'home carrier', thereby providing significant benefits to airlines, which use BLR Airport as their base. Over the years, BIAL has worked with various domestic carriers to enable the setup of their primary or secondary hub at BLR Airport. This has led to a significant growth in cargo volumes at BLR Airport and we expect this to increase even further over the coming months and years."
According to GHAC Spokesperson, "Airfreight provides high value in terms product quality integrity, greater reliability, speed and safe mode of transport that outweighs cost aspect. However, airline rates are determined by free market underpinnings, which are based on demand-supply factors linked to market forces of the destination countries. The fact that air travel is one of the fastest growing forms of transportation and that India is on its way to be among the top aviation markets globally, speaks a lot about the utility and acceptance of air travel for both cargo and passenger.  Even in this difficult time, when other modes of transportation were impacted, the air cargo movement continued uninterrupted and supported the essential life-lines of our economy."
"One of the primary concerns in the movement of perishable products is the impact of the storage and transportation time on the quality of the product by the time it reaches the final user. Airfreight alleviates these concerns and offers a more reliable, transparent and faster supply chain experience to the cargo community. Thus, the benefits of airfreight in the movement of perishable commodities, when compared to the other modes of transportation, far outweigh any other considerations. Currently, the airfreight industry is working towards an unbroken cold chain from manufacturing to end-user, competitive pricing, real-time supply chain information and additional capacity along with policy support to the air cargo industry," explains Singh.
Calling airfreight cost dynamic, Menon says, "Perishable goods are both, time and temperature-sensitive goods. Air cargo being the fastest mode of transportation is always a preferred means of transport for many shippers, especially when it comes to perishable products. The cost of airfreight is very dynamic and depends on various factors, most importantly the fuel costs and the available capacity vis-a-vis the demand. Given the current scenario, wherein the demand to transport cargo has been strong, but the overall reduction in capacities due to the suspension of passenger flights and grounding of aircrafts has caused an imbalance in the demand and supply chain, resulting in the prices of airfreight to increase. However, our teams across the region work closely with all the relevant stakeholders to provide our customers with the best possible solution to bridge this gap.  Additionally, to cater to this increase in demand and to supplement our regular freighter operations, we have also been operating cargo-only-passenger flights ex. India and ex. Hong Kong."