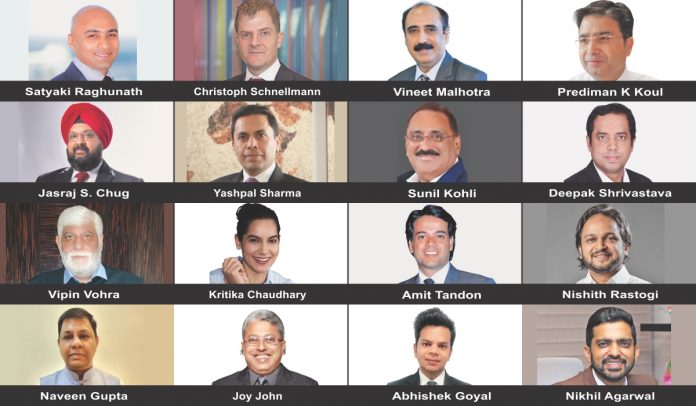 Air freight is estimated to be worth US$12.41 billion in 2023. The industry is expected to grow up to US$16.37 billion by 2027 at compound annual growth rate of 5.7%. Buoyed by the government initiatives, air cargo and logistics industry is on a growth trajectory, say industry professionals.
Ritika Arora Bhola
The New Year promises to bring tremendous growth and optimism to the Indian air cargo and logistics sector. The government's ambitious schemes and initiatives such as PM Gati Shakti National Masterplan, Krishi Udan 2.0, National Logistics Policy, and Self-Reliant India, have not only instigated potential to invest in the Indian supply chain business, but also propelled foreign interest and participation.
With the incredible cargo infrastructure and technological developments taking place across India, such as the emergence of dedicated freight corridors, cold storages to move and transport pharma, agri-produce and perishables, transhipment hubs, Grade 'A' warehouses, regional cargo complexes and terminals, and national highways among others, industry stakeholders are moving forward towards achieving the government's vision of 10 million tons by 2030.
The key growth drivers are believed to be e-commerce, fast moving consumer goods (FMCG), retail, chemicals, pharmaceuticals, automotive and other industrial goods. Dedicated freighters will help in achieving full capacity and cargo volumes. For example, IndiGo recently introduced freighters with orders of four A321 P2F aircraft. Blue Dart is also adding two B737s to its existing fleet. Pradhaan Air Express, the country's youngest cargo airline, is bringing in new dedicated freighters in February 2023 to meet growing demand and initiate cross border e-commerce from India.
DHL and UPS are poised to increase its capacity in India. Digitalisation and sustainability will take over in 2023. The Foreign Trade Agreements (FTAs) with UAE, Australia, and UK and the like will boost EXIM for India with these countries. The domestic logistics is seeing a big surge in cold chain logistics. The Food and Vegetable industry backed by Ready to Eat (R2E) and Quick Service Restaurants (QSRs) is seeing a double-digit growth.
According to Research and Markets' latest data, the country's air freight market is estimated to be US$12.41 billion in 2023 and is expected to reach US$16.37 billion by 2027, growing at a CAGR of 5.7 per cent. The Indian government's air cargo policy, which seeks to make India among the top five air freight markets by 2025, and efforts to create air transport shipment hubs at all major airports over the next few years, will be key to advance industry growth.
To achieve the desired goals and deal with future crises such as lockdowns, global recession, high logistics cost and air freight rates, war or supply chain disruptions, the industry experts have adopted efficient and robust strategies. Extensive and mutual Industrial collaboration is required to fix issues such as lack of data transparency, data availability, cyber security, and environmental hazards. There is a need to establish lean operations focusing on optimizing processes, minimising waste, and increasing customer value. Despite challenges, the air cargo and logistics are on the right growth trajectory and aims to make India an international cargo hub in the coming years. CARGOTALK spoke to industry experts about their plans and vision for 2023 and beyond.
BIAL to expand cargo infra to reach capacity of 1.5 mn MT
Satyaki Raghunath, Chief Strategy and Development Officer, BIAL
Key drivers
Following a favourable rise in FY2022, the enhanced pace of business activity is forecast to support the growth momentum of the Indian logistics sector in FY2023. Over the long term, growth will be driven by demand from diverse categories such as e-commerce, FMCG, retail, chemicals, pharmaceuticals, industrial goods as well as the industry's paradigm shift towards organised logistics companies, post-GST, and e-way bill implementation. Timely and efficient execution of the National Logistics Policy would be critical in providing the industry with the necessary push. With new partnerships in place, BLR Cargo is looking forward to expanding business and enhancing its facilities. In addition, we are aiming to boost our overall throughput potential to accommodate higher cargo volumes.
Growth strategies
BLR Airport has a cargo capacity of 715,000 MT per year. A fully digital Airport Cargo Community System (ACS) has been implemented at the common-user cargo terminals. It provides a way for the cargo community to track their shipments as they pass through the airport. This also reduces the need for documentation. The cargo terminals have an annual cold-chain handling capacity of 60,000 MT. The airport has technology-driven interventions to ensure that items arrive at their destination with the same freshness, quality, and attractiveness to customers. By the mid-2030s, we intend to extend our cargo infrasteructure to reach a capacity of 1.5 million MT.
Being future ready
Trends in air cargo are evolving and shifting. While this has been a conscious effort on our progress, our existing partnerships have strengthened and with new partners coming onboard, we are confident of being resilient and prepared for the year ahead. We have practised sustainable cargo operations. In the coming years, we will see more usage of cutting-edge techniques to boost sustainability and profitability.
Need for superior air cargo, logistics infrastructure
Christoph Schnellmann, CEO, Noida International Airport (NIA)
Key drivers
NIA will cater to a differentiated catchment and several upcoming industrial clusters in Uttar Pradesh. A multimodal cargo hub (MMCH) will contribute to overall vibrant ecosystem. We expect the cargo ecosystem at NIA to develop with a focus on e-commerce, electronics, textiles, agri-perishables, and pharma. With rising e-commerce demands and the auto market gaining traction, we see volumes back in the bellies of aircraft. This is affirmed by the increase in aircraft orders by Indian carriers.
Domestic airlines such as IndiGo have introduced freighters with orders of four A321 P2Fs. Blue Dart is adding two B737s to its fleet. DHL as well as UPS are poised to increase capacity. Construction of cargo infrastructure at NIA will start later this year.
Growth strategies
NIA is developing a MMCH in 80 acres. It will become operational in 2024 and pave the path for a future cargo hub in the country. Employing more efficient infra and technology in this greenfield project and digitalisation of manual process and documentation will help address existing pain points in the market.
Predictability in ops will be a key differentiator for NIA. The infrastructure at NIA is designed to meet efficiency, experience, earnings, and objectives through a customer-centric design.
Being future ready
India and Uttar Pradesh are seeking to promote investment in the manufacturing sector, indicating a need for air cargo. Trade and cargo are dependent on supply and demand in many sectors, so it is important that modern cargo ecosystems provide a diverse offering of services. Pressure on transportation costs will continue to remain high, hence it is vital cargo infrastructure supports quick and efficient operations, and digitalisation of supply chain activities.
We aim to address these issues by remaining flexible and bringing in a future-focused and scalable product offerings. Our objective is to develop a cohesive ecosystem to drive cargo growth and create a model of robust transport and advanced logistics system for speedier supply chains recovery.
Creating digital logistics for international supply chains
Vineet Malhotra, Co-founder & Director, Kale Logistics Solutions
Key drivers
Air cargo demand will decrease in 2023 as compared to 2022, as spending on goods is declining from pandemic-driven highs, international inflation, and other factors such as modal shifts are all acting against air cargo growth. But the New Year is full of opportunities for those who inspire customer confidence. The outlook for the year is positive about fundamental trends such as digitalisation and sustainability. 2023 will not require a fundamental change in strategy but should continue to drive measures underway and maintain a forward-looking willingness to learn. Cargo Community Systems (CCS) will drive a lot of growth and innovation in the industry. An airport being an anchor of such a platform will transform the industry as it is a strong neutral player in the supply chain.
Growth strategies
Digital transformation is an integral part of the functioning of logistics enterprises, governments, and communities. We continue to play a critical role, helping clients embrace new technologies to cope with the crisis and, since then, to innovate at scale and grow their businesses. We are on a mission to create the world's largest Digital Logistics Cloud-Enabled Platform for the international supply chain.
We are looking for emerging technologies such as Artificial Intelligence, Machine Learning, Blockchain, and Internet of Things, to name a few. We are leveraging these technologies in building future-proof enterprise and community solutions to facilitate business synergies for our clients.
Being future ready
We should fix issues such as lack of digitization, innovation, data transparency, data availability, cyber security, and environmental hazards.
We would collectively look at these problems to devise international and mode agnostic solutions to at least minimize disruption. Creating a digital level-playing ground for the SME players so that they are empowered to brace-up crisis and disruptions.
Embracing automation to enhance productivity
Prediman K Koul, ED & COO, Jeena & Co.
Key drivers
e-commerce: The growth of the sector will continue to drive demand for air cargo and logistics services. The companies will want dependable transportation solutions to transfer large volumes of goods across the globe.
Innovation: The adoption of new technologies such as drones and autonomous vehicles and the Internet of Things are likely to play a significant role in driving growth in the sector. These technologies can help streamline processes and improve efficiency, which can help reduce costs and improve competitiveness.
Infrastructure improvement: Investment in transportation infra such as airports, roads, new warehouses, and distribution centres, will help improve the performance of the supply chain by reducing the time it takes for goods to be delivered to its destination. In turn, increasing the growth across the logistics sector. strategies
In order to move forward in this ever-evolving industry, one approach is to establish lean operations, which focuses on optimizing processes, minimizing waste, and increasing customer value. Reorganizing workflows, standardising procedures, and leveraging data and analytics to drive improvement.
Another approach towards growth has been to embrace automation that helped us save time, minimize errors, and enhance productivity. Collaborating with right partners or agents assisted us to gain access to new resources, markets, and expertise.
Being future ready
Taking actions in a bid to strengthen one's capacity to resist shocks or crises—diversifying supply chains, boosting automation, creating backup systems—is essential in building resilience. Having procedures and processes in place ensures that the particular company can continue to function even while facing a crisis. Finally during a crisis, it is significant to keep the stakeholders informed of what is going on and what the particular organization is doing to resolve the problem.
AI lenses, 3D sensors, technology to make difference
Jasraj S. Chug, Co-founder & Director, Cargo Flash Infotech
Key drivers
The best practices and technology innovations will make a noticeable difference in 2023. Using AI lenses and 3D sensors, smart airport technologies are capable of monitoring airport traffic and rerouting. Compliance checklists, permits, assessments, audits, and observation can be transformed into dynamic workflows with the aid of tech.
Second advancement in the cloud technology domain, Predictive Maintenance leverages to optimize time and resources spent on maintenance tasks. The software can determine, which aircraft components need repair before they show any signs of suboptimal performance. The last and most important is the continuance of SAF. The aviation industry, including freight, has committed to a goal of achieving net zero carbon emissions by 2050. Thus, green technologies in the air cargo industry have begun to emerge and are here to stay, predominantly.
Growth strategies
With AI and Big Data playing a big role, efficiency and security of cloud-based technologies become more important than ever. Looking into the pace of adaptation of digitalisation in the overall aviation industry, I am hopeful to see an industry that has embraced automation—quickly and fully. We are on the verge of soon launching an end-to-end platform bearing solutions that address almost all the existing gaps in the industry. Actionable data and valuable insights can be procured if AI-driven systems are implemented into the process. We must also put the safety of data into action through single-window digital platforms.
Being future ready
5G or high-speed internet, AI and BI are making everything virtual and outsourcing that can make an event move away from fixed cost to a variable cost. This makes sense and is a contingency plan to ensure when an unpredictable Black Swan event hits a business.
Agri, processed items, e-commerce to drive growth
Yashpal Sharma, MD, Skyways Group & ACFI President
Key drivers
Agriculture and processed food items along with e-commerce will be the key growth drivers in air cargo for the next 18-24 months. There are other products such as automotives, electronics, pharma, chemicals, textiles among others contribute to the logistics industry. The new Free Trade Agreements with United Arab Emirates, Australia and a few from the United Kingdom will boost EXIM for India with these countries. The logistics is seeing a big surge in Cold Chain logistics. The Food and Vegetable industry backed by R2E and QSRs is seeing a double-digit growth. The Union Ministry of Civil Aviation and Air Cargo Forum India are going all out to promote air cargo movement, EXIM, and domestic cargo, through their focussed programs. These efforts may bring incremental growth in the coming times.
Growth strategies
Skyways has set-out a solid growth plan for next three years. Introduced beginning of 2023-24, it is backed by geographical expansion and a big volume push across our products and verticals. We are growing at 30 per cent CAGR over last 15 years. This kind of growth needs a constant alignment and re-alignment of one's organizational structure. We have a quarterly discussion on all three aspects and a focus is laid on efficiency to ensure client retention across the group. Over the past five years, we have inclusion of tech upgrade to these three, and special attention is being laid to integration of our systems with vendors and customers, apart from the hardware and equipment upgrades. This has worked extremely well for us so far and we plan to go forward.
Being future ready
Business plans can be robust and flexible, but not be fool proof in real terms. COVID bears testimony to the uncertainties encountered by all businesses. The synergies between machine-man functioning could not be performed due to challenges arising from restricted movement. Business plans have been on most company boards' tables daily from past 30 months. We have re-drawn our BCPs for future, based on our past experiences, which will help us to adapt to any contingency better in future.
Tech imperative to achieve efficiency, flexibility
Sunil Kohli, Managing Director, Rahat Cargo
Key growth drivers
2023 is expected to bring hope to have the cargo industry getting up with an accelerated zeal and enthusiasm to overcome the odds. The supply chains are likely to face varied challenges, but the cargo fraternity shall be resilient with perseverance. Greater emphasis is likely to be made towards digitization with the right technology in all the functional areas to achieve efficiency, flexibility, and a time-bound outcome. A digital supply chain management is likely to yield results with usage of technology for having an enhanced coordination and control on movement of goods.
Growth strategies
We are trying to convince the exporters to explore the new markets abroad, which could provide ample opportunities for shipping goods to newer destinations. A digital and online survey is being conducted by our personnel to search for stations where a specific commodity is in demand that can be catered from the country. We are encouraging our staff to switch over to digital transactions. A closer coordination with the airlines has also been need of the hour regarding availability of space and our subsequent efforts to utilize those on various sectors is also being done by us unfailingly.
Being future ready
No specific contingency plan can be worked out in advance unless the related planning is done. The probable odds may be of several nature such as natural calamity, pandemic, fall in demands thereby affecting the export and capacity constraints. Each of such constraints requires a different contingency plan and strategy which can certainly be finalized when encountered with.
Superior infra to boost opportunities in air cargo sector
Deepak Shrivastava, Managing Director, Indian subcontinent, UPS Express
Key growth drivers
The government and private stakeholders are focusing on strengthening infrastructure, supporting SMEs, and enhancing supply chains. Logistics partners must continue to expand network to support the growth of local businesses beyond borders.
Key growth drivers such as strong airport cargo infra, digital infrastructure for cargo handling, and airport gateways that facilitate efficient access to world markets will continue to boost opportunities in the sector. The government's air cargo policy, which seeks to make India among the top five air freight markets by 2025, and efforts to create air transport shipment hubs at all major airports, will be key to advance industry growth.
Growth strategies
We opened our integrated logistics facilities in Hyderabad (2017) and Ahmedabad (2018). In 2020, we opened our dedicated airport gateway at Delhi airport and an integrated logistics facility at Gurugram.
Last year, we opened our Bengaluru airport gateway facility and announced partnership with InterGlobe Enterprises to launch MOVIN. All these investments and initiatives help us move businesses and the economy forward to capture growth opportunities.
Being future ready
For us, agility is significant to address possible disruptions and deliver what matters for our customers. We have built technology into our smart global logistics network that allows us to respond day by day to what we are seeing in the marketplace.
UPSs "better and bolder" vision is about moving faster to win in our targeted market segments. Combining our digital capabilities with our reliable and agile global integrated network will assist in fostering business efficiencies to create a powerful offering of logistics as a service.
Air Freight Stations to facilitate EoDB for exporters
Vipin Vohra, Chairman, Continental Carriers
Key growth drivers
Digitization: Most logistics companies have opted for digitization making it a game changer. It consists of the use of digital tech to add insights and modify the business models providing high revenue and expose the logistics companies to better opportunities.
Supply chain transparency
It is imperative for systems to be integrated, workers to have new resources, and supply chain managers to have a better understanding of the supply chain trends. There has been an emphasis on adapting every node of the network to the consumer's needs, considering factors such as sourcing, trade policies, mode of shipment among others.
Integrated logistics ecosystem
As countries enforced lockdowns, the logistics systems established by e-commerce enabled retailers to sell, and consumers to avail of essential supplies and other products. The enabler for e-commerce is the availability of a robust and resilient logistics system. With end-to-end, the integrated logistics services available, businesses must concentrate on consumers, products, and marketing. The launch of PM Gati Shakti National Masterplan has provided overarching interdisciplinary cross sectoral for development of logistics ecosystem in the country.
Growth strategies
CCPL has growth plans to invest in cost-effective and beneficial solutions. Growth plans are associated with the commissioning of AFS by CCPL. Being pioneer in AFS creation, CCPL has larger national intent to strengthen and develop air cargo logistics by operationalizing the AFS. It may reduce the bottlenecks in air cargo logistics and help in ease of doing business (EODB) concept, particularly for exporters.
Being future ready
The following steps are suggested:
A force majeure clause aims to suspend performance of obligations where a party is prevented from performing by events outside its control.
Updation of business continuity/disaster recovery plan to ensure preparedness during a crisis.
Building long-term resilience and flexibility for managing future challenges.
Developing a robust framework having a responsive risk management operations capability
Manufacturing & automobile sectors to drive growth
Kritika Chaudhary, Head, Business Development & Marketing, Allied Aviation
Key growth drivers
Digitization, data, and visibility: We have seen a paradigm shift from paper to digital communication in the recent years and the same will continue in the next few years to come. This shift towards digitization is allowing the companies like us to gather valuable insights and make smarter decisions, which in turn, improves customer visibility. Improving warehousing capacity and faster communication will bring consumer goods closer to the demand side, will benefit everyone. I can see the manufacturing and auto sectors will see a boost in their businesses with better delivery TATs.
Growth strategies
To stay competitive and make informed decisions in today's market, we are investing in data and analytics allowing us to identify key markets and trade lanes for strategic growth and expansion. We recognize the importance of staying ahead of the curve and embracing digitalisation. As such, we are working towards going paperless whenever possible. Also, we are investing in the development of our team by providing training and growth opportunities.
Being future ready
Currently, our focus is on maintaining a strong financial position, ensuring that we have a robust profit and loss statement, with a healthy cash flow. With Goods and Service Tax and other business expenses, it is crucial that we have a steady inflow of cash. We are working on strengthening the core of our company by making sure that our balance sheet is sustainable and healthy. This is essential for weathering any crisis that may arise and for continuing to grow our sales, even in difficult times. Our end goal is to be able to respond and adapt quickly, proactively to ensure continuity of operation.
EXIM trade to enhance exports in ASEAN markets
Amit Tandon, Managing Director, Asia Shipping, India
Key growth drivers
Various government initiatives such as PM Gati Shakti National Masterplan and Make in India have enhanced the Indian industrial manufacturing graph, and demand for merchandise is at its highest in the overseas markets. Though the freight rates have stabilised, be it air freight or ocean freight, giving major impetus to air export products, EXIM trade in Indian Rupees will enhance penetration of Indian exports in the ASEAN region.
A new renewed regime of Free Trade Agreements with major world economies such as the United Kingdom (UK), European Union (EU) and Gulf Cooperation Council (GCC) will be a game changer. Massive layout and strengthening the infrastructure development projects for ports, airports, warehousing, dedicated freight corridors and inland waterways will facilitate the trade significantly.
Growth strategies
We have an established line of SOP and KPIs in place. We believe in understanding our customer and his/her concerns. Logistics has various elements of service quality deliverables, leveraging on our network strength and dedicated professional team. Asia Shipping is a technologically aware organisation, and this is to our greatest advantage. Focus and action-oriented approach is inbuilt integral part our work stream. We will be further consolidating our position in next two years, with opening of many branch offices in Indian sub-continent and expanding to other verticals with our long-term vision.
Being future ready
Risk management system that triggers, alerts and notifies the respective departments well in time. Complete coordination between sales and operations makes us ready to face any unexpected disruptions. We at Asia Shipping indulge our workforce through mandated training on technology advancement. System support is monitored and scaled as and when required. Automation of processes, well laid SOP's and social; connect keep Asia Shipping flag high and flying.
Omnichannel retailing to improve delivery time
Nishith Rastogi, Founder and CEO, Locus
Key growth drivers
Rise in omnichannel retail: Businesses are increasingly investing in omnichannel capabilities to improve delivery time, speed, flexibility, and costs. It also reduces unnecessary time for the product to move across intermediaries.
Growing importance of sustainability: We expect to see continued investment in electric vehicles (EVs), parcel lockers—automated parcel devices that serve as the alternate delivery locations for dense delivery zones—and adoption of route planning solutions to find the optimal route.
Increasing adoption of technological solutions: The number of packages that consumers order continues to be on the rise, and investments in logistics tech give businesses the ability to make quick and informed decisions and differentiate their last-mile fulfilment experience.
Being future ready
We have expanded our presence in Mexico and the ME, USA and Indonesia. We also continue to push the boundaries of innovation around our offerings. We recently launched Delivery Linked Checkout. Consumer expectations around post-purchase experience will continue to get steeper. Parallelly, consumers are becoming aware of sustainable operations.
Consumption and infra to drive growth
Naveen Gupta, Executive Director, Express Roadways
Key growth drivers
Growth drivers will be consumption and infrastructure, as the world economy is anticipated to be under recession, the developed countries would not be spending more. In India, the effects of recession should be subdued and with limited effects. The consumption should play well from the 2nd quarter onwards.
The Govt is expected to spend more on infrastructure, apart from the same the private participation is also bound to increase leading to substantial increase in the overall infrastructure spending and capacity expansions to fuel the future growth plans.
Efficient Strategies
Skill enhancement of the workforce.
Scaling up of operations.
Using more of IT in operations for better visibility.
Using data analytics for understanding the trends and taking required steps.
Being future ready
Keeping operations flexible to meet any kind of contingency.
Remotely being able to access the infrastructure.
Usage of digital means to address physical concerns.
e-commerce, auto to support logistics growth
Joy John, Director (Air and Sea Freight), Jet Freight
Key growth drivers
Air cargo sector has slowed down in the third quarter of 2022. However, the logistics sector is growing and may be one of the key growth drivers in 2023. 'Make in India' push by the government is a boon for the domestic sector. e-commerce, automotive, and pharmaceuticals are expected to do well and support logistics growth in 2023.
Growth strategies
Jet Freight plans to grow business by investing in new technology that will help streamline our internal operations and offering more visibility to our customers. Jet Freight plans to expand the reach in United States of America (USA) market. We want to be accessible 24×7, serve and advice innovative solutions on multimodal transportation to our customers.
Being future ready
Jet Freight believes in every crisis there lies an opportunity. Our investments, mist of them heavy, lie in adapting to new technology, efficient manpower, and most importantly, supporting our customers with various multimodal transportation, which are on top of the list of our contingency plan.
We plan to expand capacity, freighter ops
Abhishek Goyal, Director, Aeroprime Group
Key growth drivers
The key drivers for growth of air cargo would be to increase the capacity offered by passenger flights and freighter operations along with increased demand for pharmaceuticals and perishable exports from India. Government policies favouring air cargo export can further support growth in the year 2023.
Strategies 2023
We are expanding our operations and adding to the air cargo capacity in strategic phases so that we can follow an efficient and sustained growth to optimize our operations and deliver excellence. We plan to add more capacity in passenger aircrafts and freighter operations from multiple cities in India in 2023 in a bid to support industrial growth.
Being future ready
We have learned to deal with some of the most difficult disruptions and situations during the pandemic outbreak. We are fully prepared now to deal with any future crises through our innovative remote operations managing systems and deployment of ad hoc freighters capacity in case of disruption of the passenger flights.
Building connect to optimize cost of ops
Nikhil Agarwal, President, CJ Darcl Logistics Ltd.
Key growth drivers
Having a substantial presence in rail and road segments, we realised to expand its horizons and that is when it forayed into air cargo segment in 2020. During the pandemic, when pharma was booming, the medical equipment and aids were becoming the need of the hour and the sudden market shutdown has shifted people from traditional buying to e-commerce. Clutching this opportunity, CJ Darcl planned out its new verticals, acknowledging the demand of logistics. CJ Darcl is also the authorized agent for all the airlines (except Akasa Airlines) to book any load domestically. In 2023, we are looking forward to breaking the borders and expanding wings globally.
Growth strategies
Presently, the focus is on the domestic market, but the initial idea is to establish in the domestic market and with the success of it to expand its footprint into global market as well. The company has set up five dedicated processing centres in metropolitan cities where the team is available 24×7 to take care of operational needs. The approach of CJ Darcl is to avoid congestion in these major metropolitan cities is enabling faster deliveries to its customers without any external interventions.
Being future ready
While in the passenger airlines, fares have dropped marginally, but in the air cargo, the prices have only risen. Terminal congestion at Mumbai, New Delhi and Bengaluru airports is another concern we are combatting with and cargo processing at these terminals is a mammoth task.
Conclusion
The year 2023 and is very crucial for the Indian air cargo and logistics sectors. With efficient growth strategies, efficacious contingency plans to deal with future crises, government support and optimism, the industry stakeholders are fully geared up to achieve government's vision of 10 million target by the end of 2030. In fact, the ongoing developments with regards to multimodal infrastructure development are commendable and highly ambitious and growth oriented long-term plan and policies have been formulated for the 'Amrit Kaal' i.e., the next 25 years. The key enablers which will drive growth are believed to be perishables, e-commerce, FMCG, retail, chemicals, pharmaceuticals, automotive and other industrial goods. Dedicated freighters will also help in achieving full capacity and cargo volumes in the coming years. Industry is quite hopeful of growth with the development of multimodal logistics parks and Grade 'A' warehouses across the country to facilitate seamless cargo movement. Truly 'cargo' has proved its relevance and importance in the last few years. 'Cargo' is the only source of revenue and growth, and the industry will be dependent on it completely in the coming times.