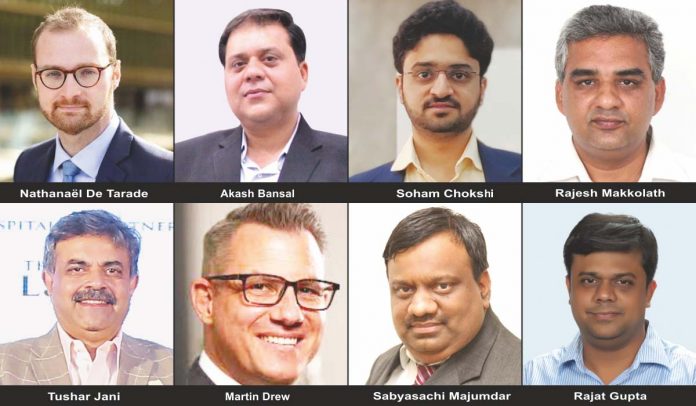 While airlines worldwide posted a loss US$126 billion as Covid-19 prompted nations to close down borders and ban international flights, the industry generated US$129 billion in revenue and the future looks promising for the cargo and logistics sector. Let us hear the views of the industry experts on the same.
Priyanshi Bana
Still not out of it, nevertheless, as COVID-19 restrictions began to ease in India and the rest of the world, businesses started to open-up, but cautiously. For the cargo and logistics sector, it was time to prepare well for the future of their businesses. ng their businesses and employees for changes taking place across the industry. According to the IATA data, while airlines worldwide lost US$126 billion last year as the pandemic prompted countries to close borders and ban international flights, the air cargo industry generated US$129 billion in revenue. The impact of COVID-19 on cargo operations resulted largely in digital transformation initiatives, including enhanced web interfaces, to allow more self-service quotes and transactions for cargo shipments and charter services via cargo.com websites. Converting to chartered, cargo-only flights required the implementation of revenue management to optimize the cargo rates and maximize yields across available inventory in terms of belly space, payload, and containers B2B air freight services. Thus, the €pandemic accelerated the adoption of digital technologies and set the stage for the future. India needs a thriving and efficient logistics sector to achieve its growth targets, and digitisation is central to delivering the same.
Nathanaël De Tarade, Chief Commercial Officer, Wiremind said, ''Digitalization in air cargo comes in various flavours: A booking that used to be done over the telephone can be done through the airline's online portal; an AWB that used to be paper is now an e-AWB and the like. At Wiremind with our SkyPallet solution, we digitalise the capacity management process; what it replaces is not the expertise of the cargo people, but rather the excel sheet that is used for doing a flight plan, or the paper and pen used to calculate how many ULDs are required for a certain set of boxes that come in many different dimensions. Our vision for the future is that SkyPallet becomes the best solution in the market for all capacity-related decisions."
According to Akash Bansal, Executive Director, Om Logistics Ltd., "We as an organisation are geared up with extended capacity capability of 30 per cent to 40 per cent on existing volumes. I think the credit for this capacity availability goes to digitalization. Due to simplified and systematic operations, we were able to create capacities in terms of manpower productivity and volume optimisation within the system. We are anticipating that India would witness fastest growth in coming years ahead and we all, as a part of value chain have to play our role to further catalyse the upcoming growth trajectory of the country. We are also analysing diversification in all possible logistics domain to ensure that we keep up with the pace of organisations' growth in line with the country's growth."
Emphasising further on the need for digitalisation, Soham Chokshi, CEO & Co-Founder, Shipsy, said, "Trust is the most critical element in digital adoption. Our domain experience tells us that lack of data security and transparency often discourage industry players from embracing technology. Hence, we are building tools that leverage sophisticated technologies like blockchain to counter these challenges and foster trust amongst stakeholders. Integration with newer delivery modes such as drones and autonomous vehicles also are a part of our checklist. We are already powering robots to execute deliveries. We also seek to establish ourselves as a platform company facilitating services for trade, insurance, finance, and so on. This will expand our operational ambit, making us a part of more and more transactions. Regardless of the size, we look forward to creating value for all supply chain and logistics stakeholders and monetizing capabilities innovatively."
Adding on the same lines, Rajesh Makkolath, Associate Vice President, Head Of Business Development, Godrej Storage Solutions, "Over the years, the supply chain has become complex due to faster throughput, accuracy, safety and flexibility of operation, and companies going for de-risking disruptions. Digitalisation in various areas has indeed helped in managing such complexities with ease. Tracking of components from their source to final point of consumption, real-time data analysis for improving various metrics, predictive technologies for managing peaks, and automation in warehouses to enhance efficiency, productivity and accuracy are few such examples."
Rajat Gupta, Co-Founder & CEO, TESSOL said, "The difference that took place post-COVID-19 is increased consumer awareness towards need for refrigerated and temperatured controlled solutions. I think this is driven by increase in the home delivery and direct to consumer solutions that are available in the market. Both brand as well as consumer are seeing need for increased adoption of temperatured controlled solutions.This is triggered in large brands as well. Many large e-comerce brands are also opening dark stores and trying to cater customers with quick delivery. With increased home delivery, there is increase demand for cold chain which wasn't the situation in e-commerce and food segment pre-COVID-19.
But the overall impact on the worldwide air cargo logistics industry is significant and it will affect its ability to recover from the health crisis. Surely, the experts from the industry are quite optimistic about the industry bouncing back soon. According to Tushar Jani, Chairman, Cargo Service Centre Group, "The air cargo industry has shown resilience right from COVID-19 outbreak. In the various peaks which came in, the air cargo industry supply chain was transporting PPE, ventilators and oxygen concentrators. In fact, air cargo has been defined for the word AIR — agility, innovation and resilience. The air cargo industry has displayed collaborative teamwork and has moved million tons of cargo around the world during the pandemic. In fact, a senior government health official from UAE commented while addressing the air cargo industry that you have saved more lives than millions of tons that you have carried on your aircraft. This speaks volumes for the air cargo industry. The airlines were quick to respond to the challenge by loading cargo on passenger aircraft, removing seats from main cabin on to load cargo, converting passenger aircrafts to freighter, not only that, people on the ground— ramp handlers, cargo handlers, forwarders, truckers, custom brokers — showed resilience and agility to move this supply to the patients. I am convinced that the industry is ready now for any new variant coming in and the industry has learnt safety standards to be observed, while handling air cargo."
According to Martin Drew, Senior Vice President Sales and Cargo, Etihad Airways, "The air cargo industry was severely impacted from the onset of the pandemic with the challenging global situation evolving daily. With commercial aviation largely grounded, one of the core challenges the air cargo sector faced was navigating the almost overnight loss of belly-hold operations, which, for Etihad Cargo, accounts for most of our capacity and connectivity to more than 80 destinations globally. Alongside capacity issues, another significant challenge was adapting to stringent – and varying – border control measures implemented across the world in response to the COVID-19 outbreak.
"Within 48 hours of the suspension of passenger flights, we adapted by deploying a fleet of passenger aircraft for cargo-only operations which we continue to use to date. We have also increased the utilisation of our Boeing 777 freighter fleet to meet continuing customer needs in a period when global demand for air freight remained extremely high. We have continued to demonstrate agility and innovative in our operations throughout the pandemic with cargo taking on even greater significance for the wider Group.
"The pandemic has also put the spotlight on employee safety and wellbeing, and they remain a core focus of operations. While measures were quickly implemented to address required schedule changes and shift patterns to protect pilots, crew, riding engineers, loadmasters, and ground staff at the onset of the pandemic, we have continued to maintain strict health and safety measures in line with the World Health Organisation, the UAE Ministry of Health and Prevention, UAE GCAA and Abu Dhabi Department of Health guidelines. These ongoing measures help safeguard employee wellbeing while operating on the frontline — and they will likely stay in place long after the pandemic has weakened."
Bansal said, "It would not be wise to say that the growth of any organisation was not impacted in last two years due to the pandemic. As the country was struggling to be on its feet due to unprecedented conditions, so was the logistics industry trying to keep up pace for critical and essential service requirements which was immediate need for the country to keep the economy moving. As an organisation we were tasked to ensure that the continuity of essentials was maintained, and I hope, we delivered the same to our best. It would not be wrong to mention that logistics companies were at lease in business during the past couple of years considering the then economic situations. As organisations, we should be ready for such uncertainties and as Om Logistics are ready for further expected growth that is all set to happen in years ahead."
Tarade added, "It is hard to give an international picture, but the words intense, uncertain and exceptional come to mind. Demand remains high, and the focus is on finding the right strategy balancing short and long term, both in terms of sales and of digital/innovation, in an unstable context. I believe that the impact of the pandemic will be profound and change the way we do business. Also the cargo people already knew it, but it was for sure been asked "why" we do business to the general public as well."
The air freight supply chain and cargo freight operations, experiencing increased volume, will require streamlined processes to improve the management of air freight and carrier paperwork. This may involve bill of lading, air waybill, inventory counts, safety documentation for dangerous or hazardous goods, EDI data transmissions to expedite and resolve international customs check points, certificates of origin among others. Requirements for increased documentation presents an opportunity to provide Electronic Data Interchange (EDI) and data exchanges support services between shippers and airline carriers.
Jani said, "The most important is that the Indian government must create additional upliftment capacity for Indian export cargo. Indian airline operators will take few years to handle these challenges as India's more than 80 per cent exports of air cargo require wide body to move from India to destinations in Europe, America, and Asia. While the Indian airline operator is yet to acquire these wide body aircrafts, the government must create the extra upliftment capacity by allowing other carriers to bring in capacity. In the ease of doing business, India has done well but there are still some important processes which need to be streamlined to help Indian air cargo, such as transshipment, e-Commerce, cross border and many more."
It is not only the air cargo which is showing signs of recovery, the shipping sector is equally doing well. Sabyasachi Majumdar, Senior VP & Group Head, ICRA Limited said, "The port sector has witnessed a healthy recovery in cargo volumes, which are largely back to pre-pandemic levels with only 0.7 per cent having declined during 8mn FY2022 as compared to 8mn FY2020, while on a YoY basis the volumes have grown by 6.5 per cent. While compared to the same period in FY2020, cargo segments such as containers and iron ore have witnessed an improvement, coal and fertilizers volumes are still subdued due to lower thermal coal demand and fertiliser prices have ramped up significantly. With the expected pick-up in economic growth for the full year FY2022, the overall volumes at Indian ports should continue to witness improvement and are expected to grow by six to nine per cent on a YoY basis and by 1 to 3 per cent compared to FY2020. The credit profile of ICRA-rated port entities did not witness any material adverse impact owing to Covid-19 due to a comfortable balance sheet and strong sponsors. In the current fiscal, the growth in volumes should aid in revenue and profitability of the port segment due to improved capacity utilisation and benefits of operating leverage."
With a seamless network of expressways and rise in demand for e-Commerce goods, the road logistics sector is expected to grow by six to nine per cent in the coming years. Chokshi said, "The rise of mobile-based e-Commerce, omnichannel strategies, rapidly growing popularity of on-demand deliveries, and the overall shift in shopping trends will boost online delivery demands. In fact, e-Commerce will make up to 22 per cent of global retail sales by 2023.
Increasing customer expectations accompany th is growth. For instance, 80 per cent of customers want same-day shipping, 61 per cent demand packages within three hours of placing an order, and nearly one-third of customers would leave the brand they love after just one bad delivery experience.
Businesses must unearth ways to plan highly efficient routes, reduce manual dependencies, provide customized delivery experiences and optimize costs to ensure profitability and business sustenance. An AI-powered smart logistics management platform can automate and optimize logistics processes. It reduces freight spending, boosts profitability per order, and drastically shrinks delivery times. Such a platform enhances delivery productivity, optimizes capacity utilization, curbs carbon emissions, eliminates manual errors, helps enhance 3PL management and achieves much more."
Bansal said, "Logistics as an industry to all set for growth in coming years as already forecasted and being the backbone of any business would always have opportunities for growth along with all business verticals. Road logistics play a signification and major role for present logistics requirements in the country. Though lately more focus is on increase of Rail freight for reasons well informed: Cost optimisation, decongestion of roads, transit time reduction, material safety intransit and the like. But with expected growth, the roads will have their pie of business which we expect will grow continuously. The transition that we might witness from road freight to rail freight can be achieved on long hauls basis but in any case first and last mile would then also be needing raid connectivity for execution. So in a nutshell, road fright is all set to grow in years ahead."
In a nutshell, the New Year 2022 promises to be a bright year for the cargo and logistics industry in the New Normal. Tarade said, "I see several focuses for the coming five to 10 years:
There are still many areas to optimize. At Wiremind, we see that Flight Planning, ULD buildup, and Dynamic Pricing are things where we can bring a lot of value.
Investments made now in technology will pay off. Currently, the market is peaking, but we all know cargo works in cycles — we have to build an industry that is more robust, and takes advantage of the peaks to ensure that when the market is low.