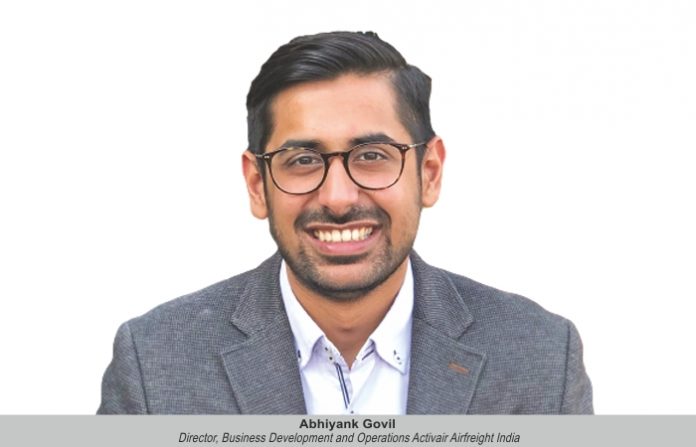 We are trying to go paperless in the coming year and reducing our carbon footprint. We are also looking forward to developing an integrated logistics platform, which can be customized by our customers according to their requirements, says Abhiyank Govil, Director, Business Development and Operations, Activair Airfreight India.
Ritika Arora Bhola
Share with us your experience of being in the logistics industry. What inspired and motivated you to enter this sector?
Logistics sector plays a significant role in the international economy. It involves the management of the flow of goods and services from the point of origin to the point of consumption, which includes transportation, warehousing, inventory management, and supply chain management. Logistics as an industry is so vast there are new things to learn and conquer literally daily.
Today, the world seeks to ship to India. Where do the trade activities with India stand at this moment?
India is one of the fastest-growing major economies, and trade plays a vital role in its economic growth. India has been actively engaged in trade with various countries and has been making efforts to expand its trade relationships.
Collaboration among the stakeholders is important. Do you think industry stakeholders are ready to unite for growth?
In the logistics sector, collaboration among the stakeholders, including manufacturers, shippers, carriers, and service providers, is crucial to ensure seamless flow of goods and services. While there may be challenges to collaborate, the stakeholders can overcome them by identifying common goals and interests and exploring mutually beneficial opportunities for growth and development.
What are the emerging trends in logistics/air cargo sector globally. According to you, what are the areas that need immediate attention?
Digitalization: It has been a major trend in the logistics sector, and the air cargo industry is no exception. Technologies such as Artificial Intelligence (AI), Blockchain, and the Internet of Things (IoT) are increasingly adopted to improve efficiency and visibility across the supply chain.
Sustainability: Sustainability is becoming an important trend in the sector, and the air cargo industry. The industry is exploring various initiatives to reduce its carbon footprint, including the adoption of sustainable fuels, the use of electric and hybrid aircraft, and optimization of cargo loads in order to reduce fuel consumption.
Although India is a price-sensitive market, it will have to overcome the challenge in the future.
What, according to you, will be the major growth drivers in this year and beyond?
e-commerce logistics: The growth of e-commerce has led to an increased demand for logistics services, particularly last-mile delivery. The logistics companies are investing in technology and automation in a bid to improve efficiency in handling e-commerce orders. The 3PL providers are offering end-to-end solutions, including warehousing, transportation, and inventory management.
Technological advancements: Robotics, AI, and Blockchain are transforming the logistics industry like anything, and companies that can leverage these technologies to optimize their operations and improve supply chain visibility are likely to experience growth.
What makes your company better than its competitors? How do you ensure efficient supply chain ops and excellent customer service?
Customer focus: Companies that prioritize customer satisfaction and build strong relationships with their customers are likely to succeed than those that do not. Listening to the customer feedback and taking measures to address their concerns can help the companies build a loyal customer base, which remains top in the list. We focus on providing high-quality services essential for any company that wants to be successful in the long-term. The companies that prioritize quality over quantity and ensure that their services meet or exceed customer expectations may be more successful.
Share with us your major expansion plans or projects in pipeline?
Trying to go paperless in the coming year, reducing our carbon footprint and developing an integrated logistics platform that can be customized by our customers.