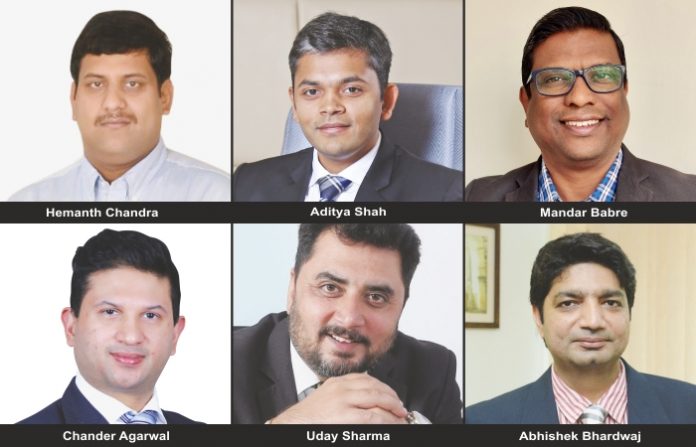 The e-commerce logistics sector is growing rapidly in India. The investment in logistics infrastructure has enabled e-commerce platforms to reach shoppers living beyond metros and tier-1 cities in these COVID times. CARGOTALK discovers how logistics players stepped up their last-mile delivery game to fulfil the demand. 
Kalpana Lohumi
The rapid increase of e-commerce in recent years has been a catalyst for the surge in last-mile services countrywide. The addition of COVID-19 and online-only shopping has pushed the importance of last-mile to the forefront of the overall supply chain process. Among all the sectors which were impacted by the pandemic, e-commerce showed the most resilience and recovered strongly in no time. According to the RedSeer Shadfowfax Logistics Index, e-commerce shipment volume is expected to grow four times in next five years from more than 2.5 billion shipments in FY2020 to 10,485 million shipments in FY2025, while 3PL e-commerce logistics market will move from 751 to 3,156 million shipments in the same period, creating high demand for logistics and supply chain. The report says that one of the key enablers for growth in the market has been the supply chain infrastructure built by e-commerce captive logistics players and third-party new age logistics players (3PL). The customers from tier-2+ cities and urban towns have been able to place orders online due to the growth impact of these logistics players.
Echoing similar views, Hemanth Chandra, CEO, Pickkup, shares, "Even before the pandemic, India was the fastest-growing e-commerce market and one of the key propellers of growth in last-mile delivery in the logistics industry. COVID-19 furthered the trend by altering consumer behaviour and adding a large number of first-time users to e-commerce platforms. It has disrupted the market and today, even after cities opening up, a large number of consumers are not going back to the old normal of walking into a convenience store or mall, unless it is for an experience. Growth in e-commerce has led to a need for enterprise focused last-mile delivery services that are available on demand. Unfortunately, lack of efficient last-mile delivery services has been a major pain area for businesses of all types in India, be it small or large enterprises or e-commerce companies. In fact, in India, the market size for last-mile delivery in B2B e-commerce is nearly six times larger than that of B2C e-commerce."
"While many consumer-centric B2C delivery companies emerged, we have structured our model to be the last-mile delivery partner for businesses and e-commerce companies. Pickkup focused on providing superfast one-hour delivery with smart technology and deep operational expertise and enabled on-demand pickup and instant and radius-free deliveries of anything anywhere in the city," he adds.
Aditya Shah, Executive Director, V Xpress (a division of V Trans India), says, "The pandemic era changed the whole world and how businesses are done. As the world got confined to home and had limited scope of going out and were even scared to move out, there was a natural push to get everything at home. E-commerce as a sector was a direct beneficiary of this change in pattern.  From medicine to food, and from clothing to electronics, everything started moving on mobile screens and like other times it was the logistics industry that had the added responsibility to enable faster movement with increased demand. Not only e-commerce but the related industries also saw a similar hike and demand and need for a faster transit time. At V Xpress we are serving all type of clients including the e-commerce giants and we brought in many changes and tech-supported innovations to handle the greater than before expectations. We have converted the entire first-mile/docket entry and last-mile/delivery operations in digitised process by building an efficient booking app which is very easy to operate and host the entire data on Cloud to avoid the requirement of storage space. It has various validations and checks to ensure the process is error free. Interestingly, this app works both online and offline mode. In offline mode, whenever the device is online, the data fed offline, is transmitted to our e-Cargo system, which is our own ERP system."
"It has capability to process bookings across the country and can support huge volumes with much higher efficiencies. It's a secured system as we download only through a trusted app. Our booking and delivery agents have been provided with Tabs and mobile thermal printer to automate the entire process and make it more efficient.
In the last-mile, all deliveries are done with mobile devices to get real-time delivery update. This is supported by the app used on mobile devices by our agents. The app handles various product options like To-Pay, COD. We also have immediate POD capture option to give a visibility of the scanned POD instantly. We have also integrated digital payments with our first-mile and last-mile apps for payment collection as per the need of the hour," he adds.
"The last-mile delivery has emerged as the backbone of the e-commerce boom," says, Mandar Babre, Chief Business Development Officer, Gati KWE. He continues, "The growing expectations of the consumers related to visibility of the consignment, on-demand delivery, etc. have led the logistics industry to come up with an efficient delivery system. At Gati, we are reconstructing our systems and processes to further enhance our digital competencies and become future-ready. We have opted for robust dynamic route optimisation software for last-mile delivery in major cities. The software is capable of eliminating the procedural obstacles and achieving delivery metrics. We are also in the process of implementing a number of customer-centric tools and technologies to reduce TAT considerably, thus offering outstanding customer service."
Adding to this, Chander Agarwal, Managing Director, TCIExpress, says, "The pandemic has been considered to alter the needs and requirements of buyers in India. We have not only managed to do same day deliveries as per company requirements but also reduced 24-hour deliveries to 12 hours. We have been in the logistics business in India for more than half a century and understand the nuances of meeting customer expectations historically, presently and in the future. Our latest technology is dominant in the industry and has been developed in-house since 1982."
Sharing their step up game to fulfil the customers demand, Uday Sharma, COO, Spoton Logistics, notes, "Spoton Logistics amped up the increasing demand through its easy-to-use Customer Self-Service Portal where customers can place and track their orders seamlessly; reducing the overall cycle time drastically. The web solution provides a single-window solution right from booking until POD (Proof of Delivery) is acknowledged. To ensure a seamless experience, Spoton also spruced up the entire process through advancement in technology by providing Cloud hosted infrastructure creating a holistic experience for businesses and computer vision to provide real-time automated alerts. Our last-mile delivery solutions ensured that while we focussed on route optimisation, we carefully evaluated the key aspects of pick-up points, drop-points, weight, volume, cost of the vehicle, appointment & the delivery time. The LMD also bought about accountability & transparency to provide more effectiveness
and efficiency."
Obstacles came up with e-commerce boom
With the steep rise in online penetration, challenges have also come in the way.  Talking about the challenges that came with the e-commerce boom, Abhishek Bhardwaj, Chief Marketing Officer, Shristi Infrastructure Development Corporation, says, "The warehousing sector in India has seen a high rate of growth riding the waves of the booming e-commerce industry. However, along with it, a few challenges have also cropped up. Primarily, there is a need to focus on strategic locations to ensure last-mile delivery. As in our case, warehouses of Shristi Infrastructure are strategically located in Siliguri and Raniganj in West Bengal that are the respective gateways to North and South Bengal. This will give the e-commerce companies a better scope to fulfil their delivery promise. Secondly, there are issues in planning proper expansion plans, providing personalised services and finally, ensuring margins. With COVID restrictions in place, streamlining last-mile logistics is itself a challenge. E-commerce companies have to plan innovative strategies to cater to the ever-increasing demand of the customers."
"The e-commerce boom has revolutionised the traditional supply chain. The speed of delivery has become the decisive factor and growing consumer expectation has emerged as the key driving force. Although e-commerce is growing at a rapid pace, the sector is battling with inconsistencies associated with last-mile delivery. The last-mile delivery takes up a major share of the total delivery cost as well. Logistics service providers must come up with tech-enabled delivery systems to address these challenges," adds Babre.
According to Agarwal, a major challenge was that the stockist was unable to provide the stores' inventory refill. "In this case, we went out of the way and ensured the inventory refill even on Sundays and public holidays," he adds.
Even though the e-commerce sector is rising at an unprecedented rate, the sector is up against numerous challenges. Sharma shares, "Cost pressure is higher in India as compared to developed countries like the USA, Japan and few European countries. Therefore, cost pressures are driving e-commerce retail logistics firms to switch to surface transit for deliveries. Poor infrastructure has resulted into inefficiency, longer transit times, higher logistics costs and higher returns. As majority of demand is expected from tier-2 and below cities, infrastructure will play a major role in e-commerce retail. Therefore efficient infrastructure is expected to improve operational efficiency, reduce transit times, control costs and result in better utilisation of assets. Development of trans-shipment hubs is the need of the hour as there are insufficient facilities at smaller airports and lack of connectivity for tier-2 and tier-3 cities with major cities for air transportation. Return shipments also come with their own set of challenges and drive up logistics cost, therefore increase in local and zonal shipments will increase speed to customer, which in turn is expected to reduce the returns due to reduction in delivery failures."
Pandemic made the wish, a necessity
"The pandemic has made lot of changes and one of most visible changes is high demand in last-mile logistics. There is need and expectation for better efficiency and faster transit time with very thin margin of error. What was a wish some time ago has become a necessity now, many industries are left with no other option but to deliver the goods/material right up to the doorstep of the customer, and B2B segment is no exception. Changing consumer preferences and realigned business models have all moved the businesses close to the consumer. Contactless delivery has become the hottest marketing USP in big commercial led campaigns. Driver performance, route optimisation through GPS and the delivery experience have gained weightage like never before," notes Shah.
"Millions of organisations in India are unorganised, and rely on logistics to get their products picked up from a certain place or warehouse, and get them delivered to their customers. Time will remain a perpetual luxury for brick and mortar businesses in India as 300 million people will be living in Indian urban centres by 2050. If every other retailer/trader/manufacturer is not able to grow his business because of the logistics problems, then it is a big dent on the nation's economy. Recent few years have marked the beginning of evolution of last-mile delivery in India. Post-pandemic, it's simple; people are looking for services that will help them lead a peaceful life and businesses need enterprise focused last-mile delivery instead of doing it all by themselves," says Chandra.
"In the last-mile delivery, customers usually prefer to have control over deliveries. The trend has emerged stronger after the pandemic. Last-mile delivery is no longer about offering tracking details, customers now want facilities to interact with the service providers so that they can go for last-minute changes. The concept of contactless delivery is also gaining momentum as a precautionary measure against the spread of the pandemic," opined Babre.