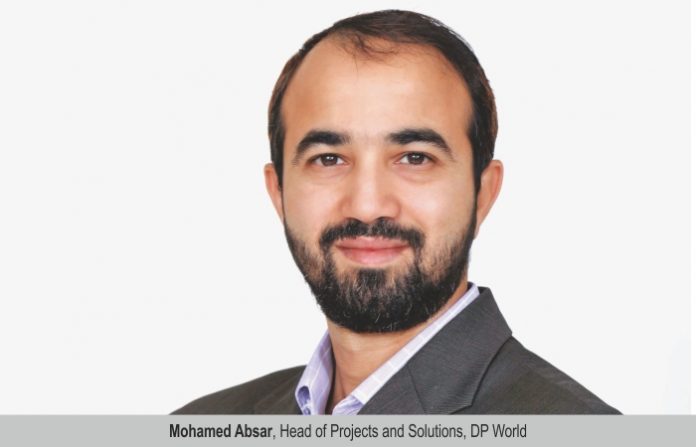 Creating sustainable supply chain to provide customers with best-in-class solutions that are cost effective with the help of digital solutions enhancing predictability and helping customers maintain a data-driven supply chain that is lean and elastic. Mohamed Absar, Head of Projects and Solutions, DP World shares detail about digitization at DP World.
Priyanshi Bana
Q Brief overview of your operations and play in the Indian market.
We have been operating in the Indian market over the last two decades now and India has always been an important market from an expansion point of view. Our objective has been to cut down the overhead logistics cost by brining efficiency, elasticity and become the most preferred logistics provider. With our operations, we have been able to take care of India's container volumes by a quarter. Additionally, we also cater to the needs of our customers from being a storehouse to handling all kind of modes of transport including temperature-controlled cargoes, bulk, domestic, EXIM, so on and so forth.
Q What are the major trends emerging in the sector?
The logistics and supply chain market in India is expected to touch $307 billion by the end of 2021. India is currently the prime destination for logistic service providers globally and is estimated that 9-10 percent growth would happen in the next few years. The major chuck of the transformation is happening by providing tailor made solutions at the source of origin of cargo – Importers and Exporters. Whether it is Global Logistics companies or Maersk or Hapag Lloyd, everyone is desiring to expand their customer base and are looking at opening doors into direct Cargo owners by bringing an integrated approach and deploying solutions that are more flexible. Provider using this approach are making a competitive edge in the market and are serving their customers with seamless and value-added services. Another big aspect is becoming a digital-first company and pandemic has taught every business to be digitally driven. Most of the organizations these days are wanting to have contactless handling of their cargo and taking advantage of new-age technologies like AI/ML, IoT, Blockchain, Digital Assistant etc., can bring in more value to the logistics space in terms of speed, agility, assurance and faith.
At DP World, our endeavor is to create sustainable supply chain and our aim to provide our customers with best-in-class solutions that are responsive, flexible, scalable, and cost effective. Our digital solutions will enhance predictability and help our customers maintain a data-driven supply chain that is lean and elastic.
Q Why did you feel the need to go for cloud solutions for your internal operations? What were the challenges that you were facing?
We are working in an industry that is constantly evolving and we are laying strong foundation with cloud. With 90 shipping terminals and ports around the world and providing logistics services in 60 countries worldwide, we always wanted to be at the forefront of tech advancements and become data driven. However, with traditional system there was a challenge in maintaining infrastructure and support cost across geographies and used to consume time while collating data from other regions and in an integrated fashion. Hence, we wanted to deploy a cloud-based system which can give us a view of the health of the business and seamlessly permit financial consolidation across the DP World group. The previous software system proliferation created unwanted slowdowns and costs and that's when we decided to go live with Oracle Fusion applications for their back-office operations. And as the result of it we are witnessing improved synergies between DP World in Subcontinent (SCO) and Middle East Africa (MEA) by implementing Shared Services model across all entities and similar structure will be followed for the other regions as well.