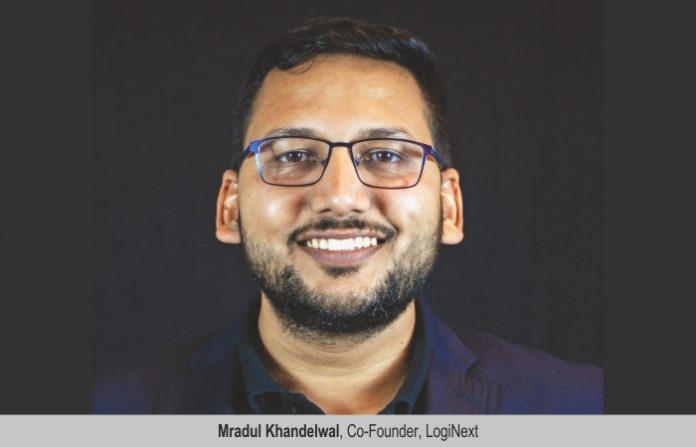 With the pandemic revolutionising the work from home culture and e-commerce becoming the lifeline for retail, the buying behaviour has completely shifted towards online. Mradul Khandelwal, Co-Founder, LogiNext, talks about changing trends which have led to an exponential rise in demand for big and bulky goods via online channels.
Priyanshi Bana
Q Kindly elaborate on the exponential rise in bulky goods demand since January 2021.
A rise in sales of big and bulky goods is something we have been seeing across the globe. Working with several e-commerce and retail firms to help them in digitising and automating last-mile deliveries, the LogiNext platform has played a pivotal role in helping firms deliver more efficiently.
Growth in e-commerce is no new trend but there was a certain resistance against big and bulky goods which now seems to be changing. The work from home revolution has also led to this exponential rise where many workers have arranged WFH setups.
Q Apart from the pandemic, are there other reasons attributed to the rise?
The entire behaviour shift is a major reason why this is possible as well. People are now comfortable booking test rides and buying cars online and also the fact that companies have smooth return and exchange policies is something that has contributed to this rise. e-commerce firms are also investing heavily in automation throughout the supply chain, from picking and packing systems to route optimisation software which brings in a lot of efficiency and makes shipping more viable. Going forward, companies may not have to invest as heavily in showrooms at prime locations but their storefront on the web would be the most priced customer facing touch point.
Q With phased un-lockdowns, do you think the demand for such goods will remain either ways?
We've crossed the spike in terms of home furniture, but demand will be higher than earlier levels because a lot of people will be maintaining a WFH office as well. Work environments will be more flexible and this has been the major driver of this trend.
Q Has the demand been uniform pan-India?
There has been a 70:30 ratio in favour of metros but demand from Tier-1 and 2 cities has also increased considering many people have decided to work from their hometowns.
Q E-commerce and e-retail have been a major contributor in fulfilling such demands. What is your take on this?
Absolutely, e-commerce has been the lifeline for retail since buying behaviour has completely shifted towards online. This entire trend of rise in demand for big and bulky goods via online channels is an indicator of this trend. And we see this trend to continue going forward as well.
Growth of e-commerce has accelerated by 5-10 years due to the pandemic and this consumer behaviour shift is here to stay.