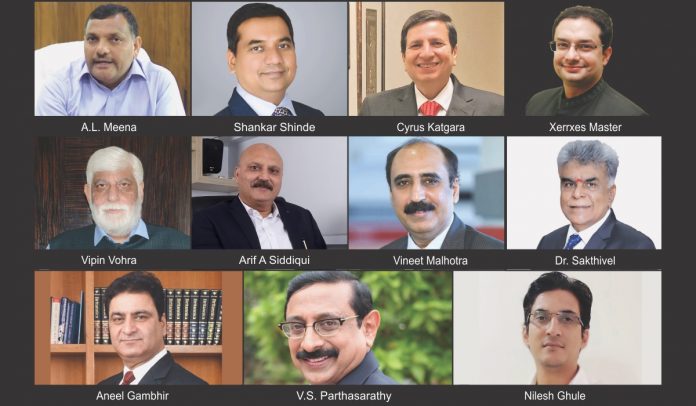 Recognising logistics efficiency as one of seven engines of the masterplan, Union Finance Minister Nirmala Sitharaman in her budget speech emphasised development of multimodal logistics parks, roads, and cargo terminals among others, thereby putting the country on international map of cargo and logistics.
Priyanshi Bana
A budget of historical importance. When Union Finance Minister Nirmala Sitharaman reiterated the importance of the Prime Minister's Gati Shakti Masterplan in her Union Budget speech, the industry leaders went gung-ho. For the first time, the cargo and logistics sectors were recognised for their quite significant role in the economy of the country. COVID-19 has just enhanced it.
The government has announced 25,000 km of new highways, 100 new cargo terminals with multimodal logistic parks to be developed in the next three years, and initiatives to connect urban transport to railways, boosting new warehousing and logistics facilities across the country. The masterplan will oversee all major infrastructure projects across different line ministries. As Sitharaman said, "Logistical efficiency is one of the seven engines of the masterplan. The development of multimodal logistics parks, roads, and cargo terminals under the Gati Shakti framework is likely to improve pan-India connectivity and reduce logistics costs. The highway network will be expanded by 25,000 km and `20,000 crore will be mobilised in innovative ways of financing to complement budgetary resources."
The warehousing and logistics sectors are expected to gain strength and attract more investment from institutional funds and developers, led by the government's plan to set up multimodal logistic parks and other initiatives to connect urban transport to railways. Logistics hubs in tier 2 and 3 cites too will reap benefits, apart from key logistics hubs such as NCR, Mumbai, Chennai, Kolkata, and Bengaluru, attracting more investment. "The data exchange among all mode operators will be brought onto a unified logistics interface platform designed for application programming interfaces," Sitharaman said. This will allow the efficient movement of goods, reducing logistics costs and time spent on moving freight, supporting just-in-time inventory management and eliminating tedious documentation. This will provide real-time information and increase international competitiveness. This budget continues to provide impetus for growth, guided by PM Gati Shakti and the synergies of a multimodal approach," Sitharaman said.
The Union Road Transport and Highways Ministry will formulate the development of inland container depots, cold storage and cold chain networks, free trade warehousing zones and mini logistics parks outside key urban centres.
Gati Shakti likely to improve pan-India connectivity
A.L. Meena, Special Secretary (Logistics), Ministry of Commerce, and Industry, Department of Commerce, GoI
Massive public investment in modern multimodal infrastructure and process digitisation, guided by Prime Minister Gati Shakti Masterplan, shall enhance the logistics efficiency of the nation. Through a transformative approach to economic growth, driven by seven infrastructural engines coupled with energy, telecommunications, and sustainability, PM Gati Shakti will bring in manufacturing competitiveness and enhance employment opportunities. The development of multimodal logistics parks, roads and national highways, cargo terminals, among others, under the Gati Shakti framework is likely to improve pan-India connectivity and reduce logistics costs. The highway network will be expanded by 25,000 km and `20,000 crore will be mobilised in innovative ways of financing to complement budgetary resources.
FM has made efforts to simplify tax structure
Shankar Shinde, Chairman, FFFAI
The Union Budget is a growth-oriented budget whose main thrust is on capital expenditure and increasing the manufacturing base in the country. For the logistics sector, this is going to be one of the important milestones, as this sector supports and improves the efficiency of endeavours such as Atmanirbhar Bharat, Make in India, and Digital India, among others. The PM Gati Shakti will be driven by seven engines, including roads, railways, airports, ports, mass transport, waterways, and logistics infrastructure, which will be game changers for years to come in the country. The formulation of an expressway masterplan will benefit in increasing logistics speed and lowering logistics costs.
Another important announcement, which is eagerly followed by the logistics sector, is pertaining to the Unified Logistics Interface Platform, which allows data exchange among all mode operators. A multimodal logistics park through public-private partnerships, as well as the promotion of local businesses, will be established. One Station, One Product will help small MSMEs and small exporters considerably. Infusing `20,000 crore into road infrastructure and building 100 cargo terminals in three years will go a long way in the logistics industry.The emergency credit line guarantee for MSMEs, which has been extended up to March 2023, will help enterprises considerably. On the customs side, a one-of-a-kind landmark exercise has been carried out for simplification, and 350 exemptions have been withdrawn. Thrust has been laid to simplify custom tariff structures to create transparency for trade and industry.The simplification of IGCR rules will impact domestic manufacturing and make Indian products more competitive in the international market. On the GST front, the rationalisation of the return filing procedure and the sequential filing of GSTR1 allowing the transfer of input tax credit in the electronic cash ledger for certain categories are two highlights that will benefit trade and industry.
Most importantly, AI is being used to increase GST revenue. FFFAI is in constant dialogue with CBIC to ensure that the endeavours of the Government of India are implemented in the most efficient manner for timely customs clearance and the movement of goods internationally and nationally.
More cargo terminals to improve India's competitiveness
Cyrus Katgara, President, Air Cargo Forum India and Partner, Jeena & Company and Gallery of Legends (India Cargo Awards) 2017
The Union Budget 2022-23 is a thoughtful, progressive, and growth-oriented budget that touches all economic segments while embracing digitalisation and other modern tools of governance. The highest-ever CapEx allocation of `7.5 lakh crore is aimed at creating and improving our logistics infrastructure through the Prime Minister Gati Shakti Masterplan, along with healthcare, education, and housing. The expansion plan of the national highway network by 25,000 km will strengthen road transportation of export and import shipments. The development of 100 cargo terminals will improve the country's competitiveness in faster movements by rail. While special focus is laid on logistics, which will help solve supply-side challenges, integrated deployment of logistics and connectivity solutions is critical to improving crucial supply chain issues. Such advancements will aid in the elimination of inefficiencies and redundancies, resulting in better resource utilization, lower logistics costs, increased productivity, and increased global manufacturing competitiveness.
Govt's focus on development of ports noteworthy
Xerrxes Master, President, AMTOI
It is perhaps the first budget in the history of independent India that has focused on the logistics industry. Kudos to the government for realising the importance of the industry in the nation's economic growth and prosperity. Developing a network of ports is essential. The Union Finance Minister highlighted the government's focus on the sector. It was announced that ports across the country will be moving from managing their operational services on their own to having private players enter and manage the operations. For this purpose, seven projects worth about `2,000 crore will be offered by the major ports in PPP mode in FY21-22. By encouraging private participation in the sector, India aims to capitalise upon the advantage of its geographical location and become a viable option for many domestic and international players. As exporters grapple with a global container shortage and exorbitant freight costs, the government is exploring a proposal to extend tax and other incentives to attract large players to set up shipping lines in India. The centre is focusing on improving the port infrastructure under programmes such as Sagarmala. Around 574 projects have been identified to be implemented between 2015 and 2035, covering areas such as port modernisation, port connectivity, port-led industrialisation, and coastal community development. The budgetary measures will complement the favourable policy measures recently undertaken and will help in achieving the broader goal of growth in domestic manufacturing and exports.
Masterplan will also develop aviation sector
Vipin Vohra, Chairman, Continental Carriers and Chairman, Civil Aviation Committee, PHD Chambers of Commerce and Gallery of Legends (India Cargo Awards) 2017
This Union Budget 2022-23 is a boost to the logistics sector. Out of the seven sectors under Gati Shakti, on which the Union FM emphasised, two of them are related to aviation (airports and cargo terminals). Developing 100 cargo terminals under the Gati Shakti masterplan for the next three years will not only boost the logistics industry, but also the civil aviation industry. Apart from this, four multimodal parks to be developed by 2022-2023 will further enhance the efficiency of the logistics sector. 25,000 km of roads to be developed for cargo movement is yet another step in the positive direction. Another major step taken for the logistics industry is the development of the infrastructure in the north-east. Once connected, it will help move a lot of perishables not only to various parts of the country but globally also, which have gone to waste till date due to no connectivity.
Expanding the depth of reach to new age consumers
Arif A Siddiqui, Founder & Director, Coign Consulting on the India Finance Budget 2022
The warehousing and distribution industry sector will further solidify its position as the budget outlays an extremely large amount to set up multimodal warehousing and distribution centres and clusters. With the announcement of 25,000 km of new highways, the Gati Shakti Masterplan will boost new warehousing and logistics facilities across the country. This network master plan will expand the depth of reach to new age consumers, who are rapidly increasing as the country's digital/internet penetration increases. Tier 2 and 3 cities will experience an increase in or new demand in terms of distribution and fulfilment centres and dark stores. The long-term success of the budget will only be possible with the alignment and integration of the respective state policies and plans. The warehousing sector will further gain as the regulatory and policy environment and digitisation are constantly evolving and getting more favourable, particularly at the state level. This will lead to better confidence to spend/invest in infrastructure and, in turn, increase the overall demand for modern warehouses and distribution centres, be it ambient or cold. This will lead to more and more emphasis on Grade A specification warehouses that will be developed by large and small/local developers.
Budget lays emphasis on sustainability initiatives
Vineet Malhotra, Director, Kale Logistics Solutions
Stress on facilitating the swift movement of goods is a welcome move as it is now more focused on eliminating tedious documentation procedures. Enabling data exchange among stakeholders through a unified logistics interface platform is a boost to the rate of technology adoption. Eventually, it will improve work efficiency in the logistics sector by providing real-time information to all stakeholders and improve international competitiveness. Also, expanding the national highway network by 25,000 km in 2022-23 under Gati Shakti is a welcome measure too, as road infrastructure is a potent means of socio-economic integration and vital for the economic development of the nation. The plan to develop 100 cargo terminals under the Gati Shakti Masterplan and rolling out contracts for the implementation of multimodal logistics parks at four locations through public-private partnership (PPP) mode are all commendable measures. The highlight of the budget was the sustainability initiatives, which are welcome. Hence, even developing nations are now keen on achieving sustainable development goals and reducing carbon emissions. The Amrit Kaal initiative to boost ease of doing business rank to improve productive efficiency of capital and human resources is also commendable.
7 engines of growth under Gati Shakti will reduce logistics cost
Dr. Sakthivel, President, FIEO
The Union Budget has struck a fine balance to address the gaps in social and physical infrastructure, besides increasing digitization and new trends, including the digital Rupee and sovereign green bonds. The 35.4 per cent increase in capital expenditure from `5.54 lakh crore in 2021-22 to `7.50 lakh crore in 2022-23 will allow MSMEs to benefit from additional capital allocation and boost job creation in the sector. FIEO welcomed the extension of the ECLGS Scheme for 2022-23 with an additional outlay of Rs 50,000 crore and the allocation of an additional credit provision of `2 lakh crore under the Credit Guarantee Trust for Micro and Small Enterprises (CGTMSE) to meet the requirements of MSMEs. The CGTMSE will help to provide collateral-free lending and an infusion of liquidity.
The seven engines of growth under the masterplan will help reduce the logistics cost and time of Indian exports significantly, thereby imparting added competitiveness to exports. The setting up of 100 cargo terminals will facilitate Exim trade a lot, as logistics challenges today are the biggest stumbling blocks. The focus on skilling through the Digital Ecosystem for Skilling and Livelihood–the DESH Stack E-portal for Skilling, Re-skilling, and Upskilling through online training, will help in qualitative manufacturing and consistency in production.
'Prioritisation of technology is two-pronged strategy'
Aneel Gambhir, CFO, Blue Dart
We are pleased to note that the budget is progressive, focuses on growth, and is in line with our expectations. The centre's focus on consistently investing in infrastructure development across the country bodes well for the Indian economy and, more specifically, for the logistics industry. The government's focus on public investments, by expanding the National Highway network by 25,000 km, and the PM Gati Shakti Masterplan with seven engines and 100 new cargo terminals, will give an impetus to the growth of the industry and help bring efficiency in logistics operations. We must also recognise the push for utilising and promoting a digital ecosystem, whether that be with the launch of the PM Gati Shakti Masterplan and the numerous opportunities it initiates or the adoption of e-Vehicles; it streamlines systems and processes, propelling the idea of Aatmanirbhar Bharat. According priority to technology is a two-pronged strategy that seeks to drive cleaner operations. The announcement of the battery swapping policy, the introduction of a uniform standard for electric vehicle batteries, the encouragement of the private sector to engage in sustainable business models, and the establishment of additional public charging stations have the potential to revolutionise the e-vehicle industry. Moreover, e-Vehicles also play a significant role in last-mile logistics, a feat that can assist the industry in reducing its carbon footprint. The central government has also highlighted initiatives that will be beneficial for all by reducing the surcharge on long-term capital gains.
FM has walked on expected lines, lays stress on clean energy
V.S. Parthasarathy, Vice chairman, Allcargo Logistics Ltd
Go India, Grow India. The budget is clear on both growth drivers and health checks and places a long-term thrust on development. The FM has walked on the expected lines to strike a balance between spending and fiscal deficit while going all out to maintain the momentum of growth, with a large CapEx infusion and a macro push to key sectors such as infrastructure. The PM Gati Shakti Masterplan, the umbrella scheme, will get more firepower with higher allocations across the board to propel all related sectors, including logistics.
The development of multimodal logistics parks will further spur economic growth. The Unified Logistics Interface Platform is a progressive move in tune with the times to enable the efficient movement of goods, cut down on logistics costs, and better inventory management. The budget can be termed 'smarter' and 'greener'. The 5G rollout, digital Rupee driven by blockchain, and supportive measures for IT and startups make it smarter. The stress on clean energy, reverse logistics, and support for the EV revolution, among other things, make it more environmentally friendly and sustainable.
Govt focussed to boost logistics, multimodal transport network
Nilesh Ghule, Co-founder and CEO, TruckBhejo
The Union Finance Minister's budget speech, starting with PM Gati Shakti, shows the government's focus and commitment to boosting logistics infrastructure in India. With `20,000 crore allocated to strengthen the overall transportation network in India, it is sure to boost the manufacturing sector as well as exports from India. It is encouraging to see the government emphasising sustainable growth via the Gati Shakti scheme, ensuring increasing penetration of digitalization. The Gati Shakti plan aims to achieve synchronous decision-making to create a world-class, seamless multimodal transport network, on the back of which India will be transformed. This will be further supported by Gram Sadak Yojana getting an additional boost by Nirmala Sitharaman, which will help connect rural India better. This is a great opportunity for the Indian tech-based logistics sector to take its rightful place in the larger scheme of things.