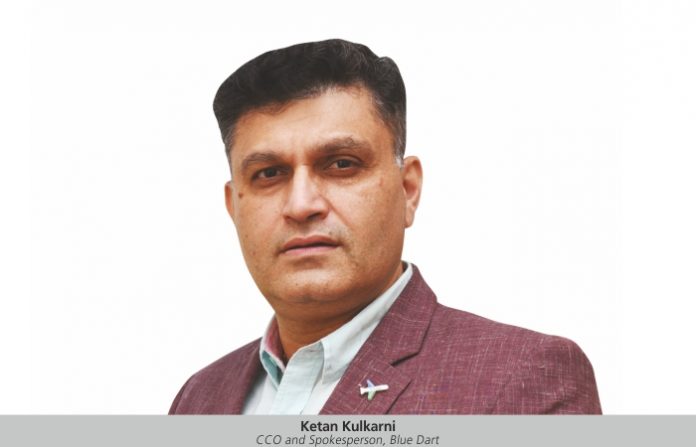 As a natural extension of the Boeing 757 fleet, Blue Dart has always embraced future-ready technologies, including the deployment of drone flights to aid last-mile deliveries. The company supports the DPDHL Group's 'Strategy 2025 – Delivering Excellence in a Digital World', shares Ketan Kulkarni, CCO and Spokesperson, Blue Dart.
Priyanshi Bana
How well is India and, particularly, Blue Dart prepared for drone deliveries?
The pandemic fast-tracked the digital and technological transformation that was already underway. Digital/virtual solutions eliminating contact became the backbone of every industry across verticals and a necessity within the logistics industry.   Technological leaps is what we expected the future of the supply chain to reflect and, therefore, we prepared ourselves. When the opportunity presented itself, we were well-prepared along with our partners, to leverage the use of drones to build a robust healthcare infrastructure in the remotest areas of the nation. We, along with our partners, Skye Air and Altitude Angel, joined the Ministry of Civil Aviation, World Economic Forum, Niti Aayog and Healthnet Global as the Blue Dart Med-Express Consortium under the 'Medicine from the Sky' project. An important part of this process is to ensure streamlined coordination between all our partners.
Blue Dart has always embraced future-ready technology and the use of drone flights to facilitate last mile delivery as a natural extension of our fleet of Boeing 757 aircraft. We are aligned with the DPDHL Group's 'Strategy 2025 – Delivering Excellence in a Digital World' and this only encouraged our search for innovative solutions. Currently, the Blue Dart Med-Express Consortium has completed trials using drone flights to create an alternative logistics route, providing a safe and reliable pickup and delivery of healthcare items. The drones can handle even our specialised Temperature Controlled Logistics (TCL) with a payload of up to 5 kg. They are designed to deliver the shipment from the distribution centre to the specific location and vice-versa. While the current delivery model is strictly intra-district, it will be extended further to cater to inter-district and inter-state deliveries, across industry verticals as well.
The Consortium is an excellent example of a PPP model. The liberalised drone policy, and the government's aim to make India a global drone hub by 2030, shows the government's support towards strengthening logistics technology. The new rules have propelled our ability to help improve the country's healthcare infrastructure without compromising on quality. Moreover, the recent announcement of a 120-crore PLI scheme for the drone industry over the next three years positions the sector to have a total turnover of up to 12,000 crore to 15,000 crore by 2026. India is jumping on to the tech-first bandwagon and we, at Blue Dart, are keen to support its endeavour as its most preferred trade facilitator.
What are the challenges in making drone delivery a reality?
Coordinating the launch of future-ready technology requires an eye for detail and a significant amount of diligence to be done to ensure that we eliminate challenges prior to the launch. In line with the guidelines set by the Government of Telangana and Ministry of Civil Aviation, we could curate a fool-proof and risk-mitigated product that also receives necessary clearances from the the DGCA. An important part of this process is to ensure streamlined coordination between all our partners, including the UTM service provider, DGCA-approved drone operator, safety expert, cold chain and healthcare expert. Risk-mitigating strategies have also been put in place to eliminate any unexpected outcomes during the flight or delivery.
How successful has the Blue Dart Med-Express been in delivering healthcare products?
We concluded the visual line of sight (VLOS) and beyond visual line of sight (BVLOS) drone trials in September 2021. The Blue Dart Med-Express Consortium drone delivery trials involved delivery of vaccines from Vikarabad to the PHC in Sidduloor using a multi-rotor drone. Multiple trials for VLOS operations (up to 1 km) and for BVLOS operations (up to 9 km) have been conducted daily. Operated by remote pilots, the drones can travel up to 10 km in a single run at a speed of 32 kmph. The criteria to determine the success of the BVLOS trial was to ensure a consistent result was achieved mirroring Blue Dart's reliability and responsiveness; anything short of perfection will not be accepted.
What services did Blue Dart provide in terms of TCL in the delivery of COVID-19 vaccines?
Our reliable and efficient services, along with our robust TCL infrastructure, make us the right candidate for every pharmaceutical provider in the nation, as well as the government's provider of choice.
For handling bio-medical cargo, we have the operational experience and specialised infrastructure required. We have our own fleet of six Boeing 757 freighters, 20,000+ ground vehicles, and a strong army of Blue Darters to service 35,000+ locations. In Mumbai, Chennai, Hyderabad, Ahmedabad, Pune, Kolkata, Delhi, and Bangalore, we have eight pharma-grade conditioning rooms in eight strategic locations. These rooms are in close proximity to Blue Dart Airport Stations, decreasing turnaround time and facilitating the delivery of temperature-sensitive vaccines. PUF-constructed conditioning rooms are expandable and designed by refrigeration/cold room experts.
We have specialised life science solutions experts with us because we understand the criticality of the shipment. We have already done the background work in terms of capacity requirements, such as packing materials, availability of data loggers, insulated shippers, walk-in cold rooms, coolant, network reach, manpower preparedness, and technological investment to meet such demands. We employ single-use packaging (which has a temperature stability of 48 to 72 hours) as well as multi-use boxes (which have a temperature stability of 96 hours).
Additionally, a taskforce including all DPDHL Group business units has been created to leverage each other's strengths in terms of network, vehicles, and internal assets. We have access to a large-scale global shipping network, local freezers, extensive storage capacity, and in-country logistical expertise. Our unrivalled capabilities, combined with a solid logistical infrastructure and our core values of reliability, responsiveness, and resilience, distinguish us as the nation's trade facilitator.
Explain your collaboration with GoI on the 'Lifeline Udan' initiative.
Blue Dart has always been the first responder throughout any national crisis because of our 'First In, Last Out' policy. By partnering with the 'Lifeline Udan' project, we facilitated movement of essential supplies for several state governments, municipalities, pharmaceutical companies, hospitals and other research institutions.
To ensure supply chain and business continuity, we deployed our Boeing 757 freighters to fly across the country as well as overseas charters. Our aircraft operated across borders to Guangzhou, Shanghai, Hong Kong, Dhaka, Yangon, and Hanoi, helping not only our own country, but also our neighbours. We transported medical supplies including ventilators, PPE and testing kits, reagents, enzymes, respirators, surgical face masks, goggles, and gloves, as well as other mission-critical materials.
We worked round the clock throughout the lockdown and afterwards, with our pilots flying aircraft in the air, our hub operating 24×7, and our couriers delivering essential and non-essential items in a door-to-door framework. As a socially responsible corporation, we enhanced our outreach to communities and provided support to individuals with co-morbid tendencies by flying special food for paralysed children, medicines for senior citizens, pharmaceuticals for cancer-affected children and healthcare workers, and temperature-controlled movement of COVID-19 testing kits and samples to maintain their efficacy.