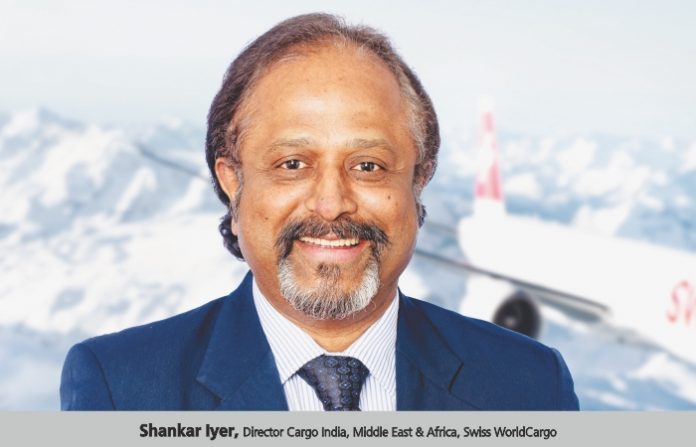 Establishing passenger to cargo operations last month, Swiss WorldCargo flies Boeing B777-300ER three times a week to Mumbai (BOM) and once a week to Delhi (DEL), and has been flying with full load factors from the day of inception during the COVID crisis. Shankar Iyer, Director Cargo India, Middle East & Africa, Swiss WorldCargo, shares details.
Kalpana Lohumi
Q According to you, what are the most important issues the industry is facing at the moment? And, how should we prepare for the challenges?
The entire air cargo industry is facing challenges, which mainly occurred due to the travel restrictions implemented to combat the Corona crisis from March onwards last year. This led to a significant reduction of the network and required very short-term and innovative planning and flight scheduling. We at Swiss WorldCargo have been able to reinstall a significant part of our long-haul network in order to connect Switzerland with the world and vice versa.
From our perspective, the biggest challenge right now is that it is very difficult to predict how the business will continue to be impacted by the effects of the Corona crisis, which causes very short reaction times and makes long-term planning a challenge. Further, the directional freight flow imbalance due to the pandemic and existing trade barriers pose a major fiscal challenge to the pure cargo operations.
Q What is the volume of tonnage the airline has been carrying globally? How much capacity do you deploy from and to India?
In the last month, we operated freight flights to both BOM and DEL with our B777-ER or A340-300 which we seek to continue in the future. Globally, we operated over 1,000 cargo flights during 2020 carrying over 23,000 tonnes. Of course, once the passenger travel will pick up again, we will resume our focus on carrying cargo inside the belly of our aircraft.
Q How did COVID-19 impact the air cargo business in 2020? How are you preparing for this year?
We saw that the demand for air cargo continued in the past year with the reinstating of our long-haul network, through which we have been able to contribute our share and kept the network available. Further, there was a demand for the transportation of medical equipment with the beginning of the crisis, and by end of the year also the transportation of vaccines increased.
Q What are the vital trends that will shape the air cargo industry?
The pandemic reinforced the fact that essential and high value commodities will always choose the airfreight mode. Pure charters, part-share charters are the indicators. New distribution centres and destinations with higher capabilities and connectivity emerged.
Q Which are the top markets to which cargo can be transported? Also, which verticals will you be focusing on this year?
We as Swiss WorldCargo are specified for the transportation of care-intensive products; we have a long-standing reputation for this segment and will continue with our focus and expertise in this field also for 2021.
Q Are you looking at expanding cargo operations in India or worldwide? 
We have already been successful in keeping our operations running and connecting India with Switzerland. We are also looking into opportunities and possible new destinations if it makes commercial sense. We are looking forward to normalcy in future with daily operations.