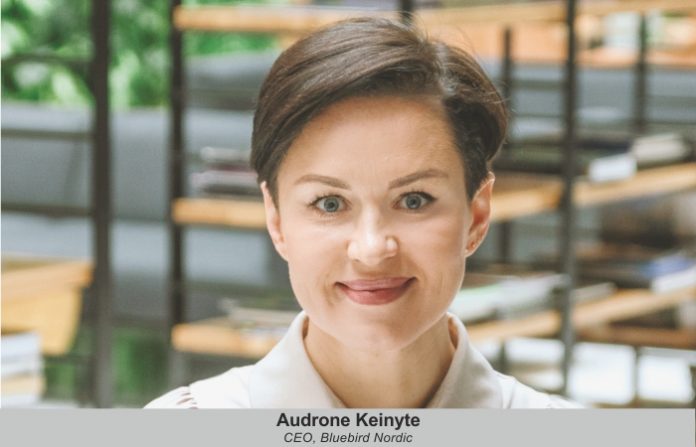 Currently, we do not have any plans to enter Indian market. We will start operating Boeing 777-300ERs freighters in near future from India, says Audrone Keinyte, CEO, Bluebird Nordic. We will continue to strengthen our position in the wide-bodied cargo ACMI market and add 25 x B737-800 aircraft to its existing fleet. 
Ritika Arora Bhola
Explain about the genesis of your operations worldwide and  your services and offerings to international customers?
The team prides itself in running an efficient airline, focusing on fast, responsive customer service, as well as safe, reliable, and competitive transport. All aircraft are equipped with pilots trained to operate under low visibility conditions. Bluebird Nordic is licensed to carry most types of cargo, including fish, perishables, pharmaceuticals, animals, vulnerable, dangerous goods, among others.
Covid-19 has disrupted businesses worldwide. How difficult were the last two years for your business?
The disruption to our company due to the ongoing pandemic was minimal; it was related to the logistics such as crew travel, spare parts delivery, and crew availability. Our headquarters in Iceland escaped with a few limitations. Like most other businesses, we adopted remote work/online meetings and there have been developments done towards processes automatization and efficiency increase. Throughout the pandemic, the cargo market was booming in all areas—long-haul sectors / Asia-Europe, and in the narrow-body/ short-haul business.
How are you preparing to meet the increased demand and 100 per cent capacity utilisation?
To meet the growing demand, we plan to expand our fleet by adding 25 x B737-800 aircraft to our existing fleet by the end of 2024. Additionally, we also plan to continue to strengthen our market share in the wide-bodied cargo ACMI market. The strategy is to add wide-bodied aircraft if the passenger-to-freight conversions of three Boeing 777-300ER aircraft, planned for 2024, go smoothly.
Elaborate on the aircraft the group operates. Tell us about new freighters launched or routes initiated for cargo and passenger operations?
Currently, we operate a fleet of eight Boeing 737 classics and two Boeing 737 NGs. We are expecting to add at least two more Boeing 737 NG aircraft this year. Operation-wise, we made some changes—reconstructed our route between Mainland Europe and Iceland and now operate CGN-BLL-KEF-BLL-CGN.  Bluebird  Nordic has also started operating for a new client last year. Currently, we are not concentrating on introducing new routes.
Please share with us your expansion plans or projects in the pipeline?
We are excited to continue the partnership with our long-term customers, who trust us. These partnerships allow us to devise ways and means to improve our services. We are set on continuing to grow our mark on the international cargo aircraft, crew, maintenance, and insurance (ACMI)market. In addition, we are planning to strengthen our position in the wide-body cargo ACMI market. In December 2021, we have signed lease agreements for three Boeing 777-300ER aircraft, with plans to go through passenger-to-freight conversions in 2024. If everything goes according to plan, we might add some more wide-bodied aircraft to our existing fleet.