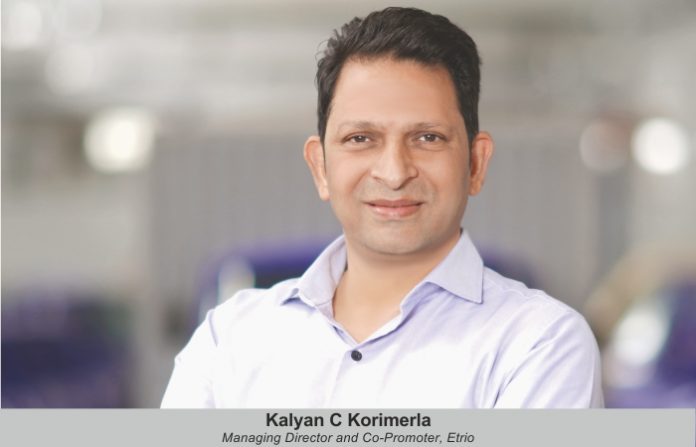 Though the government is giving incentives to EV players for setting up and maintaining charging stations, there is still a long way to go. India is dependent on imports of lithium and cobalt, says Kalyan C. Korimerla, Managing Director and Co-Promoter, Etrio.
Priyanshi Bana
Do you think India is ready with the changing infrastructure and components required by the EV industry?
Adoption of electric mobility has gained momentum in India over the recent past. It is heartening to see central and state governments announce various initiatives to support the EV transition. Despite that, as of date, various ground-level challenges remain unsolved, hindering the growth of the EV sector.
For instance, a major hindrance to the adoption of EVs in our country is range anxiety, which is linked to EV charging infrastructure and allied issues such as high costs, high power consumption, charger compatibility, and so on. Setting up and maintaining charging stations for EVs is a mammoth task in and of itself. While the government is trying to manage the need for frequent charging stations by incentivizing newer battery technologies and advanced cell chemistries, there is a long way to go for India when it comes to comprehensive charging infrastructure for the EV transition in the coming decades.
The increasing cost of raw materials for EV components and spare parts and an unreliable supply chain far away from being indigenised are among the other key challenges for EV industry players today. Given that lithium-ion EV batteries continue to dominate the market, lithium is becoming one of the most important elements of the EV value chain on account of its usage in batteries. However, India has no known sources of lithium and cobalt mining and production and must continue to import these metals. So, it can be said that India is not yet 100 per cent ready with the infrastructure and components required by the EV industry. Notwithstanding, it is a fact that EV sales, especially in the cargo and logistics segment, are growing exponentially. India has the opportunity to catch up soon and create a sustainable and enabling ecosystem for the EV industry, which in turn will lead to a cleaner, zero-emissions future of transport.
Elaborate on industry trends and opportunities for EVs in e-Commerce and delivery market?.
As consumers increasingly become aware of the impact of consumption on the environment, e-commerce companies and other fleet user companies are looking for sustainable delivery solutions, and hence they are opting for zero-emission electric vehicles. Leading this trend are e-Commerce giants like Amazon and Flipkart, which have doubled down on EVs for delivery. Amazon plans to have 10,000 EVs for delivering parcels in India by 2025, while Flipkart plans to deploy more than 25,000 EVs over the next few years and make their fleets fully electric by 2030. We at Etrio believe that EVs have the potential for adoption and sustained usage in the e-Commerce and delivery market segments. Below are some of the notable trends we foresee in these areas:
Commercial and logistic use-case EV fleets will continue to see a growing demand in COVID-19, which in turn will lead to increased production of such specialised cargo electric vehicles.
Major e-tailers such as Amazon, Flipkart will be deploying EVs increasingly for their delivery model across India, and hence EVs are going to play a vital role is in the last mile delivery of goods.
In the new generation of e-Commerce called q-Commerce (quick commerce) where only speed matters, we will see increased adoption of EVs as well.
EVs, especially three-wheelers and four-wheelers, will become an integral part of the overall supply chain of businesses in the years to come.
In the coming years, all e-Commerce companies, big or small, will opt for EVs for their delivery and operations because they're economical and environmentally friendly, low on maintenance compared to diesel and petrol cars, and offer scalability and technological advantages over ICE engines.
How do EVs fare against ICE vehicles in terms of performance and costs?
While internal combustion engine (ICE) cars are less expensive on pen and paper, EVs beat them hands down when it comes to long-term running costs, especially for logistics and transport use cases. The foremost benefit of electric vehicles for delivery and logistics is that they are low-maintenance compared to their ICE counterparts. ICE vehicles generally become less cost-efficient as they get older, and thus the servicing costs increase over time. On the other hand, their mileage or fuel efficiency also tends to decrease. However, cost efficiency often becomes comparatively better for electric vehicles as time goes on.
EVs also have lower servicing costs compared to petrol or diesel vehicles. EVs typically see much lower service cost escalation as they typically have far fewer moving parts compared to ICEs and are therefore way cheaper in terms of replacements due to wear-and-tear.
What potential challenges are faced in the inter-city, intra-city mobility, and logistics domains?
India's inter-city mobility landscape comes with its own unique challenges. As India develops as a leading global economic powerhouse, faster mobility will be the determinant factor for both the inter-city and intra-city mobility and logistics domains. The vision for India's future mobility should be clean, environmentally friendly, and convenient.
One of the challenges that India faces today is the lack of cutting-edge technology with regard to manufacturing electric vehicles and their allied components. Another challenge is less awareness and thus less hesitation to switch from ICE to EVs. Also, given that fleet/cargo vehicles for intercity logistics drive through various states in India, and have to cross several checkpoints while in transit, the red tape barrier is another major problem that is hindering logistics and mobility in our country today.
What is the future of electrici vehicles in India?
The future of EVs in India looks brighter than ever before. In addition, EVs can become the cornerstone of growth in the B2B last mile delivery and logistics segment in the near future, once the right infrastructure and support ecosystem for EVs is in place. While EVs will contribute significantly towards job creation and economic growth in the years to come, at the same time, it can have a larger impact, as e-mobility becomes the most important pillar of India's sustainability and climate action agenda as well. The industry stakeholders need to work collectively and strategically to ensure that the country does not miss its golden opportunity in terms of leading the global electric revolution.