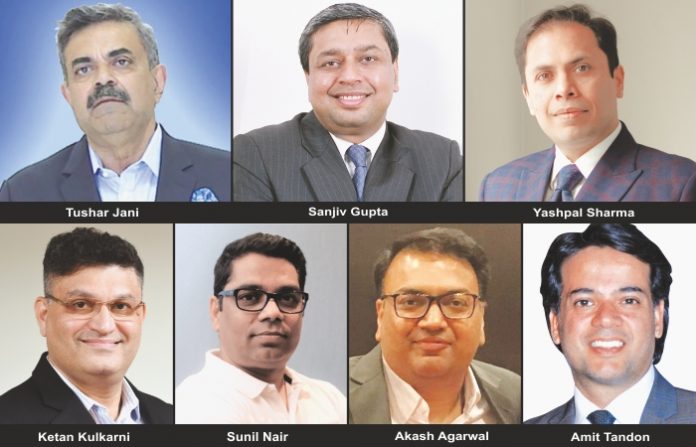 Logistics industry is gearing up to take on the colossal task of transporting COVID-19 vaccine across the country. CARGOTALK reviews the state of preparedness as logistics and supply chain companies are relentlessly working to meet the impending demands for vaccine transport.
Kalpana Lohumi
Aiming to immunise around 300 million people by August 2021, India is readying a huge vaccination drive. An incredible amount of effort is going into the development of COVID-19 vaccine and once this immunisation drive will begin, we will need a reliable and resilient supply chain for vaccine delivery. Logistics and supply chain companies are relentlessly working to meet the impending demands for vaccine transport by expanding warehousing facilities, procuring refrigerated trucks, containers and temperature-controlled packaging systems, and deploying technology to track movement and monitor temperature. Speaking to the industry experts, CARGOTALK delves into the non-negotiable requirements where the company must invest and what support industry entails from government for smooth logistics of vaccine.
Are logistics service providers ready to serve the nation?
Commenting on how CSC is preparing for the distribution of COVID-19 vaccine throughout the country, Tushar Jani, Chairman, CSC, informs, "Delhi Airport, where we operate, is fully ready with infrastructure, manpower and processes to handle the COVID vaccine to pass through our cargo terminal at Delhi."
"We are ready to move vaccine across the country," says Sanjiv Gupta, CEO, SpiceXpress. He further explains, "In order to gear up for the upcoming vaccine movement we have recently launched our cold chain product – SPICE PHARMA PRO with the intent to provide a seamless end-to-end logistics solution to the pharma companies. We have partnered with some of the leading logistics companies in India not only to provide a speedy and reliable solution to the vaccine manufacturers but to also create a sustainable cold chain network. Our validated cold chain boxes lined with phase change material and vacuum insulated panels ensure zero temperature excursions. Our modified data loggers and real time tracking portal "SpiceSENSE" demonstrate our IT capabilities. Furthermore, with our robust ground handling infrastructure and varied aircraft fleet it would not be out of place to mention that we are appropriately equipped to handle end-to-end logistics of the most sought-after vaccine."
Yashpal Sharma, Managing Director, Skyways Group, says, "With pan-India presence and deep insight into the fine aspects of vaccine transportation, we have existing infrastructure for temperature control in three cities in India and have enhanced these facilities to be able to handle larger quantities of vaccine. We have even collaborated with a few cold chain warehouses in India, Germany and the USA to participate in COVID vaccine movement."
"We also have reefer trucks now to manage movement of vaccine and a control tower has been set up to facilitate the minutest detail of vaccine movement. We have even worked around ample capacities with our airline partners to cater to the international movement of vaccine," he adds.
"Anticipating a strain on the logistics infrastructure, with the commissioning of the vaccine candidate against COVID-19, we have ramped up our pre-existing specialised 'Temperature Controlled Logistics (TCL)' solution to successfully transport the vaccine into the remotest village and the most crowded city. We have also ramped up our Pharma Grade Conditioning Rooms located at eight strategic locations. These rooms are in proximity to our Blue Dart Aviation Stations which helps increase our already pristine turnaround time and will aid in speedy delivery. We also use both single-use packaging (which provides temperature stability of 48-72 hours) and multi-use boxes (credo boxes) which provide temperature stability of 96 hours," informs Ketan Kulkarni, CMO & Head – Business Development, Blue Dart.
"Work-related process flows have been designed and rehearsed across locations where we have our Conditioning Rooms. We have done our background work in terms of capacity requirements i.e. materials for packaging, availability of data loggers, insulated shippers, walk in cold room, coolant, network reach, manpower preparedness, technology investment to handle requirements in this direction. As a part of the DPDHL Group we have access to a larger set of assets like reefer vehicles and cold storage trucks from DHL Smart Trucking as well as access to the global network of DPDHL. We have access to a global shipping network at scale as well as local freezer and storage capacity and know-how with in-country logistics.
With our fleet of six Boeing 757 freighters, 20,000+ ground vehicles, servicing 14,000+ pin codes and a strong army of Blue Darters, we can confidently say that we are prepared to provide resilient, reliable and responsive services as the trade facilitator to the nation," Kulkarni continues.
Commenting on the preparedness, Amit Tandon, Managing Director, AS India, says, "We are now certified for GDP (Good Distribution Practices) for storage and distribution of pharmaceutical products. Accordingly, we have entered into agreements with GDP certified transporters and warehouse operators for transportation and storage of pharmaceutical products under controlled conditions as per guidelines."
In view of the vaccine storage, Snowman Logistics has almost 12,000 pallets available immediately at various locations in its network with a good spread. Adding to this, Sunil Nair, CEO & Whole Time Director, Snowman Logistics, notes, "This should ideally store around 100 million vaccine doses.  Some of our new locations are under construction, they should be ready by March 2021.  With that we can additionally provide space for another 100 million vaccine doses and with our partner network, we can add another 100 million.  So, in short, we can provide space equivalent to 300 million doses, nationally.  With that, we have our own 300 trucks and 200 trucks from partners. We can surely spare around 200 trucks for this purpose. Moreover, we are already operating vaccine distribution for influenza and typhoid.  We are imparting similar training to our other employees, so that we have handling experience at all locations."
Has India enough infrastructures?
Logistics industry is prepping up for the storage and movement of vaccine, but the question remains, does India have enough infrastructure to distribute vaccine. On this Nihar Parida, Industry Expert, says, "India is definitely not equipped to move these vaccines at such low temperature. The Government of India has never concentrated in providing help to pharma companies or other logistics stakeholders to build these infrastructures. The cold chain infrastructure was more inclined towards agro products and not pharma. It's heartening to see that the government is now realising this and hopefully
will help us to build the infrastructure going ahead."
"We have very limited players dealing in sub-zero storage and transportation, so it will be interesting to see the government protocols for the vaccine. In addition, another issue correlated with the vaccine is geographical distribution and healthcare personnel available to transmit the doses to the masses. Although India has carried out the polio vaccination programme over the last few decades very successfully and this ecosystem will come really handy for the movement of COVID vaccine to the smaller towns and villages," explains Sharma.
Adding to this, Jani notes, "India is ready for distribution if the COVID vaccine requires 2 to 8 degrees because the country already has an infrastructure for polio vaccination which requires 2 to 8 degrees. If it is at 2 to 8 degrees, most of the distribution companies have their infrastructure ready, so with the marginal investment the industry is ready to face this challenge and distribute.
We wish to put it on record, India as a country delivers roughly 2.5 to 3 million parcels delivery per day of e-commerce on a nationwide basis. This network and infrastructure can be used for vaccine distribution easily," he adds.
"Moving vaccine at such low temperatures would definitely be a daunting task particularly to cover the last mile deliveries in tier-3 cities," feels Gupta. He adds, "Until pre-COVID times, the Indian cold chain infrastructure was more inclined towards the agriculture sector. However, with the outbreak of COVID-19 there seem to be a paradigm shift in the outlook towards the need of building an infrastructure which is congenial to pharma sector. The existing cold chain infrastructure is rudimentary and would certainly take time to evolve."
Sharing the solution to the challenge, Kulkarni says, "The scope of the task is immense and so are the challenges. A successful distribution strategy will require collaboration and partnership across the supply chain. A combined effort between the Government of India, pharmaceutical companies manufacturing the vaccine, logistics firms and cold chain services are sure to help the Indian population receive the vaccine. The vaccine against COVID-19 would require for infrastructural changes to be made in order to accommodate the -60°C to -80°C storage temperature. Blue Dart's TCL solution has the ability to handle various temperature requirements from Frozen; -80◦C to -20◦C; to Deep Chilled; 2◦C to 8◦C and Ambient; 15 ◦C to 25 ◦C."
"The government may also have to look for assistance in intermediate storage and transportation from manufacturers of pharmaceutical products and medical supplies in the manufacturing hubs in various parts of the country by requisitioning part of their controlled facilities for distribution till the end-user," adds Tandon.
Efficient cold chain system
COVID-19 vaccine storage and distribution will need efficient cold chain. Sharing the opportunities for HVAC players, Akash Agarwal, CEO, Crystal Group, shares, "I think there is a massive opportunity in the cold chain industry where you will be looking at a complete cold chain right from the manufacturer to the consumer of the vaccine, so a highly efficient cold chain will be required. We have been talking about cold chain for the last 25 years and never have seen the opportunities on such a large scale where people could really get benefitted through cold chain infrastructure in a big way."
"We do not have an efficient cold chain system in the country rather we only have cold storages, which are used by 99 per cent of potatoes and mass produce fruits like banana etc. The COVID-19 pandemic is a great eye-opener for the entire world. In India  we are still not well equipped with manufacturing and distributing large scale vaccines when it comes to cold chain. There is not a single player who can deliver to Tier-1, Tier-2 or Tier-3 efficiently. Catering Tier-1 is still a difficult task so Tier-2 & Tier-3 is a dream away. And the opportunities as I said that you could create various linkages in terms of storage at the airports, storage at the hospitals, transportation in terms of reefer vans, primary & secondary transportation and creation of large scale cold chain hubs because that is going to be required to store and distribute the goods," Agarwal highlights.
As per Nair, "Apart from Pfizer vaccine, which needs to be stored at -70 degrees Celsius temperature, we have enough capabilities to store the other vaccines, announced so far, in our latest cold storages, which totals to over 1 lakh pallet positions across all the 15 cities we are present in. All these facilities can store products at temperatures up to -30 degrees Celsius. All our trucks can maintain temperature up to -25 degrees Celsius.  So, I believe there is adequate infrastructure.  However, if the distribution is put on fast track, the country may fall short of storage and transport capacities particularly at remote locations. We have also got solutions for storing vaccines at -70 degrees Celsius.  But the storage is going to be small sized and with very high Capex.  If need be, the technology is available and can be considered."
Where a company must invest?
Cold chain integrity for the efficacy of vaccine is the key. Adding to these lines, Sharma says, "The temperature control capacity of any company is of utmost importance. A solid backup plan to ensure if there is any issue in Plan A for temperature control is very important. The knowledge and damage-repair capacity of the team handling vaccine has to be given equal importance too."
Whereas Kulkarni believes, "Superior digital infrastructure to ensure that the flow of information across the supply chain is smooth, availability of timely raw materials such as coolants, refrigerators and a skilled support staff who would know how to handle life sciences and sensitive shipments will be some of the important requirements."
According to Nair the quality of infrastructure, operating procedures, skilled manpower and training programmes, IT technology – visibility, tracking and tracing, network offered in the country – both in warehouse and transportation, long-term vision of the partner in terms of investments to expand and upgrade and overall cost of operations are critical requirements when you are evaluating partner/investment for moving vaccine.
Government's aid
Once a vaccine is available in the country, the government plans to immunise 30 million citizens—10 million healthcare workers in private and government-owned hospitals, and 20 million frontline workers that includes police, defence, and municipal workers—in the first round, according to a press release from the Ministry of Health & Family Welfare. The success of this programme depends on the efficient logistics and robust cold storage mechanism. Gupta enlists the following provisions from government to seamlessly transport these temperature-sensitive vaccines across country:
Cold chain warehouses at all major metro airports catering to requisite temperature ranges
Subsidy to airline operators to carry life-saving drugs
Subsidy to the manufacturers of temperature-controlled boxes to bring down the landing cost of these boxes
Digitisation of the documentation process for ease of custom clearance and regulatory checks
Adding to this, Parida urges for subsidy in tax rates or in any other way
while carrying life-saving drugs both to the transporter and airlines, ease of customs clearance and interference in terms of paperwork and regulatory checks and subsidy to packaging manufacturers to reduce the cost
of packaging.
Similarly, Jani stresses, "There has to be priority from the Government Department for the clearance of vaccine, be it at Customs, at check post or at any other government controls."
Stressing on earliest possible protocols for the movement, Sharma says, "It will really help all stakeholders to prepare in time and also discuss the collaboration for seamless flow of movement of goods. Government must create green corridors at airports, ports & customs for fastest clearances and movement of COVID vaccine."
On the other hand, Tandon stresses on the financial assistance. He says, "As the problem of storage and distribution of the vaccines, and other pharmaceutical products including consumables for administration of the same, is not going to be over in the short run, government has to come forward with financial assistance at concessional terms for developing the infrastructure for storage and distribution of pharmaceutical products at district level, including medical supplies and equipment for the fight against not only the COVID-19 pandemic but also any other emergent situations in future. Looking at the heavy investment in such infrastructure, the initial cost as well as the operational costs of the supply chain will need to be subsidised heavily so that the benefit of the same can safely reach in the remotest corners of the country for use by the poorest of the poor."
According to Nair, "First and foremost, government has to put its strategy in place. This should be the base document basis which public and private resources can be mobilised and channelled to the cause. It is important to note that this is a short-term (2-3 year) project and it won't be a good idea to create infrastructure only for this purpose. It would rather be a good idea to optimise and maximise all existing resources.  This can happen only when there is adequate clarity on the strategy on how this is going to be done."
"The government has been making great efforts in its fight against coronavirus. Going forward, it will be important to see how the government will administer the vaccine to citizens. Also, the production of related accessories like syringes and needles will have to be looked into quickly and on an agile basis.  We are in touch with all relevant authorities and channels of communication are on. While manufacturing is progressing fast and pharmaceutical majors are rushing to produce a viable vaccine to defeat the pandemic, the magnitude of our population requires proper planning and a detailed structure in vaccine distribution and logistics," concludes Kulkarni.