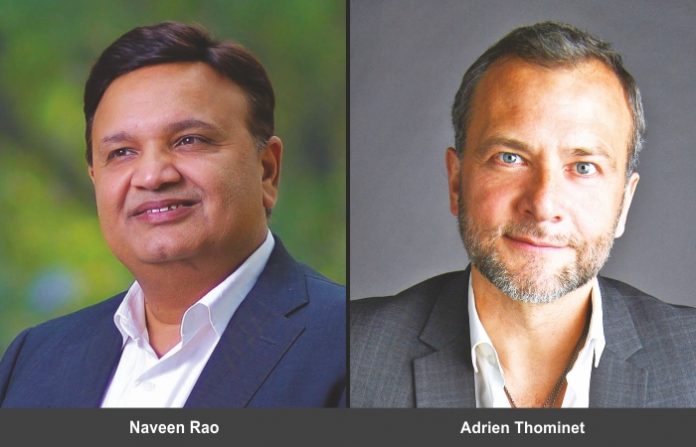 In the last year, Indian air cargo industry performed well and contributed in overall growth. The sector presents huge opportunity for General Sales Agents (GSAs) to invest in the future and compound the market share. CARGOTALK presents the role of GSA in air cargo business and how it has evolved over the years.
Kalpana Lohumi
It is estimated that around 25 per cent of the air cargo industry's US$50 billion annual revenue is raised via outsourced sales operations, which means General Sales Agents (GSAs) are responsible for generating around US$12.5 billion of the industry's annual income. GSA is just not a marketing arm of an airline but contributes to the airline's sales and profitability by expanding operating networks, help cut operating costs to reduce prices, getting involved in data capturing, managing ground handling and surface distribution, to name a few. It has the ability to establish an airline's market presence through wide network coverage and can generate greater sales revenue. And, still the role of GSA market continues to evolve. CARGOTALK understands how the role of GSA in the air cargo business has evolved over the last years.
Commenting on the same, Naveen Rao, Founder & Chairman, Sentro Group, says, "The role of GSAs is evolving with the ever-changing needs of the cargo industry. Today, only selling capacity is no longer enough. The airline needs better services at a lower cost with maximum ROI. GSA need to align itself with the business model of the airline and adapt to the requirements of the airline. As times are changing airfreight industry has become more challenging in terms of competition, services and global reach. Nowadays, it is just not the cargo capacity filling agents but end-to-end service providers and manages customs, safety, security, quality, interlines, promotions, pricing and revenue management; in other words, all the principal activities of the airline. GSAs are designing tailor-made commercial planning processes (pricing, revenue management) combined with performance management processes (sales steering, destination-mix optimisation), supported by digital tools developed in-house."
"We at Delmos Aviation & Beehive Logistics take care of all aspects of our partner airlines, from creating a brand to developing a product-specific market, keeping a tab on current market trends and analysis to create customised solutions for improved financial gains.
We act as the backbone of our partner airline and bring innovations to the table. Through continuous evaluation processes and innovations, we keep upgrading our services regularly to achieve global benchmarks in quality and best practices," he adds.
ECS Group is a GSA, but it is constantly developing its services and diversifying the offerings to stay in step with demand. Adrien Thominet, Chief Executive Officer, ECS Group, explains, "We currently offer business services including all GSA activities as well as e-commerce; logistics services, which include all of our ops expertise and charter activities; and digital services, which include business intelligence, e-booking and data capture." Stressing on their expertise in local markets, he continues, "Our business strength allows us to manage sales all over the world, to find transport solutions for our clients, and therefore to benefit from very strong market penetration. It's a real source of added value. Another key criterion for airlines is that they need partners who can offer them revenue optimisation. With our sales network, our ops expertise and our cutting-edge in-house business intelligence system, we're able to reduce our clients' costs and maximise their revenue."
COVID led us to innovation
Sharing his views on how the pandemic has impacted the GSA's operations, Thominet says, "The impact on the GSA business is both positive and negative. The negative impact is that the number of commercial flights has significantly reduced and cargo capacity with it. But this has forced us to find new solutions and to innovate to support our clients who need our support more than ever given the current situation. This has strengthened our role, allowing us to be an essential ally in maintaining our clients' activity levels and assisting in their recovery. For example, we do this by finding solutions to increase revenue with preighters and charters, but also by offering new outsourcing opportunities to reduce costs."
According to Rao, "GSA/GSSA became more viable to partner airlines, as their expertise proved vital in operating passenger to cargo aircraft due to the suspension of regular flights. GSSAs has come forward with 100 per cent advance paid charter operations to keep essential goods supply chain operations alive and keep carriers afloat with minimum revenue to sustain hard times."
Keeping the pharmaceutical supply chain undisrupted, Sentro Group flew the first cargo flight from Delhi to Tashkent, on April 21, 2020, carrying more than 27,000 kg of essential pharmaceutical supplies. "Since then, we have been operating regular flights serving all nearby destinations like Kyrgyzstan, Tajikistan, Turkmenistan, Russia and Kazakhstan," Rao updates. He says, "In September 2020, Uzbekistan Airways with Beehive Logistics achieved a target of supplying 2,54,012 kg of pharmaceutical shipments in record time. In the FY 2020-2021 (up to Dec 2020) we have delivered more than 2393.94 US ton, an approximate 25 per cent growth during pandemic."
Parameters to be followed in air cargo business
There are various parameters a GSA follows. Rao shares the two most important aspects been taken care of at Delmos Aviation & Beehive Logistics, which are, financials which says reducing costs to increase profit margins and reducing credit risks and secondly product placement which includes market research, brand building, innovative creations as per partner specifications and robust marketing to find synergy and better results.
"Agility is the main quality of a GSA; one needs to be able to adapt to all client needs, adapt offering to suit those needs, and excel in any situation. Then, a close relationship with the client and a perfect understanding of their issues and their needs are essential in offering premium-quality services.  Another major asset is network and finally, innovation, so you can move with market needs and anticipate them where possible," explains Thominet.
Air got the advantage over other modes
In the mid of the challenges thrown by pandemic, the air cargo industry is growing steadily at a sturdy pace.  Talking about the opportunities, Rao says, "At present, air carriers have an advantage that not all sea, rail and road routes are functional due to various disruptions caused by the pandemic. Air carriers have the opportunity to tap customers and offer them a competitive solution for their logistics needs to protect their products demand in multiple markets. Freighters can help their customers by keeping their goods competitive in respective areas in a time-bound manner. Cost for air carrier is the key to be on the right growth trajectory and high service level with less lost shipment index."
Indian market looks futuristic
"India is a market with a lot of potential and one that's key for airlines (both domestic and international). The market is experiencing strong growth, with a rise in demand for manufactured products, perishable goods, pharmaceutical products, clothing, electronic retail goods, etc," says, Thominet. He continues, "We've massively invested in the country in the last few years. Within the group and in terms of revenue generated, India is one the top 5 contributing countries.
Since the start of the pandemic, the expertise and dynamism of our Indian teams has allowed them to find solutions to deal with a lack of capacity. For them, there's no situation that can't be overcome. Our teams in the country have shown incredible business sense and are real business finders. They've beaten production records, vastly surpassing their targets (+350 per cent in 2021 vs 2020), and they even recently broke the world record for highest ever tonnage at the start of April 2021 with a B777 preighter – 65485 kgs on the DEL-RUH route."
"We will see significant growth in global demand ex-India. The need to move cargo more cost-effectively and faster is a vital growth aspect for the air freight industry. With the boom in e-commerce, there is an increase in demand for a seamless and swift supply chain. Air cargo as the fastest mode of transport will benefit from this. Globalisation will also bring more opportunities for the Indian airfreight industry. With the phenomenal growth in India's manufacturing, retail, automotive and pharmaceutical sectors, we are at the centre of large scale imports & exports. To fulfil the demand for time-bound deliveries air transport is the most convenient mode of delivering goods. It will lead to enormous opportunities for the air cargo industry to tap. Indian cargo industry, with more technological integrations in the future, will become an online market-based product and will grow leaps & bounds," concludes Rao.