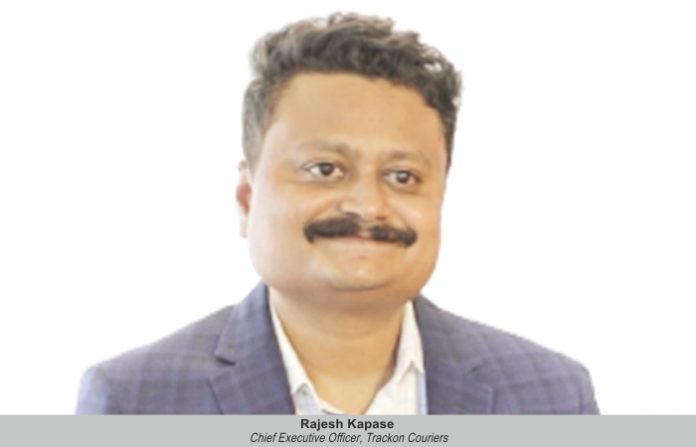 Budgetary allocation of 10 lakh crores to infrastructure, roads and railways would help accelerate growth and improve first and last-mile connectivity. Last-mile delivery for increasing business, brand loyalty and better margins are significant areas for assisting in shaping the future of the logistics industry, says Rajesh Kapase, CEO, Trackon Couriers.
Ritika Arora Bhola
Tell us about the genesis of Trackon's operations in India. What kind of products and services do you offer to your clients?
Trackon's presence in Indian logistics in the past 18 years helped us to give a better delivery solution to our customers with over 250 branches and associate strength of 5,500 in the domestic market. We offer air cargo and prime services to those customers who require assured delivery within timelines promised. Road Express Cargo services are for those customers for delivery of heavy shipments across India. Internationally, we are tied up with the best service providers, who specialize in their specific zones and in their countries.
Could you tell us about your loyal clientele in India? What do they 'seek' and how successful have you been in fulfilling their demands?
Our business comes mainly from our channel partners and direct partners. The channel contributes to 70 per cent of our revenue and DP is 30 per cent. Our loyal channel partners get the best delivery solutions for their customers and feedback mechanism coupled with one of the best IT capabilities we have. Our presence in DP is across industry spectrum be it pharma, manufacturing, IT peripherals and FMCG, among others.
Share with us your expansion plans and projects in pipeline?
Our plans are within a short span of time to serve more than 12,000 pin codes in India. Presently, we cater to as many as 5,900 pin codes and one of the best IT infrastructure operations. We want to strengthen our road express capabilities by investing in ground infrastructure, the proof of which is we have added 5 lakh square feet after Q3 2023. We want to maximize our delivery efficiency in our prime product so that we cater to time-bound deliveries for pharmaceuticals sector.
Today, when the customer is the king, tell us how you identify the pain points, while providing business solutions to air freight stakeholders and others?
Customer is the focal point for any business today in India; same is the case with us as we claim to give one of the best delivery solutions to the customers. We understand that if we deliver our customers consignments in time, we get more business. Also, our engineering teams' work day after day and revisit our process to match with the current customers' demands.
How would you rate India's infra for logistics ops. Do you think it is adequate to meet demand-supply gap or there is need for more?
Infrastructure development is the critical enabler to economic growth. Logistics infrastructure, covering road, rail, waterways, and air network are the backbone on which the nation marches ahead. Although the urgency to develop India's logistics infra has been realized in the past decade, the task on hand is quite daunting. India's logistics infra lacks support of the expected growth rates of 7 to 8 per cent over the next decade. This expected 2.5-fold-growth in freight traffic will increase pressure on India's infra. Over two-thirds of the infrastructure network capacity has not yet been built. Learning from the past and adopting global best practices, India should pursue a logistics infrastructure strategy for minimizing investment, maximizing cost-efficiency, reducing losses for users and is energy-efficient.
What will be the megatrends for this year and beyond?
Trends such as enhancing Radio-Frequency Identification (RFID) provides real-time tracking data, digitizing the supply chain for efficient and resilient operations, last-mile delivery last for increasing business, brand loyalty and better margins can shape the future of the logistics sector.
Will budgetary proposals and the Union government decisions boost logistics growth?
Nirmala Sitharaman, Union Finance Minister, allocated 10 lakh crores to roads and railways help the industry to proceed on a growth trajectory. The Union Budget has covered infra development by allotting 75,000 crore towards improving first and the LMD. As a part of the logistics sector, we are happy with the announcements since they will help solve connectivity issues. The NLP announcement will lead India on to a progressive path with logistics playing a key role in GDP.