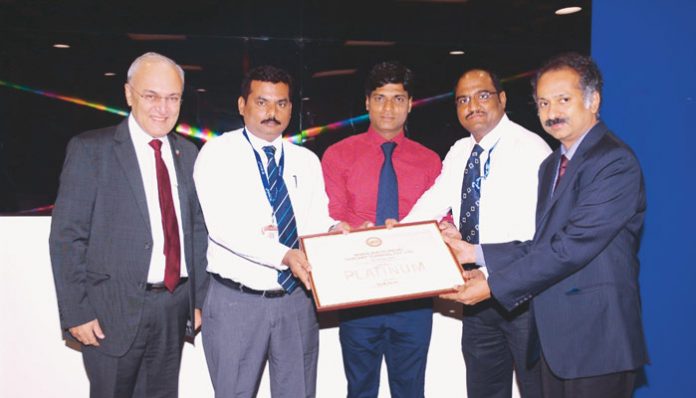 Nhava Sheva (India) Gateway Terminal (NSIGT) is now LEED Platinum and was certified by Green Business Certification Inc. (GBCI) using the Commercial Interiors 2009 rating system.
CT Bureau
DP World operated the Nhava Sheva (India) Gateway Terminal (NSIGT) has created another benchmark in the logistics sector in the country. The container handling facility NSIGT has been awarded the Leadership in Energy and Environmental Design (LEED) certification. The terminal has a resource efficient building which utilises less water and energy, and reduces greenhouse gas emissions. It accomplished an impressive 89 out of 110 points in various environmental categories to receive this certificate.
LEED-certified spaces reduce carbon emissions and contribute to a healthier environment for residents, workers and the larger community. India is ranked third on the U.S. Green Building Council's (USGBC) ranking of top 10 countries for LEED-certified buildings. Anil Singh, Senior Vice President and Managing Director, DP World Subcontinent said, "At NSIGT, we have integrated a number of sustainable and energy efficient initiatives making it an exemplary model for future port developments in India. The terminal also aids in the Government's National Action Plan on Climate Change (NAPCC), by implementing comprehensive strategies to clean up the air, water and land in India."
The terminal functions on a transportation policy for building users or visitors which encourages the use of mass transit. This helps to decrease land development impacts from the use of automobiles. The terminal also has environmentally friendly equipment like the Electric Rubber Tyre Gantries (E-RTG's) which run on electricity instead of diesel, reducing the terminal's carbon footprint.
"NSIGT's LEED certification demonstrates tremendous green building leadership," said Mahesh Ramanujam, President and CEO, USGBC and GBCI. "LEED was created to make the world a better place and revolutionise the built environment by providing everyone with healthy, green and high performing buildings."
NSIGT efficiently saves 40 per cent of potable water by use of low flow plumbing fixtures, resulting in more than one lakh litre of water being saved annually. Treated water from the sewage treatment plant is used for 100 per cent of landscaping water and flushing water demand further saving potable water.