Logistics and transport sector is transforming. While there is a need for efficiency, the segment needs to be sustainable and bring circularity in the supply chain, its shipments, its selection of vehicles and the use of products.
Over a year and half, something new has happened – several fashion and apparel brands have started retailing refurbished pieces that are still in good shape and can re-made to look new and sold fresh. The trend of circularity and sustainability has caught up with the fashion and garments manufacturers and designers, who now understand the value to regeneration and reuse and want to produce less. Several other industries, including the fast moving consumer goods (FMCG), shoe manufacturers and even software and hardware or electronics goods manufacturers, are following the same route. It is no surprise that these industries have been a primary polluter of oceans and generate waste in large proportions every year in the form of discarded items. These end up into landfills causing more damage to the environment. And these rely heavily on the logistics and transport sector to supply their customers with purchased items. However, in the last few years, the shocks of the COVID-19 pandemic and the worsening climate crisis have drastically impacted the global supply chains around the world. As a result, buying and receiving goods-on-demand remained a challenge. However, the impact of a pandemic and the environmental crisis can be addressed to a certain level by making the chain sustainable. It also means that creating a circular supply chain would only help us mitigate unforeseen and unwanted disruptions like the COVID-19 crisis.
What is a circular supply chain?
Production and consumption within a circular economy are characterized by the recycling, leasing, refurbishing, reusing, and repairing of existing products and materials. Product life cycles are prolonged by sharing, leasing, reusing, repairing, and refurbishing as much as possible. Reducing waste to a minimum is a key component of this economy's operation.
If a product reaches the end of its life the economy attempts to retain its materials as much as possible. These materials can then be reused to create further value. In this context, a truly sustainable and responsible organization collaborates with various stakeholders to address issues related to the environment, society, and the economy. Implementing circularity while addressing the supply chain challenges may allow organizations to meet customer demand and expectations, increase profitability, and reduce costs. Sustainable supply chain management is not about limiting or restricting business activities. Instead, it is about finding the right balance between the interests of organizations and communities.
What is happening on the ground?
Several companies and businesses depend on a robust logistics and transportation. They are now incorporating circularity in their supply chains – whether one is delivering milk or groceries or delivering any other goods. For example, a Gurugram-based milk distribution company reuses its glass bottles it collects daily. The company also incentivises customers for saving their bottles. In this example, while the company is taking a meaningful step, it has made its customers stakeholders in its fight to reduce waste. Some companies have even created platforms to receive old products for refurbishing. Agri-companies now focus on regenerative farming, and several FMCG companies and retailers endorse such products. Several garment makers use sustainably produced and procured fibres. Even several shoe companies are using sustainably procured materials.
These efforts mean that sustainability cannot be achieved by making adjustments to a company's SCM system alone. To be truly sustainable, organizations must collaborate with various stakeholders to address issues related to the environment, society, and the economy. In other words, sustainable supply chain management is about finding solutions to the problems that businesses and people face.
The case of the logistics and transport sector
To become sustainable, the logistics and transport sector needs to focus on reducing emissions and its carbon footprint. The sector alone is among the biggest emitter of GHGs (Green House Gases). According to the data from the International Energy Agency (IEA), transport sector has the highest reliance on fossil fuels of any sector and accounts for 37 percent of CO2 emissions from end‐use sectors. According to IEA estimates, CO2 emissions from the global transport sector fell by over 10 percent in 2020, at 7.3 Gigatonne CO2 in 2020, down from nearly 8.5 Gigatonne in 2019.
With the demand for logistics and transport going up in the post-COVID-19 period, the emissions are likely to resume and attain new heights. As a result, the thrust is on to use biofuels and electric vehicles. However, their use remains limited. One of the key challenges in creating a sustainable supply chain is that organizations and stakeholders need to adapt a Net Zero business strategy. While digitisation and automation may remove inefficiencies in the delivery routes and shipment processing, the work on infusing best sustainability practices will reduce carbon footprint and save the limited natural resources.
We already have a target!
At the recently held United Nations Conference of Parties (COP 26), the member countries, businesses, auto manufacturers and other stakeholders signed a declaration of commitments (aligned with the Paris Agreement) to reach 100% of all vehicle sales being zero emission by 2040 or earlier.
What does it mean for a logistics and transport player?
It means that the sector needs to optimize the use of existing resources to meet the needs of business and society. The sector must assess the environmental impact of transporting goods and services within their supply chains. Additionally, a sustainable logistics and transportation sector also minimizes the social impact of transportation.
It must identify the communities and people, where transportation networks have an impact. The assessment should be done while improving the competitiveness of the business. And finally, a collaborative sustainable transportation will allow stakeholders to address these issues. There is also a need for better route planning and the vehicle planning. Moreover, companies cannot achieve sustainability by adjusting their SCM systems alone. It needs to factor in the profitability too. There are several ways to achieve this combined goal:
First, the manufacturers may rely on shared logistics and transport and use a common supply chain platform to deliver goods. Second, local sourcing of several things in the supply chain can effectively save costs and increase the gains. Thirds, packaging is a big part of the logistics sector. It needs to use recyclable materials. Fourth, technology can help in accurate prediction of recirculation of products in the supply chain. It will eliminate the chance of any wastage. However, it will be a continuous journey. With organizations and stakeholders constantly evolving, their needs are ever-changing. Therefore logistics and transportation should be willing to adapt to these changes and collaborate with various stakeholders to find ways to address issues related to the environment, society, and the economy.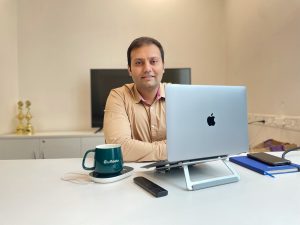 Author: Vishal  Misra, Co-founder, FleetX