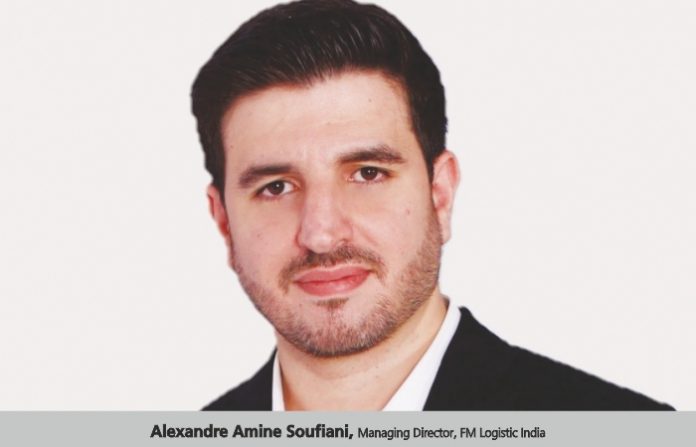 Indian logistics and warehousing sector is set to grow by 35 per cent by 2021. With all the ingredients for success such as its global expertise, FM Logistic India aims to become the leader of the contract logistics market in the country. Alexandre Amine Soufiani, Managing Director, FM Logistic India, shares the plan for the future.
Kalpana Lohumi
What solutions are you offering in the logistics and warehousing space to fulfil changing demands?
We aim to develop the long-term partnership approach with our customers by offering process optimisation and operational efficiencies with the help of CI, 100 per cent compliances and better work environment, sustainable development initiatives and a safety culture with periodic training and audits.
To keep pace with the ever-increasing customer demand, FM Logistic India offers warehousing and distribution solutions that are tailor-made to provide our customers with what they want, whenever they want it and wherever they want it, undertaking various customer-centric measures be it focus and action orientation to address customer concerns on urgent basis; measurement of possible customer concerns before and as they come up and present solutions to clients for resolutions; structured MIS and monthly review meets with customers and specialised team of industrial engineers to make processes leaner and more efficient for cycle time reduction, systems and workflow customisation; manpower planning and training and centralised audit team to audit inventory and processes. Secondly, we have commissioned an array of WMS & IT solutions to enable omni channel services for our customers, which is indeed the need of the hour. We partner with clients to realign supply chains to cater to omni channel (both B2B and B2C flows) from the same warehouses, under one roof. Digitalisation and automation are also a primary area of focus for FM Logistic. In India, we have implemented drones for inventory control at one of our operational MCFs and are in the process of getting this implemented across all warehouses. We have also implemented a fully automated packing line for various clients across India.
We also offer a range of value-added services enabling a variety of logistics delivery models that improve customer service while mitigating inventory and transportation costs. Value-added services include kitting & de-kitting, pre-packing, co-packing and co-manufacturing, labelling & MRP stickering, bundling, customised packing and return customisation. We also provide top-of-the-line storage and handling equipment.
An increasing shift towards renewable or 'green' energy sources (solar, wind, etc.) is propelling the development of electric mobility and facility solutions for logistics. Sustainability is in the heart of our DNA at FM Logistic. We are one of the 3PL service providers in India to be associated with this initiative for sustainable development with the United Nations Global Compact Network. We will soon launch electric vehicle intra city transportation in metros. We also plan to invest locally in electric trucks for urban distribution.
Urban logistics with green energy and last-mile is the next priority. FM Logistic is committed to the objective of decarbonising our distribution activities and last-mile logistics. We have created Citylogin, an urban, sustainable and effective solution to limit the impact of delivering goods (pollution, noise, congestion, etc.) in city centres, by using suburb-based warehouses and small hybrid or electric vans. In India, we have invested in electric vehicles to carry out hyper local deliveries in cities. These vehicles will be operational by the end of this quarter.
Q. What are the trends you see in the logistics and warehousing industry, besides omni-channels?
In addition to omni channel logistics, below are some of the trends in the logistics and warehousing industry to look out for in 2021:
Connected Life – Secured, real-time access to the consumer's ecosystem of connected devices can enable a variety of innovative pick-up and delivery services, as well as improved customer service support and valuable insight generation for logistics providers.
Augmented Reality – Blurring the lines between the digital and physical worlds, Augmented Reality (AR) will provide new perspectives in logistics planning, process execution.
Internet of Things – The Internet of Things (IoT) has the potential to connect virtually anything to the internet and accelerate data-driven logistics.
Robotics & Automation – Robotics solutions are entering the logistics workforce, supporting zero-defect processes and boosting productivity.
Q. What are the main challenges you have overcome?
The biggest challenge faced by the industry today is insufficient integration of transport networks, information technology, warehousing & distribution facilities, and real-time flow of information. Regulations, existing at a few different tiers, are imposed by national, regional and local authorities. However, the regulations differ from city to city, hindering the creation of national networks.
Trained manpower is essential both for the third party logistics sector as well as manufacturing and retailing sectors. At the warehouse level, FM Logistic India has recently launched the Supervisor Development Program through which existing warehouse associates can become Team Leaders. The eligible associates are evaluated on the basis of their performance.
Poor facilities and management are the reason for high levels of loss, damage and deterioration of stock, mainly in the perishables sector. Part of the problem is insufficient specialist equipment, i.e. proper refrigerated storage and containers, but it is also partly due to lack of training. The practitioners and the academicians are now aware of the importance of logistics and supply chain, however, the field is still under-penetrated as far as research is concerned.
What is your present network? What are your expansion plans five years down the line?
With an extremely strong client base that includes several blue-chip Indian and multi-national corporations, we manage more than 6 million sqft of warehousing space and provide warehousing & distribution logistics services for the FMCG, retail, automotive, e-commerce, engineering, telecom, pharma and other sectors. In 2020, despite the ongoing pandemic, we added 1 million sqft of warehousing space under our operations. We plan to expand our operations by another 30 lakh sqft by the end of 2022-23.
We will soon start operations at our two new multi-client facilities, i.e. 400,000 sqft in Farukhnagar where we start operations for phase 1 of our own 700,000 sqft warehouse. We have signed a strategic partnership with Welspun One Logistic Parks to develop 900,000 sqft in the next three years.
Thanks to our sister real estate company NG Concept: We are working on deal closures for additional A grade state of the art Multi Customer Facilities of an average size of 300,000 sqft each in Bengaluru, Delhi NH1, Kolkata, Chennai and Hyderabad.
Over the next five years, we aim to become the leader of the contract logistics market in India. We aim to establish ourselves as a long-term-oriented Indian service provider with deep human values, stable, reliable, with strong industry-wide expertise having non-negotiable priorities on safety, compliance, quality, CI and customer satisfaction. We are working towards being positioned as the pioneer service provider for sustainable and green logistics.