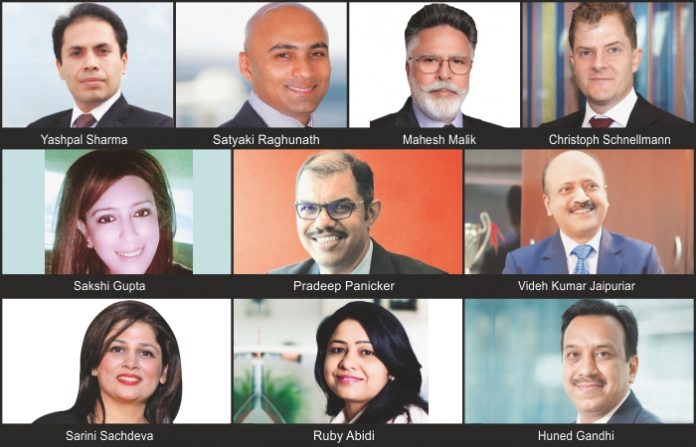 Airports in country and abroad are steadily moving towards renewable energies to feed their ecosystem. Logistics activities are being moved towards greener initiatives such as use of electric vehicles, removal of paper, water and waste management, according to industry experts.
Bryan
From embracing new-age technology such as AI, Block Chain, IoT and Data Science among others to e-commerce, boom in freighters, Greenfield airports and air freight stations, sustainable business operations and paperless transactions, infrastructure development of facilities such as cold storages for transportation of perishables, and preighters, air cargo industry has come a long way combating with COVID-19-related  challenges followed by Russia-Ukraine crises, the industry has proved its mettle, and expects growth in the years to come.  According to Air Cargo Growth Analysis report, Global Air Cargo Market 2022 is projected to touch US$ 111810 million by 2028, growing at a CAGR of 4.0 per cent during 2022-2028. The team spoke with industry experts to get their perspectives on the upcoming megatrends in air cargo sector in 2022 and beyond.
Yashpal Sharma, Managing Director, Skyways, Airports moving quickly towards renewable energy
We witnessed rapid strides in technology in almost all air logistics functions such as e-bookings, e-AWB, e-tracking that is leading us fast towards a paperless ecosystem. Upgrading infrastructure in the form of Greenfield airports and cargo terminals is another area of interest. We can see remarkable infrastructure development of facilities such as cold storages, cold chain equipment and the like for fast growing commodities—pharma and perishables. Airports in India and overseas are now moving to renewable energy to feed their ecosystem. Logistics activities are being moved towards greener initiatives such as EVs, removal of paper, water and waste management. While ocean freight will take longer to get back to pre-pandemic levels, air cargo will steer its way much faster and help the global economy recover from the ongoing pandemic.
Satyaki Raghunath, Chief Strategy and Development Officer, Bangalore International Airport Limited (BIAL), BLR airport to double existing cold chain capacity
BLR Airport recorded growth from September 2020 onwards because of an increase in perishable and e-commerce shipments. BLR Airport developed integrated express cargo terminal with an express cargo processing capacity of 1,50,000 metric tonnes per annum. The airport hosts the three largest global express integrators such as DHL Express, FedEx and UPS making BLR Airport the gateway airport for South India. The COVID lockdown led to an increase in imports and exports, especially perishables such as medicines, eatables, and farm produce among others. Hence, BLR Airport is planning to expand its dedicated cold-chain operation to 80,000 metric tonnes (MT) per annum, doubling its existing capacity. In addition, our Air Cargo Community System (ACS) offers a paperless process for all the cargo community to track shipments through the airport. Global e-commerce transactions also led to an increase in the volume of goods requiring transportation.
Mahesh Malik, Chief Commercial Officer, CarGo, IndiGo, IndiGo to source 4 A321CEO aircraft for conversion
The COVID outbreak has accentuated the potential of cargo business as it provided revenues in the absence of normal scheduled commercial flight ops, within India and globally. We have been one of the innovative airlines not just in India but globally. We find new ways to combat difficult situations.
After pandemic outbreak, we began preighters, using just the belly of our passenger aircraft, and expanding into 'cargo-on-seat' ops and later added 'cargo-on-floor' A321. Hence, we initiated a proper freighter program and are in the process of sourcing four A321CEO aircraft for conversion.  The A321P2F—Passenger-to-Freighter conversion—is the most efficient narrow-bodied all-cargo aircraft available, offering 24 ULD positions (14PAG on main deck and 10
AKH in lower deck) and supporting a payload of 27 tonnes. We expect our first delivery soon  from Singapore Technologies.
Christoph Schnellmann, CEO, Noida International Airport, NIA will support seamless movement of cargo
The focus of Noida International Airport (NIA) is to provide infrastructure for growing specialized segments such as perishables, e-commerce, pharma, spare parts, and general cargo. By creating infrastructure leveraging data and technology and working closely with regulators before commencement of operations, we are certain that our airport will create that much-needed data integration and efficiency for seamless movement of cargo. We will ensure that we will be able to provide quick, efficient, and simple processes for a value product. An area of focus right from the start of master planning is to provide direct access to the airside and freighter parking stands for quick sorting and turnaround of goods. The cargo facilities are to be designed based on both product and process, automated and digitized wherever required. We foresee a gradual development of flexible and modular infrastructure for freight forwarders, with ample landside parking areas.
Sakshi Gupta, Country Manager, India, Air Logistics Group, e-commerce will gain momentum in coming years
As we sail forward, positive trends for air cargo in 2022 will persist. We will see a pullback on yields and a softer, quieter market this summer because of the looming uncertainties. Despite the Phoenix rise in fuel prices and the pervasive Russia-Ukraine situation, an uptick is anticipated by the third quarter of the fiscal. China is anticipated to cut back output levels with ease under the COVID-19 limitations, which will increase the already drastically reduced demand for air cargo. E-commerce has established itself as a household name thanks to its lightning-fast deliveries, and this trend will only gain momentum. To meet the rising demand for air cargo on a variety of short, medium, and long-haul markets, industry giants Airbus and Boeing will be converting narrow body and wide-bodied passenger aircrafts to freighters through the year 2022.
Pradeep Panicker, CEO, GMR Hyderabad International Airport, Automation of cargo sector to play vital role in future
As the levels of competition intensify in the international air cargo industry, we are seeing an increasing trend towards digitalization. Digital, internet and mobile technologies have been disrupting every industry and air cargo industry is no exception. The traditional structures, players and value chain of the industry is being challenged like never before. Technology and digitization have become value-enablers for shippers and exporters to source, books, monitor transportation services without relying on a multitude of middlemen, paperwork and red tape associated with the process. We are using on time data thereby making the process more effective. In addition, automation of the material handling process will play a major role in the future.
Videh Kumar Jaipuriar, CEO, Delhi International Airport, Air cargo to witness upward trend
We expect air freight rates to decrease, especially on account of the geo-political issues in major consumer markets such as USA and Europe. This will present an opportunity for the freight forwarders to look at air cargo as a preferred mode vis-à-vis ocean cargo. Furthermore, Indian air cargo should witness an uptick on account of the free trade agreements signed by the Government of India with various countries.
Sarini Sachdeva, CEO, Aardour Worldwide Logistics, Balance in e-commerce & green initiatives must
The e-commerce segment has witnessed growth in the past few years. The pandemic has brought long-term changes with the way people make their purchase decisions. It accelerated the industry's growth within the country, as offline shoppers downloaded e-commerce apps to buy from within the confines of their home. e-commerce will drive and push ad-hoc and programme charters throughout 2022. Logistics firms should evolve and adapt agile cloud-based platforms to prepare their daily interactions in the air cargo market. Amid the COVID crisis, the global markets for Digital Transformation Spending in Logistics estimated at US$45.6 billion in 2020 is projected to achieve a revised US$75.5 billion by 2026.
More companies are adapting to eco-friendly solutions and green technologies to acquire a balance between financial growth and environmental care.
Ruby Abidi, Director, Air Cargo, India Subcontinent, cargo-partner, Airlines may expand freighter fleet by 60% in 20 yrs
The industry of the future will be integrated and connected. There will be a bundling of services with end-to-end logistics starting from the shipper's location to last mile deliveries (LMDs) to the end customer.
We have witnessed more e-commerce demand from tier II and III cities. Various airport projects undertaken by the AAI have made headway in enabling logistics hubs to offer faster solutions and helping newer air corridors to unlock the potential of the logistics infrastructure. Capacity augmentation became necessary for products to reach the markets. Charter service solutions by key players have come in handy as an alternative solution. Freighter fleet expansion is likely to increase by 60 per cent in the next two decades, coupled with airport expansions worldwide. Air cargo players are expected to adapt to digital platforms for pricing and booking, predictive analytics, and innovative screening techniques. The success of Industry 4.0 will depend on the success of Logistics 4.0.
Huned Gandhi, Managing Director Air and Sea, Indian Subcontinent, Dachser Air and Sea Logistics, Modern technology to simplify supply chain process
Many innovations have already been introduced, it is now being applied in all areas—from planning and forecasting to indenting, sourcing, order placement, freight track and trace, inventory management and paperless documentation at all stages. New tech will be developed to simplify the process and increase the stability of the supply chain worldwide. The future is about 'glocalization—a fusion of globalization with local and regional consideration. Freight forwarders are booking extended charter contracts to have their dedicated flight rotations on high traffic trunk lanes. With unprecedented volatility and scarcity of capacity, several large freight forwarders have adapted to charters for securing the supply chains of their customers. Many large forwarders have taken the plunge and took scheduled charter flights on transpacific, transatlantic and China to European routes. A global megatrend for the coming years is sustainability. The increasing demand for eco-friendly products and processes is going to play a role in demand supply model.