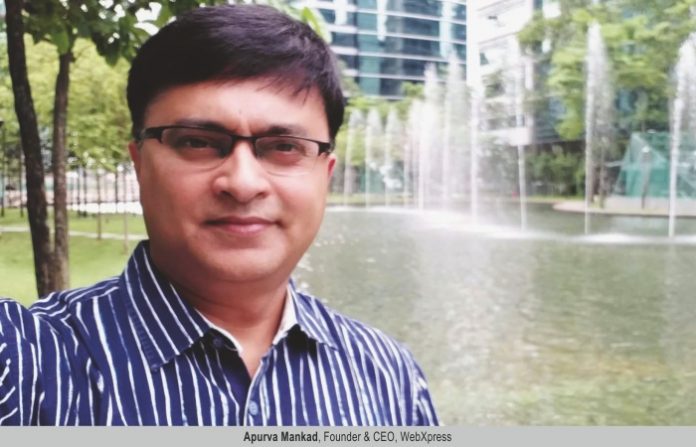 With supply chain visibility platform called 'LogiCloud' that connects over 150 transporters systems, WebXpress Cloud-based technology solutions ensure all transactions from pickup to transshipment to delivery are visible. Apurva Mankad, Founder & CEO, WebXpress shares the details.
Priyanshi Bana
Q Kindly elaborate on the journey of WebXpress.
WebXpress is a global transportation and logistics SaaS provider. It is a full-stack SaaS-based solution for multiple domains such as e-commerce logistics, express cargo, hyperlocal, and full truck movement. WebXpress started in the year 2004 to bring the latest technologies to a highly unorganised but crucial sector of logistics. Technology is ever-changing and WebXpress has always been a pioneer in bringing the latest to its customers. We launched our first mobile app in 2009, deployed GPS integration in 2011, and adopted Cloud in 2013.
At present, WebXpress has created a digital ecosystem integrating IoT, GPS, e-way Bill, e-invoicing, and Fastag with Cloud being its core solution. WebXpress processes over 3.5 million transactions and analyses over 100 mn IoT signals every month. WebXpress firmly believes that the next 10 years will be the golden years for Indian logistics sectors, that will be actively driven by technology. Hence, we are currently working on many new-age initiatives such as 5G driven logistics hubs, reducing carbon footprints, AI-driven delivery prediction, usage of drones in warehousing, robotic process automation for PODs, pattern-based auto-matching of demand-supply among others.
Q How is the logistics industry leveraging technology during these challenging times?
In the past, the Indian logistics industry used bare minimum technology, primarily for billing and accounts. However, the arrival of e-commerce led to the adoption of technology from larger players to mid-sized and even smaller players. But the pandemic forced all logistics companies and their customers to put technology at the centre stage. Many companies adopted Cloud solutions as this allowed them to decentralise work and allowed management teams to access data from any location.
Companies now have a greater reliance on automated monitoring tools such as GPS, IoT, and Control Towers that give them a 30,000 ft view of entire operations. Logistics companies are also 'connecting' their systems with that of customers to ensure data is transferred seamlessly and in real-time. They are also becoming part of Transport Exchanges to sell their excess capacity and get better yields for return loads.
Q How WebXpress as a technological firm is helping transportation to bring in more visibility?
Visibility is the key to survival in the transportation industry. Transportation by its design is a highly distributed operation. Events in one corner of the country have a ripple effect across the entire network. For example, when there is a lockdown in Karnataka – the movement of car parts from Noida, Pune, Chennai, and Ludhiana gets affected. WebXpress offers Cloud-based technology solutions to ensure all transactions from pickup to transshipment to delivery are visible. WebXpress monitors all vehicle and cargo movement in real-time and alerts a Control Tower team in case of any delays, hold-ups, or route deviations. WebXpress is also connected to external systems such as e-way Bill, Fastag, and Fuel Cards to ensure compliance and control costs.
WebXpress has a supply chain visibility platform called 'LogiCloud' that connects over 150 transporters systems to provide visibility to large manufacturing and retail companies such as Thermo Fisher, Aditya Birla Fashion, Bestseller, and Dr. Lal Pathlabs, among others.
While serving some of India's top-notch logistics companies, WebXpress is equally focussed on providing technology to small and medium logistics enterprises. WebXpress firmly believes in the democratisation of technology. India's effort to reduce the cost of logistics from 14% of GDP to 9% can be realised only when a critical mass of logistics companies adopts digital technology.