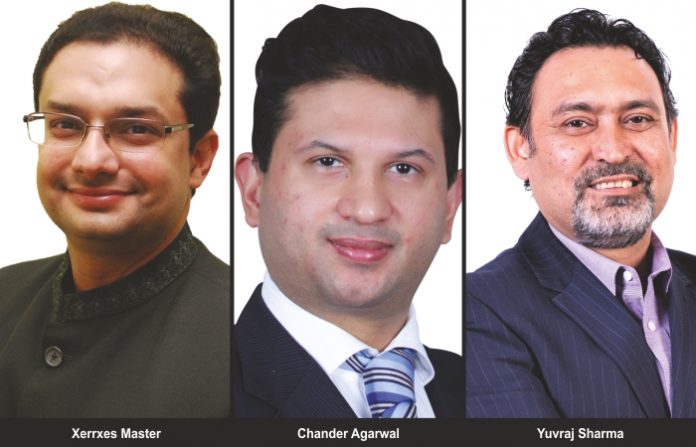 With periodic checks and balances, lowering the cost of fuel and resolving technical issues with internet access would prove to be a game changer in making multimodal transportation more efficient. CARGOTALK 's virtual conclave on Multimodal Logistics provided an excellent opportunity for in-depth discussion with some of the industry's most notable speakers.
Priyanshi Bana
With the increasing global economic integration, the world economy needs the support of an efficient freight transportation system. By relying on two or more modes of transportation, multimodal transport can substantially improve transport efficiency and reduce transportation costs for the complete process integration organisation transportation service. According to statistics, multimodal transport can improve transportation efficiency by 30 per cent, reduce cargo damage by 10 per cent, reduce transportation costs by 20 per cent, reduce highway congestion by more than 50 per cent, and promote energy savings and emissions reduction by more than one third.
Basis the importance of various modes of transportation, 's virtual conclave on Multimodal Logistics was apt for a detailed discussion with some of the eminent speakers from the industry, Xerrxes Master, President, AMTOI; Chander Agarwal, MD, TCI Express; and  Yuvraj Sharma, Cluster Head, Sales and Marketing, India, Sri Lanka and Maldives, Kuhene+Nagel.
Showing way forward on multimodal transportation of logistics, Xerrxes Master, President, AMTOI, said, "Multimodal is the only optimal logistic solution where the best mode of transport is chosen with the most cost effective and time efficient manner. Finally, the Indian government has recognised the importance of multimodalism by renewing the old Multimodal Transportation of Goods Act 1993. AMTOI has been actively involved with the government in policy formulation, also to become a self- regulating organisation for the benefit of its members. Multimodalism is carried out by all the three modes of transportation where a contract can be executed by different modes of transport under one single document which is the essence and the basis of the benefits of multi modalism. It has a bright future for India since it now moves from singular mode of transportation to two or more modes making it cost effective and time saving solution."
Explaining on how the country's economy will be benefitted with the multimodal way of transportation, Chander Agarwal, MD, TCI Express, said, "India is on the cusp of becoming a US$ 5 trillion economy meaning that the logistics cost is going to be US$ 1 trillion approximately. This is a great opportunity for the logistics companies to enhance their capabilities and become leading service providers in the country. Multimodal will benefit the Indian economy in a big way because of a vast coastline and land area. Multimodal may help in bringing down the cost for the logistics sector, moreover, the overall efficiency and the transfer of goods from manufacturer to consumer will be at a much faster pace.
Multimodal in India is now based demand driven rather than supply driven. Multimodal basically increases the speed and efficiency which is required in a big way in India. Our country's operating cost are very low comparative to the world due to poor infrastructure. Be it trucks, inland waterways or even the trains which are not high speed. In India the logistics cost is the fuel cost which needs to be brought down drastically."
Developing a network of multimodal logistics parks (MMLPs) to act as logistics hubs will address the issues of unfavourable modal mix, inefficient fleet mix and an underdeveloped material handling infrastructure. Logistics parks are expected to help transition from the current situation of point-to-point freight movement to an ideal situation of hub and spoke model freight movement.
Says Master, "For the roadblocks we cannot hold the government entirely, it is equally the responsibility of the stakeholders. The government has been pushing the digitalisation to a great extent with the new logistics portal, but there have been certain loopholes which still needs to be plugged in. Secondly, implementation of the infrastructure projects have to be far quicker. Instead of talking about high speed trains, multimodal logistics parks, etc., they need to be implemented fast. Such issues need to be looked after in specific time frames and time limits."
Emphasising on the need of the multimodal transportation in order to be more efficient, Yuvraj Sharma, Cluster Head, Sales and Marketing, India, Sri Lanka and Maldives, Kuhene+Nagel, said, "Today's environment does not just demand to get into a multimodal option for servicing our customer, but it is the need since we have capacity issues, congestions happening, time definite deliveries. All of this requires multimodal as a cost effective and time efficient mode of moving goods from one place to another. From logistics performance index point of view, India is today ranked at 44. Multimodal is definitely one way that can not only help in avoiding the challenges we face in today's time we are working in but improve from the transit point perspective also. And see India becoming a leader not only in the export supply chain but also in the import supply chain."
Role of technology or digitalisation is significantly important in multimodal logistics sector for the fast and efficient movement of goods. Says Agarwal, "Technology is an enabler. In India, we face a lot of problem with internet connectivity. Once resolved, many smaller companies from smaller towns will come on-board. Biggest problem our country is currently facing is that the GST collection not happening in the logistics sector because still a large number of players are not registering themselves and not generating e-way bills. Government should share its plan on the connectivity issue for more clarity. In such a case multimodal will be of help because of it has direct connection with the manufacture, EDI or through the API with the logistics provider. Visibility is more important."
Expounding further, Sharma says, "Providing a common platform to check the movement of cargo can save in a lot of time, but it is the multi-layering of technology that creates the hindrance. The ability for us to find the solutions on such services is still complex. Regulation policy and seamless movement of goods is still an issue when multi modal is concerned.  For example, if you go to Europe, with one T1 document you can move around anywhere in the Western Europe and enter from any point. Such challenges prohibits us from using these multimodal transportations. This is where technology has a critical role to play."
Sharing the responsibility in making multi modal a success in Indian context, Master adds, "Associations like ours should become self-regulatory organisations (SROs) to work in conjunction with the government to ensure self-regulation and bring about the necessary changes suited for the growth of industry in a fair and transparent manner."
With checks and balances being validated from time to time, bringing the fuel cost down drastically and solving the technical glitches of internet connectivity will definitely prove to be a game changer in making multimodal transportation more seamless, faster and efficient.