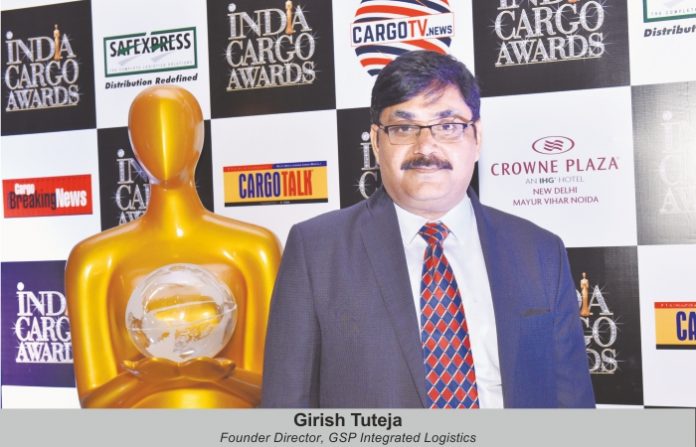 Incorporated in 2018, GSP Integrated Logistics is a premier logistics service provider holding custom broker license. The company offers consultancy on EXIM matters, road transportation services and packaging solutions, explains Girish Tuteja, Founder Director, while talking about major growth drivers and existing bottlenecks in an exclusive interview.
Ritika Arora Bhola
According to you what are going to be the key growth drivers in logistics in India in 2022?
The growth drivers in logistics in India in 2022 are infrastructure, including roads, warehouses, ports, and dedicated transport hubs which are being planned and built. With export volumes and connectivity between manufacturing centres and markets, the logistics volumes are on the way up.
Digitisation: Trucking in India is considered a non-tech business. Most of the transport firms are either small or micro units and they own one to five trucks, impacting their ability to streamline and digitise operations is difficult. New startups have come up and are tech-driven logistics firms enabling transporters and shippers to do business online, optimise operations through automated process support, conduct online payments and process document digitally.
Data analytics: By combining Artificial Intelligence (AI), the Internet of Things (IoT) among others, the measure of performance through online data collection—the logistic sector can help transport companies monitor each vehicle's performance for potential areas of improvement on different routes by accessing real-time operational data through GPS/RFID tags and off course GSP-fitted trucks. Drive from Indian government on production-linked incentives, restructuring of MSME sector, ease of doing business initiative by removing operational bottlenecks. Benefits in the EV segment to push for more sustainable practice.
How important has it become for the logistics firms to design the supply chains of the future which are cost-effective and are able to meet ever evolving customer needs?
COVID-19 lockdowns have shown importance of having agile supply chains. Industries are moving towards higher inventory models against JIT model. It is critical to develop alternate modes of logistics and suppliers/customers to remain competitive.
What are the blockages curbing growth of logistics industry. What are the crucial areas of concern?
Cost of logistics remains high for India, 14 per cent of GDP against 8-10 per cent for major economies. Aligned by shipping lines on freights and restricted availability of container. Port congestion across world leads to higher transit time impacting customer required delivery date.